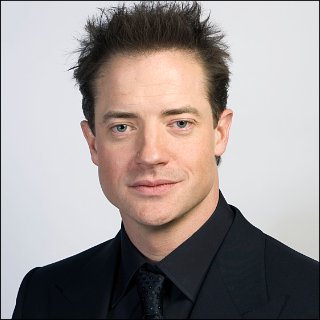 Profile
---
Famous as :
Actor

Birth Name :
Brendan James Fraser

Birth Date :
December 03, 1968

Birth Place :
Indianapolis, Indiana, USA

Claim to fame :
As George, the King of the Jungle, in "George of the Jungle" (1997)


Listed as one of the "Most Powerful Canadians in Hollywood" by Canadian Business magazine (August 2006).
Has his name engraved in a Toronto sidewalk as the inductee of Canada's Walk of Fame (June 3rd, 2006).
Was considered to play Dr. Reed Richards/Mr. Fantastic in "Fantastic Four" (2005) and also Superman in "Superman Returns" (2006) when Brett Ratner was still attached to the project.
Won the category of Outstanding Performance by a Cast in a Motion Picture along with the cast of "Crash" (2005) at the 2006 Screen Actors Guild Awards.
Became a guest on the Food Network aired in October 2004.
Was terrified when he had to hit former WCW and WWE wrestler Bill Goldberg while filming "Looney Tunes: Back in Action" (2003) though Goldberg constantly convinced him to go ahead and do it.
Was nominated for the category of Film - Choice Actor at the 2001 Teen Choice Awards also of Favorite Male Movie Star at the 2002 Kids' Choice Awards through his role in "The Mummy Returns" (2001).
Played Brick in London's West End production of "Cat on a Hot Tin Roof" by year 2001.
Gave up his role as Dr. Steve/Eddie in "The Wedding Planner" (2001) because of the scheduling conflicts with "Bedazzled" (2000).
Has twice been nominated at Blockbuster Entertainment Awards up to year 2000: the first was in 1998 for the category of Favorite Actor/Actress - Family and the second in 2000 for that of Favorite Actor - Action.
Earned a Best Supporting Actor nomination at the 1999 Chlotrudis Awards for his role in "Gods and Monsters" (1998).
His wedding ceremony with Smith by 1998 was held in the garden of Los Angeles' Bel Air Hotel.
Got nominated for Best Actor category at the 1997 Seattle International Film Festival also from Academy of Science Fiction, Fantasy & Horror Films in 2000. He won the former one through his role in "Still Breathing" (1997).
Was included in People Magazine's list of 50 Most Beautiful People in the World in 1998.
Hosted the 1994 MTV Music Video Awards.
Turned down the role of Charles Van Doren in "Quiz Show" (1994).
Met his wife, Afton Smith, for the first time at Winona Ryder's 4th of July barbecue in 1993.
Has twice appeared as Link, the name of his character in "Encino Man" (1992), in other Pauly Shore's movie projects, namely "Son in Law" (1993) and "In the Army Now" (1994).
Auditioned for a role in Robert Redford's "A River Runs Through It" (1992), but it later went to Brad Pitt.
Has collected some records of plays for broadcast on the radio, including the works written by Tennessee Williams and Eugene O'Neill.
Was partly influenced to be an actor after watching pantomimist Bill Irwin's performance in his show "The Regard Of Flight."
His great-grandfather was a member of Royal Canadian Mounted Police while his uncle, George, was a gold medal winner of the 1952 Olympics held in Helsinki.
Has been known to be very approachable and friendly to fans who meet him on the street.
One of his favorite movies is "Blade Runner" (1982).
Is an avid photographer and collects old Polaroid cameras.
Had been a member of Laughing Horse Summer Theater in Ellensburg, Washington, and performed some plays which included "Arms and the Man" and "Waiting for Godot" during his time there.
Has the same birth date and month with Julianne Moore and Daryl Hannah also his wife, Afton Smith, who is exactly one year his senior.
His hobbies include skiing and rock climbing.