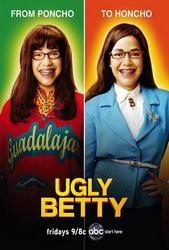 TV Info
---
Episode Premiere
October 16, 2009

Distributor
ABC

Genre
Drama, Comedy

Show Period
2006 - 2010

Production Company
Touchstone Television, ABC


Cast and Crew
---
Director
John Terlesky, Victor Nelli, Jr.
Screenwriter
Henry Alonso Myers, Sheila Lawrence
Main Cast
Additional Cast
Synopsis
---
Both Betty's first day as an editor at Mode and Justin's first day at high school are disasters! We feel terrible to see Justin get pushed around by bullies who ruin his fabulous new pink Gucci shirt! And we just want to give Betty a hug when all the other editors snub her, as does Marc, who wanted her promotion. Her ex, Matt, is now her boss and he won't even talk to her! With Daniel and Christina gone, Betty is really on her own.
Wilhelmina advises her. "Being an assistant is boot camp. Being an editor is war." She also gets advice from Claire, who believes that Matt must still have feelings for her if he's at Mode. But Matt is hostile to Betty during her first pitch meeting and her idea on malaria morphs into a feature on insect jewelry, thanks to another editor, Megan, who's taken an instant dislike to Betty. At the park, Betty kisses Matt to prove he still has feelings for her, but he insists he doesn't.
Meanwhile, Wilhelmina is harboring a secret surprise guest, who is not Connor, as we suspected, but Willy's daughter, Nico! We're also surprised when Claire asks Wilhelmina to stay on at Mode. Willy is sure it's only temporary, but right now she's more occupied with sheltering Nico, who appeared to her with bloodstained hands, saying, "I think I'm in trouble!"
We totally get Justin going to Marc for advice on how to handle bullies, and so, although we see that Hilda's hurt to be out of the loop, we're dismayed when she orders Marc not to talk to Justin any more.
A grief-stricken Daniel returns to New York and calls Betty after he's arrested at the airport because of a dust-up over Molly's ashes. She tells him what's going on at Mode and he suggests she look up Olivia, a '60s-era jewelry designer who specialized in insect motifs. Betty finds the woman, now a recluse, who invites her to witness a butterfly emerging from its cocoon. We get it, of course, it's a metaphor for Betty's own transformation. And we feel Betty's dismay at being out of her comfort zone as she imagines the butterfly misses being a caterpillar. Betty shows up at Mode with several of Olivia's pieces, wowing Megan, who admits she misjudged Betty as someone who got promoted only because of Daniel. We can see Betty's earned her stripes (or, rather, wings) when Megan invites her to have lunch with her.
So we cringe when Daniel marches in and announces that Betty should be awarded that the jewelry article was "unfairly taken away" from her. Darn it, Daniel, now everyone hates Betty more than ever!
Betty insists she didn't ask for any "special favors" from Daniel, but no one believes her. And she can't ask Daniel to back off because he's still grieving for Molly. The most she can do is ask him not to play favorites. We have a good-natured laugh when Daniel says, "Back when my mother, father and sister all worked here, people used to think I got preferential treatment too." He tells her he'll keep his distance, but then gives her a hug in full view of everyone!
Betty presents the insect jewelry article to Wilhelmina, but she vetoes it, as it's been done recently by a rival magazine! Pressed for a new idea, Betty returns to her malaria theme, by suggesting that they have a top designer make clothing out of mosquito netting. She arranges for international models and a photoshoot at the UN, but there's a big problem: The UN is only available tomorrow! Which means the entire staff has to help her pull an all-nighter!
Betty's loyalties are torn when Daniel has a meltdown over a travel poster for Tahiti, where he and Molly were going to go on their honeymoon. He's a mess, so Betty decides to keep an eye on him, rather than oversee her own concept meeting! Matt is naturally upset and snaps, "I guess your new job just can't compete with your old one."
Of course, everything goes wrong: No one thought to book an interpreter to help with the Russian-speaking models and the whole photoshoot descends into chaos. Daniel ends up punching out Matt when he implies that Betty must be sleeping with Daniel now! Wilhelmina orders Daniel and Betty to leave the shoot and Daniel realizes he shouldn't have kept Betty away from her new duties. When she laments, "I don't want to lose who I am," we kind of melt when he says, "Betty, you've already changed, but you're still you!"
In the meantime, we hear Nico's confession to her mother that she'd likely killed her abusive boyfriend, Johnathan, and pushed him over the side of his yacht! A private detective is sniffing around and Wilhelmina concocts an alibi: The two of them had a girls' night out, complete with Gilmore Girls' marathon, instead of what they were really doing, scrubbing the blood off the yacht.
Justin refuses to talk to Hilda, so she asks Marc to please be there for Justin after all. We get a bit misty when she tells Justin, "I can't tell you who to confide in. I just hope that you know, you can talk to me."
We're so proud of Betty's confidence at work the next day: She's changed her hair, gotten new glasses, and is wearing the tasteful jacket that Christina sent her. Not a pattern in sight! She tells Matt she's moving on and that from now on, she'll fight her own battles. "So, next time, you'll be hitting me?" he asks and we laugh when Betty simply says, "Yep!"