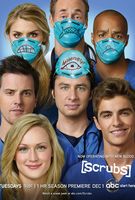 TV Info
---
Episode Premiere
December 15, 2009

Distributor
ABC

Genre
Drama, Comedy

Show Period
2001 - 2010

Production Company
Doozer, Towers Prod., ABC, Touchstone Television


Cast and Crew
---
Director
Ken Whittingham
Screenwriter
Corey Nickerson
Main Cast
Additional Cast
Ken Jenkins as Dr. Bob Kelso
Sam Lloyd
Kate Micucci
Windell D. Middlebrooks
Steven Cragg
Nicky Whelan as Maya
Paul Dooley
Synopsis
---
Plans to attend Cole's big party hit a snag when Denise gives Lucy, Drew, Cole and Maya an assignment. By the way, Maya is the Australian intern who seems to be getting more screen time. So we thought we'd mention her. Love the accent. Anyway, the interns must take final interviews from four terminal patients. Remember the extremely moving My Last Words from Season Eight? J.D. and Turk blew off an annual night out together to hang with a dying man. This episode sounds like it's shaping up to be a pretty solid sequel. Just like Rocky II.
With Elliott and Carla out of town, J.D. and Turk plan for a Bro-a-Palooza weekend. They even have t-shirts! Dr. Cox thinks they can't admit they're getting older. Still, he assumed that as "hip young guys" they'd be going to Cole's med school party. Perry tells them the theme is Cowboys and Indians. That wouldn't have been J.D.'s first choice, but he does have chaps.
Ted is leaving Sacred Heart. He and the Gooch are going to tour the country. They've written a song for every state. That had to be tough. Seriously, what rhymes with Delaware? Surprisingly, Dr. Kelso offers to give Ted one last night out on the town. We're assuming alcohol will be involved.
Kelso, Ted and Gooch end up at the bar where Cole's party is taking place. J.D. and Turk show up in cowboy and Indian garb. J.D. is the chaps-wearing Native American. Somehow, he makes it work. Too bad it's not a theme party. Dr. Cox arrives to snap a cell phone picture of his two prank victims before everyone heads inside.
At the hospital, the interns decide to divide and conquer for the final interviews even though Denise told them to work as a team. Cole, Maya and Drew complete their tasks in record time. In fact, Cole's dude is dead so he's off to the party. This upsets Lucy, who can't get her guy, Paul (guest star Paul Dooley), to answer the questions on her form. Plus, she's sleeping with Cole, who doesn't seem to have one decent bone in his body. Sigh.
At the bar, Dr. Cox asks Cole to name the five lamest people in the room. Surprisingly, J.D. and Turk aren't on the list until they engage in a little Brazilian fight dancing. The exhibition ends when J.D. high-kicks Turk in the head, knocking him unconscious. Looks like another cell phone photo-op for Perry. Meanwhile, Ted is bummed when a completely-hammered Kelso doesn't give him the grand exit he deserves. He leaves in a huff with the Gooch as Kelso continues to chug cocktails. Told ya alcohol would be involved.
J.D. stitches up Turk's head at the hospital where they run into the interns, who are looking to skip out even though they haven't interviewed Paul. J.D. and Turk relay their experience from that My Last Words episode we mentioned earlier. It was one of the most memorable nights they've ever had as doctors. This motivates Lucy, Maya and Drew to take another shot at Paul. Too bad Cole beats them to the punch. Sacred Heart's cockiest doc-in-training tells his cohorts that Denise made him come back.
The Coleminator (we just made that up) discovered that the key to getting Paul to talk is to actually have a conversation and not ask questions off a form. The interns are captivated by Paul's war stories. He's bummed he lost touch with all of his old army pals. Paul says, "When you spend the hardest time in your life with a group of people, you're bonded forever." The interns realize that, in a way, they are all war buddies. And when Lucy discovers that Denise didn't force Cole to come back, she realizes there's a heart buried somewhere deep inside that Cole mine. (Hey, we made that one up, too!)
As J.D. and Turk watch the interns chat it up with Paul, they finally admit they are getting old. Dr. Cox pops by to say there's nothing wrong with that. Now, remember how we said this episode was shaping up to be a pretty cool sequel? Well, a little later, the interns watch Paul reminiscing with three of his old war buddies. Drew can't believe they found these old soldiers. Lucy can't believe they came. We got chills, kinda like the ones we got when Adrian came out of her coma and told Rocky to win.
Speaking of an Italian stallion (well, a stallion), Ted has packed up his things with little fanfare until he turns a corner to find a group of Sacred Heart's finest serenading him with applause. Everyone is gone in a blink, leaving only Dr. Kelso to say, "I'm gonna miss you." We will, too, Ted. We will, too.