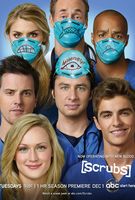 TV Info
---
Episode Premiere
December 08, 2009

Distributor
ABC

Genre
Drama, Comedy

Show Period
2001 - 2010

Production Company
Doozer, Towers Prod., ABC, Touchstone Television


Cast and Crew
---
Director
Gail Mancuso
Screenwriter
Steven Cragg, Brian Bradley
Main Cast
Synopsis
---
J.D. holds office hours with Lucy in a tree. It's all part of his lesson of teaching her to "branch out" before he "leaves." This punny bit of advice puts Lucy on the hunt for a new mentor. She picks Denise who promptly tells her to take a hike, as Lucy totally annoys her. But when a patient wants to get huggy with her, Denise sends Lucy in as a proxy. Looks like Project Shadow is a go.
The patient has a 12-year-old son, Ryan, who forms an unlikely bond with Denise as they pilfer boatloads of chips and candy from the vending machine. Denise even lets out a little smile with this kid. But the grin is gone once Lucy comes by with the results of Ryan's mom's MRI. A dejected Denise breaks the terminal news. When Ryan asks Denise if he could call her if he has any questions about his mom's condition, she pretty much blows him off.
Remember how Lucy slept with Cole her first day of medical school? We figured she wouldn't make that same mistake again. We figured wrong. Lucy's a bit embarrassed when Denise shows up and catches Cole all cozy under her horse blanket. Lucy loves horses. Denise couldn't care less about that. She just wants Lucy to help Ryan through his mom's inevitable death. Getting emotionally involved with patients just doesn't work for her.
Lucy reluctantly agrees to do her new mentor's dirty work. But when she tries to approach Ryan, Denise cuts her off at the pass. She gives Ryan her cell phone number along with a lesson on how to play his video game. It's a completely sweet moment when Ryan rests his head on Denise's shoulder as she plays the game. Just like that, Denise's smile is back. We're smiling, too.
Dr. Cox replaces the paper #1 logo he has been making Drew wear with a pretty pink t-shirt with #1 printed on the front. Drew says, "It's beautiful. Honestly, the nicest shirt I've ever received from a grown married man." Cox continues to call on Drew for all the answers and, most of the time, he doesn't disappoint. This makes Perry very proud and J.D. very jealous.
When a patient codes during rounds, Cox wants Drew to take the wheel to save the day. The problem is... he can't. Drew screams, "I'm not ready for this" and runs away. A disappointed Cox asks J.D. to step over to help him save the guy, which they do. Drew tries to apologize to Cox, but that doesn't fly. There's no way he can get back the time he wasted on someone who let him down. Harsh.
Drew turns to J.D. for help in fixing things with Cox, but J.D. says it's hopeless. It's not. But J.D. is still really jealous about Drew's relationship with his mentor. Turk says, "You're not gonna help him out, huh? Kinda sucks. I thought you wanted to be a good teacher." As you may have already guessed, he does.
J.D. tells Cox he set the bar way too high for Drew. The guy has potential and he knows it. J.D. would have killed for all that attention eight years ago, but Cox wasn't ready to give it. J.D says, "Perry, you finally found someone to believe in. Don't ruin it by being you."
These words hit home with Dr. Cox. When a lecture hall full of students can't answer a question, Cox calls on Drew to save them with the answer, which he does. J.D. witnesses the exchange from a side doorway. During his closing voiceover he says, "Whatever you do don't wait for that pat on the back because, believe me, it will never, ever... " His final thought is interrupted when he catches Cox giving Drew an actual pat on the back. "Oh, come on!" J.D. screams. Love it!