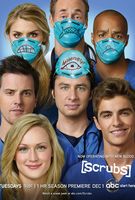 TV Info
---
Episode Premiere
April 15, 2009

Distributor
ABC

Genre
Drama, Comedy

Show Period
2001 - 2010

Production Company
Doozer, Towers Prod., ABC, Touchstone Television


Cast and Crew
---
Director
Bill Lawrence
Screenwriter
Bill Callahan
Main Cast
Additional Cast
Robert Maschio as Dr. Todd Quinlan
Sam Lloyd
Christa Miller as Jordan Sullivan
Kit Pongetti
Johnny Kastl
Bob Rumnock
Mike Schwartz
Barry Williams
Randall Winston
Clark Devol
Synopsis
---
As the Janitor's wedding to Lady draws near, all our favorite Scrubbies are dealing with their own personal relationships.
Elliot still wants the romantic "I love you" from J.D. while Turk wonders why Carla has to be a mom all the time. Carla was supposed to meet her hubby in the ocean for a little "Surf 'N Turk," but J.D. shows up instead. He's excited to see an eel underwater until Turk admits that he's naked, so that's no eel! J.D. tells Turk that Elliot is still mad at him for being so insensitive. Dr. Cox swims by looking for his laptop just as J.D. practices saying "I love you" to a still naked Turk. Perfect!
Jordan doesn't want the hate-hate dynamic of her relationship with Cox to change. The problem is, as Dr. Cox reveals, it isn't all hate. They actually like each other. In fact, they love each other. We've known for some time that those two really love each other. The reason they don't ever admit it is because the hating, well..."that's their thing." But as we all know, things change.
The Todd wrangles up a local Justice of the Peace named Van (amply played by Scrubs creator Bill Lawrence). Turns out Van got The Todd through med school. "He's the guy we used to practice all the rectal exams on." Meanwhile, The Janitor exacts his revenge on J.D. for bringing everyone to the wedding by making him spend 10 minutes atop a lighthouse with dead fish taped to his hands. Anybody ever see Hitchcock's The Birds?
The ladies help Lady get ready for her big day. Lady has a mild panic attack when the girls say her bridal dress makes her look like Audrey Hepburn. The Janitor hates Audrey Hepburn. Things settle down when Lady realizes that she's finally found the perfect man. The other ladies are quick to point out there's no such thing.
The Justice of the Peace begins the ceremony by saying, "Marriage is a dead institution." Yeah, Van's the worst preacher ever. When it comes time for the exchanging of the vows, J.D. is jazzed because he (and we) will find out the Janitor's first name. Finally, right?! Wrong. After a couple of interruptions, they kinda skip over that part. We do discover that Lady's real name is "Ladania." Love it! We also love the fact that the Janitor makes all the guests stand while the bride and groom sit.
We were then blown away by the Janitor's sincere speech to Lady as he pledges his love for her. It's was just so un-Janitor-like. The speech had a profound effect on the wedding guests as well. J.D. sums it up in his trademark voiceover by saying, "Right then we all realized the value of the romantic gesture, from one person who loves someone to another."
Carla brings a smile to Turk's face when she struts up to him on the beach in a sexy bikini. Guess she's not a mom all the time. Jordan finally admits, painstakingly, that everything she does is more fun if Cox is doing it with her. This leads to him throwing her into the pool which leads to her saying "I love you."
The romantic gestures don't end there as J.D. finally gives Elliot the heartfelt "I love you" she's been waiting for. He even says, "I love you more than Turk." Yeah, we were shocked to hear that one, too. To prove his devotion, J.D. gives Elliot the tiki he spent $436 on as a gift for Turk. He then looks her in the eye and says, "You're my dream girl." Yes, this is the Scrubs we love-big laughs and big heart.