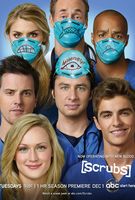 TV Info
---
Episode Premiere
April 08, 2009

Distributor
ABC

Genre
Drama, Comedy

Show Period
2001 - 2010

Production Company
Doozer, Towers Prod., ABC, Touchstone Television


Cast and Crew
---
Director
Bill Lawrence
Main Cast
Additional Cast
Robert Maschio as Dr. Todd Quinlan
Sam Lloyd
Christa Miller as Jordan Sullivan
Kit Pongetti
Johnny Kastl
Bob Rumnock
Mike Schwartz
Barry Williams
Randall Winston
Clark Devol
Synopsis
---
The Janitor's goin' to the Bahamas and he's gonna get married. No one at Sacred Heart is too hip on the trip since the wedding is in three days. But J.D. rallies the troops by saying the Janitor is part of their family. "A horrible, horrible part. Like an uncle who shows up at your ballet class and whispers good girl when you plie."
Trouble hits prior to the tropical trip. On the seven-year anniversary of their first kiss, Elliot says "I love you" to J.D. He dittos her decree, but she's miffed he didn't obsess over it like she did. Turk has to deal with Carla's discomfort about making the journey without the baby. And Dr. Cox tells Jordan he'll have to work the entire time, but she insists that's fine with her. She just needs a session with the "fat vac" to red-up her bikini bod.
To prep for their island jaunt, J.D. surprises Turk with an exact replica of the tikis used in "The Brady Bunch Goes to Hawaii" episodes. Anyone else bust out hysterically as Barry Williams, aka Greg Brady, makes the online sale of the cursed tikis to J.D. from the confines of his Johnny Bravo-like home? Classic!
The gang makes it to their tropical destination in time for the wedding. Others on the guest list include:
- Kelso, who is typically two-fisted as he downs Bahama Mamas.

- Ted, whose face is a sieve for sunscreen.

- The Todd, who actually went to med school down there. His professor is the "greatest high-fiver in the world." Another piece of the puzzle falls into place, right?
The Janitor reveals that the reason he invited to the 847 members of the hospital staff to a wedding in a foreign country on three days' notice is because he didn't want anyone to come. He only wanted the gifts. We have to admit, it's a solid plan. Much to the Janitor's dismay, he now needs to have a big wedding bash after all.
The Janitor calls an emergency meeting of the Brain Trust to plan the makeshift ceremony. Ted is in charge of location and music. The Todd must track down a Justice of the Peace as well as find a sea turtle to serve as ring bearer. We know what you're thinking. It's all so cliche.
J.D., Turk and Dr. Cox hit the beach as their ladies show off their bikinis. Jordan's "50 percent real" body is most impressive. Once the boys get a good, long leer at Elliot's smokin' hot figure, she figures her work here is done. She starts downing conch fritters like she hasn't eaten in three days (which she hasn't). Only Carla disappoints, as she strolls along the surf in "shorts and mom suit."
Cox actually finished up all his work on the plane. He's just been waiting for Jordan to admit she wants to spend time with him. She responds by hurling his computer into the ocean. The flying laptop nearly decapitates Turk, who is wading in the waves while waiting for Carla. It'll be a long wait, as she's busy back in the room talking to their baby on the phone.
Elliot is still waiting for J.D. to knock her off her feet with a proper "I love you." When he dismisses her by saying she should stop acting so crazy, she leaves in a huff. Looks like there's trouble in paradise for these two. We're thinking it has something to do with those cursed Brady tikis. Where's Ann B. Davis when you need her?!