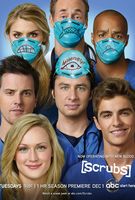 TV Info
---
Episode Premiere
April 01, 2009

Distributor
ABC

Genre
Drama, Comedy

Show Period
2001 - 2010

Production Company
Doozer, Towers Prod., ABC, Touchstone Television


Cast and Crew
---
Director
John Michel
Screenwriter
Kevin Biegel
Main Cast
Additional Cast
Robert Maschio as Dr. Todd Quinlan
Eliza Coupe as Dr. Denise Mahoney
Betsy Beutler
Sonal Shah
Todd Bosley
Lee Thompson Young
Corena Chase
Jean St. James
Tim Moore
Mark Ankeny
Sara Van Horn
Debra Fordham
Deonte Gordon
Synopsis
---
Turk's surgical intern, Derek, thinks he can do anything. Katie, Sunny, Howie and Denise are all getting pretty full of themselves, too. Elliot and Turk decide it's time to put them in their place. After a fun campfire story-style scare, they give the interns their assignments for the night.
Elliot is treating a repeat patient who continues to lose weight and look terrible. All the symptoms point to anorexia, but the patient insists that she doesn't have an eating disorder. Tests reveal the patient has HIV. Turk consoles Elliot telling her that HIV isn't a death sentence anymore. But the patient takes it hard, and Elliot can't help but take it the same way.
Turk's gallbladder patient seems fine, but he needs to know that everything's okay in her, uhh, bowel area. We know. It's gross, but whatever. The problem is, the patient's a bit of a nervous pooper. We all have that friend who can't do number two in a strange place, right?
Turk compromises and asks her to just break wind. Embarrassed, she refuses. So, Turk assigns Sunny the task of getting the patient to pass gas. After a lot of smiling and a lot of negotiation, Sunny finally gets the patient to do the deed. The downside is that she can't get the smell out of her clothes and hair, the scent of thirty years of repression and hot dogs.
Denise has a patient with fluid in her lungs and Turk tells Derek to help her out. While Denise can be as smug as the others, even she can't help but chide Derek about his cocky attitude. While draining fluid from the woman's lung, Derek sees bubbles. He's collapsed the patient's lung. Fortunately, Turk swoops in to save the day.
Derek gets served a healthy slice of humble pie when the recovering patient asks that next time she be attended to by a "real" doctor. Ouch! That hurt. But Denise is there to kiss Derek's boo-boo, and lots of other parts, as they secretly get down somewhere in Sacred Heart. Yowza!
Howie's patient has a psychiatric condition that makes him believe that everyone has been replaced by an evil duplicate. We've felt that way for years! But we digress. The patient has poisoned himself and they need to find out exactly what he took in order to treat him.
At first, Howie thinks he's cracked the case when he pretends to be in on the patient's delusion, but the man continues to lie. After a long night and several exercises in circular logic, Howie extracts the information. Turk asks how he did it. Howie says he may have slapped the patient a little. Turk believes Howie is going to do well at Sacred Heart.
At the end of the night, Turk and Elliot wonder what things would have been like if they had hooked up with each other instead of with Carla and J.D. Turk also wonders if he or Elliot would always be doctors. Elliot tells Turk that she thinks he will always be a doctor, because he finds joy in whatever he does, whether it's surgery or teaching interns.
But Elliot's not so sure about herself. She says she holds on to the hard things, like her HIV patient from tonight. She thinks that if she were to settle down and start a family, she'd walk away and never look back. We can't blame her, but we'd sure miss her.