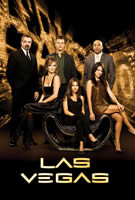 TV Info
---
Episode Premiere
November 02, 2007

Distributor
NBC

Genre
Drama, Crime, Thriller

Show Period
2003 - 2008

Production Company
Gary Scott Thompson Prod., DreamWorks, NBC


Cast and Crew
---
Director
Paul Michael Glaser
Screenwriter
Vince McKewin
Main Cast
Additional Cast
Synopsis
---
Cooper runs an idea by Sam. He wants to build a bar entirely out of ice. She points out that Mandalay Bay already has one. He wants to do it anyway, but doesn't have enough money in the budget. That's because Sam is down from last quarter. Sam promises her whale Rob will make up the in a weekend. Piper asks Sam a favor. Her sex DVD mistakenly went to the Video Library - will Sam find it?
Danny and Mike attend Mitch's strip club birthday party. Stripper Angie, an old friend of Danny's from high school, is happy to see him. Her boss Dwayne threatens her to get back to work, and pushes her onto the stage. Danny punches him and a fight breaks out. Danny brings Angie home, since she got fired, and is scared her boss will follow her home. Delinda wonders if Danny has a threesome in mind, but Danny introduces Angie's little boy, also named Danny.
Delinda bonds with Angie, who admits it would be easier to raise her son if she had health insurance. Delinda points out that of strippers in Vegas have kids, and demands that Danny not only get Angie's job back, but get her insurance and child care as well. Danny returns to the club, and Dwayne agrees to give Angie her job back, but her kid and her health are her problems.
Delinda decides she wants to start a stripper's union. Sam looks through all the DVDs in the library, then starts searching the suites, where she's surprised by Rob, who changes his shirt. He's already seen the DVD. Thinking it's a preview, Rob asks when he's getting together with the DVD girl? Mike's married buddies love strippers. They arrive at the Montecito, excited for the anniversary of Anthony's bachelor party.
Danny returns home to find the apartment filled with strippers. Delinda has issued a press release in Danny's name, announcing a stripper union strike, scheduled for midnight. Everyone will walk off the job, and Danny will negotiate with club owners. In the casino, male employees tell Danny not to mess with Vegas' delicate eco-system. Strippers keep the city running! Mike's buddies are supremely disappointed, but he assures them that the strip club owners have gotten scabs.
Danny bumps into Cooper, who's reading an article about Danny's strike on the front page of the paper. Cooper asks if Danny thinks they should have discussed it first, and Danny claims it came on suddenly - any advice? Cooper tells him to get credibility. Sam thinks Danny and his strike are lame, but all the other female employees cheer him on.
Disappointed with the scabs, Mike and his buddies leave Dwayne's club, where the strike is underway. Danny rails them from crossing the picket line, and they leave to get drunk. After dealing with some girls who have hopped over the line to make a little cash on the side, Danny tells a reporter that the strike will continue until the strippers' demands are met. Sam watches the first noisy moments of Piper's sex DVD, and has to shut it off, feigning indigestion.
A group of casino owners visit Cooper, accusing him of ruining their fourth quarter. Cooper's fourth quarter will probably suffer, too, and he can't control what his employees do with their own time. Disgusted, the owners leave, and Cooper sends for Danny. Danny admits that the strike was Delinda's idea, and yes, he's aware of the city-wide repercussions. Danny asks Cooper if he has any ideas on getting credibility, and he agrees to think about it.
Sam asks Piper for a favor - go out with Rob. When Piper sees Rob, she says no, because he's so unhip. Piper has a reputation, which Sam points out is dependant on the lost DVD. She wants Piper to take Rob shopping, but he doesn't want to, preferring to wear whatever Sam picks out for him. He's down $1.4 million so she takes care of it. Delinda bonds with little Danny, who says his mom has lots of "uncles."
Danny gets attacked and knocked out in the parking lot. Delinda discovers him back at the apartment receiving several massages from strippers. He thinks Dwayne is the culprit; according to the grapevine, he's almost out of business. Delinda asks Danny if he had sex with Angie in high school, and he swears no. Piper finds Mike, who's depressed because his buddies are bummed. They were going to spend about $10 grand on strippers...
Cooper wants to hire a bodyguard for Danny, but he refuses. Cooper still hasn't figured out the credibility thing. Delinda shows Danny his picture on the front page of the paper, surrounded by strippers with the headline, "Lucky Man in the Middle." It's a good thing she's not the jealous type. Little Danny enters and says hi to "Uncle Danny." Delinda's jaw drops.
Cooper saves Danny from getting run down by a Hummer in the parking garage, then introduces him to his new bodyguard Carmen. She trails Danny into the casino, where he bumps into Sam. She's pissed because her high end ladies have stopped work in support of the strippers. Piper reports that she can't date Rob tonight, because she's stripping for Mike's friends. She just made $4000 in five minutes.
Sam offers to double Piper's take to go out with Rob. She admits he saw the DVD, and is dying for Piper. Piper accuses Sam of being evil for lying to her and pimping her out. Sam doesn't understand why Piper's offended. After all she made a sex tape, and now she's a stripper. Danny flubs a TV interview, then recovers. If he had a daughter, he wouldn't necessarily want her to be a stripper, but he'd want her to have health care.
Cooper finally gives Danny some credibility. The stripper union rally takes place at the Montecito, with special guest, Nevada Senator Allison Greenberg, a former stripper. She announces that she's officially throwing her hat in the governor's race, and her fundraising chair is Cooper. Mike asks Danny if he thinks Cooper used him to get press for Allison, but Danny prefers to call it multitasking.
Cooper asks the guys if they heard about the strip club where some employees had a fight. Danny offers to explain, but Cooper just bought the club, and intends to negotiate with the union, effectively ending the strike. Cooper doesn't know spit about the strip club business, but he'll get the best girls in town, since they're all unemployed. Sam tells Rob that Piper won't go out with him, but he never wanted Piper - she wasn't the only one on the DVD. Delinda rewards Danny with his own private lap dance.