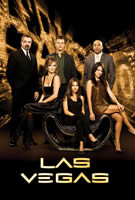 TV Info
---
Episode Premiere
February 08, 2008

Distributor
NBC

Genre
Drama, Crime, Thriller

Show Period
2003 - 2008

Production Company
Gary Scott Thompson Prod., DreamWorks, NBC


Cast and Crew
---
Director
Steve Robman
Screenwriter
Vince McKewin, Leslie N. Johnson, Erika A. Schleich
Main Cast
Additional Cast
Kathryn Joosten
Terry Bradshaw
Teddy Sears
Synopsis
---
Mike and Piper wake up feeling awkward about last night, and rush to get away from one another. In the sports book, Cooper watches quarter horse races beamed in by satellite from Allentown, PA. He courts attention from June and Isabelle, telling them all about quarter horses. When Pete Skinner, a guy who professes to know nothing about horses bets the winner a few races in a row, the girls begin turning their attention to him.
Piper tells Delinda that last night with Mike was a 3 on a 1 - 10 scale, but it's not his fault. She goes off to show the Rocky Mountain Do-Si-Doers around the casino, as Sam welcomes her gay dot com billionaire whale Brian. He introduces his grandmother Robbie, whom he wants Sam to entertain while he hits the tables. There's only one thing Robbie likes to do, and that's bingo.
Mike persuades Danny that they need to do a dry run to the hospital from home and work, and wrangles Polly to play Delinda. Sam takes Robbie to a local bingo parlor, where they make a side bet on whoever is the first to ten. In security, Danny and Mike notice Pete continuing to win. Danny tells Mike to video IQ Pete, since Cooper will be asking them to do so shortly.
Sam and Robbie get to know each other. Robbie claims that being old sucks, because she has arthritis everywhere and can't drink. When Sam wins, Robbie crumbles up her bingo cards and stalks out, accusing Sam of cheating. Cooper asks Danny to run a video IQ on Pete. Danny agrees that Pete is annoying enough to slap, especially since he's drawing all the chicks. Cooper claims not to have noticed.
Delinda gushes over Danny for his dry run idea, but he's thinking better of it when Polly shows up in character, going into labor. She falls on the floor and demands to be carried to the car. Running past a bank of slot machines, Danny bonks Polly's head and knocks over one of the Do-Si-Doers, who oddly runs away. Sam confronts Robbie, insisting that she never cheats, but Robbie can't face her loss. Later, Brian asks Sam to do the right thing, and pay Robbie the money for their side bet. Sam sucks it up.
Up in security, Mitch claims that Pete is clean, but always bets late and won't bet a pick six. Maybe he only knows the winner right before the race. Claiming her water has broken, Polly presses Danny's foot down hard on the gas, alerting the cops. Recognizing Polly as the crazy lady from court, Officer Hayes knows she's not pregnant, and orders her to get out of the car. Pete loses the sixth race of the day, gets real mad, and stalks off.
Cooper tells Pete that he owns a ranch. Pete admits it must burn Cooper to see him keep winning when he knows nothing about horses. Cooper claims not to care, as long as everything is legal. A waiter gives Pete a drink and a business card from a super hot woman across the bar. Piper is shocked when the Do-Si-Doers desert her in the middle of the tour.
Sam offers Robbie the money from the side bet, but Robbie just wants Sam to admit she cheated. Sam offers a rematch at the big Double Down, but Robbie won't play without a trustworthy mediator, sending Sam to go find one. Cooper locates the super hot woman in the casino to ask if she's tipping off Pete, but she's just a prostitute. Officer Hayes takes Polly downtown for obstructing justice, just as Cooper calls Danny with an emergency.
Mike proposes doing a pupil scan on Pete, to compare him in moments of winning and losing. Sam and Robbie play bingo with Delinda as mediator. Piper visits Mike in security for a simultaneous apology about last night. Trying to alleviate pressure and make things more spontaneous, Mike asks her to meet him at 5. The pupil scan reveals that Pete is in shock when he loses, but not when he wins.
Cooper warns Pete that the super hot woman is a hooker, and he should guard his winnings. He knows that Cooper thinks he's cheating, but he's really not. Mitch discovers that the broadcast center is broadcasting the Allentown races one minute behind reality for the whole west coast, and begins monitoring the races. When the last race is delayed by a squall, Danny sees his chance to catch Pete.
Reviewing tapes of Pete, Danny and Mike deduce that he always stands in the same spot, staring into the casino before betting. When they reverse the camera, they realize that the Do-Si-Doers are assembling in the spot, in whatever number corresponds to the winning horse. Robbie admits that she admires Sam for sticking to her guns, when she gets bingo. Robbie stands up, then falls over dead.
Danny delays one of the Do-Si-Doers from assembling with the others, to prove Pete's malfeasance. Security arrests Pete and Do-Si-Doers. Turns out that Pete's brother-in-law works at the broadcast center, and arranged for the transmission delay. In jail, Polly gives pedicures and unwanted advice to her fellow inmates. Late, Mike rushes to meet Piper in a housekeeping closet, where she is dressed in nothing but a towel.