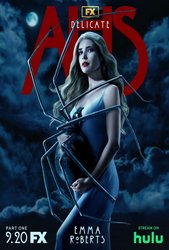 TV Info
---
Next Show
Eps 5.01:
Checking In
October 07, 2015
Category
TV Series
Genre
Drama
Seasons
5
Production Co.
20th Century Fox Television
Distributor
FX
Official Site
click here

The Story
---
A fourth installment of its critically acclaimed anthology series "American Horror Story." "American Horror Story: Freak Show" begins its tale in the quiet, sleepy hamlet of Jupiter, Florida. The year is 1952. A troupe of curiosities has just arrived to town, coinciding with the strange emergence of a dark entity that savagely threatens the lives of townsfolk and freaks alike. This is the story of the performers and their desperate journey of survival amidst the dying world of the American carny experience.
It is about a titular group of misfit performers, led by former German cabaret star Elsa Mars (Emmy winner Jessica Lange), who arrive in the small town of Jupiter, Florida. With her show's popularity waning, Elsa hopes to pump up attendance by finding and recruiting conjoined twins Bette and Dot (Sarah Paulson), two very different personalities sharing one body. Elsa's troupe includes Jimmy (Evan Peters), who was born with lobster-like hands, and his mother, bearded lady Ethel (Kathy Bates).
The Stills
---