December 17, 2009 02:40:40 GMT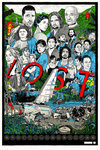 The final "" poster which is part of "The Lost Underground Art Project" was unveiled on Tuesday, December 15 and went online the next day. Unlike the other fifteen that were debuted in prior, this new one shows a large portion of the sci-fi's cast apart from some key objects like the bunker's lid, the crashed Oceanic plane and the Black Rock ship.

ABC had commissioned a series of posters to be made out in honor of the final "Lost" season. The latest art is that by Tyler Stout who often creates tour posters for indie rock band Menomena. According to Damon Lindelof and Carlton Cuse who attended the unveiling show, there are two clues about season 6 inside the poster.

December 16, 2009 09:29:34 GMT

In a "" episode where Ted comes closest to unveiling the big secret, will guest star as one of his many love interests. How "" star will look like in the episode airing January 11 is revealed when CBS unleashes more stills that have her sharing screen with .

Bilson will play a character named Cindy who supposedly is a student of him. They go out for a dinner and audience are "one step closer to meeting the future mother of his kids." However, it is not yet confirmed whether Bilson will be the Mother.

December 16, 2009 08:55:40 GMT

USA Network is giving more and more footage from the January episode of "". Containing a brief summary of what happened when the show stopped airing in August, the new promo says that Michael will get a lot of trouble when his only link to Intelligence Agency is dead and his biggest foe wants to toy around with him.

The first episode, called "A Dark Road", will be airing on January 21. A widow whose husband died during a fake insurance scam begs Fiona for help getting her husband's dangerous associates away from her and her son.

December 16, 2009 08:16:56 GMT

's visit to his wife's starring vehicle, "", is teased via several promotional photos. It looks like his character will be involved in some kind of confrontation with a kid on a playground before the boy's mother comes in between them.

The episode is called "Magic Snow and Creepy Gene". When the ladies make a pact never to reveal what they did to Jamie, they realize they must go their separate ways - and abandon their powers. A guilty Joanna tries to help Penny find closure.

December 16, 2009 07:25:12 GMT

"" once again landed itself on hot water when it aired an episode where Carter Pewterschmidt was given a lap dance by a stripper. The Parents Television Council (PTC) is not happy with the situation, arguing that the FOX animation is one of the most-watched programs with children 6 to 11.

PTC has filed a complaint to Federal Communications Commission about the Sunday, December 13 episode. "In the episode, loutish Peter takes his father-in-law and friends to a strip club named the Fuzzy Clam. Peter tells a stripper to perform a lap dance on his father-in-law. She bends over and waggles her rear before his face," PTC starts with the description of the particular scene.

December 16, 2009 06:50:55 GMT

is going to give a tough competition. Her guest appearance on "" has been teased through a new still released by Entertainment Weekly and it includes a kiss on the lips for the titular character.

According to ABC, Milano is Richard Castle's former love interest who will give Castle and Beckett's relationship the shake up. Named Kyra, the character reconnects with the writer on her wedding day where "sparks fly". The episode is called "Rose for Everafter" but the air date is still unknown. "Castle" is slated to go back on screen starting January 11.

December 16, 2009 04:58:10 GMT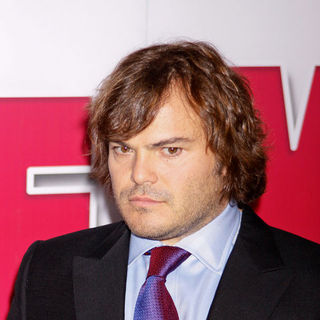 is again crossing the bridge to television world by guest starring on "". The feature film actor has once made a cameo in another NBC show "", playing an actor along with and Cloris Leachman in a pirated movie that Andy downloaded.

In "Community", Zap2It said that Black's appearance on the half-hour comedy is scheduled for January premiere. No further detail was released regarding his role but Zap2It noted that another high profile film actor is also slated to pop up in the same episode and he is Black's co-star in one of his projects.

December 16, 2009 03:38:13 GMT
"No More Mr. Nice Spy" is the latest slogan that "" opts to describe the third season. A new key art has just been unleashed to reveal that Chuck is no longer a boy trying to be a man but a man trying to be a spy with lethal Kung Fu skill.

"The journey for Chuck last year, he was inclined to wanting to get the thing out of his head and go back to the normal life. And then he accepted the responsibility of who he really was, to become a hero," creator Josh Schwartz said in a recent conference call with the press. "And now he's here to do a ramification of that and embrace it."

December 16, 2009 02:59:44 GMT
More and more actors are joining "" as the fresh faces who will appear in the third season. Beside finding an actor to play the heavily recurring character Alcide Herveaux, the show also cast three additional actors for Yvetta, Reverend Daniels and Joe Lee Mickens.

Showrunner Alan Ball chose to pick lesser known actor to play the werewolf Alcide. , best known as Owen on "" gets his major break as Sookie's aid in finding Bill who was kidnapped at the end of season 2. In the book by Charlaine Harris, Alcide is summoned by Eric and will have a fling with Sookie. However, Alcide is emotionally attached to his on and off girlfriend Debbie Pelt. An actress is yet to be found to play Debbie.

December 15, 2009 09:11:47 GMT

"" January 21 episode called "Bloodlines" has been teased with a preview attached to the end of the show's December marathon. The CW is re-running the first half of season 1, two episodes at a time, beginning Monday, December 14 to Friday, December 18.

In "Bloodlines", Stefan and Damon's long lost sister, Maria comes for a visit and seeks revenge. It is up to the brothers to stop her before the truth is out. The mysterious man Elena meets on the road reveals that he is a vampire, and Elena is bitten by him, which Stefan learns later, forcing him into revenge against the unknown killer. Also, a new witch comes to town, Alyssa.

December 15, 2009 08:29:30 GMT

Despite being a newbie, "" will give a heavy competition for older shows. The half-hour comedy series nabs three nominations from 2010 Writers Guild Awards, the same amount that "", "" and "" get.

"Modern" is to fight for Best Comedy category with "Office" and "30 Rock" in addition to "" and fellow newcomer "". The pilot has also helped "Modern" in scoring a nomination for Episodic Comedy which again lists "30 Rock" and "Office". For being new, "Modern" is put under Best New Series along with "Glee", "", "" and "".

December 15, 2009 07:05:36 GMT

The third season of "" starts to take shape with the announcement of several actors to fill in the new roles. First of all, Lafayette gets a mom in Emmy-winning actress Alfre Woodward, meaning his cousin Tara will get a visit from her aunt. Her character and how she would incorporate to the story are not disclosed. Creator Alan Ball is not following the book by Charlaine Harris as Lafayette is supposed to have died in book 1.

Not only Lafayette, Sam will have his family exposed. After it was announced that Marshall Allman would tackle the role as his younger brother named Tommy Mickens, it is revealed that Tony-nominated actress J. Smith-Cameron will play the recurring role as Melinda Mickens. Described as "dirt-poor, hung-over and trashy-looking", Melinda is slated to appear in the second episode.

December 15, 2009 06:03:18 GMT

The date for the premiere of long-delayed "" has been announced when NBC unveils its 2010 midseason schedule. The drama that originally was 's starring vehicle skipped the Fall season to debut on Monday, March 1 being led by "".

Tierney had to undergo a medical treatment and was unable to continue her commitment to the show. She was eventually replaced by . This midseason, the series premieres just right after "" wraps up its season finale on February 8 and NBC finishes its Winter Olympics cover on February 28.

December 15, 2009 04:24:25 GMT

The first look into the 100th and the first musical episode of "" has been shared. Beside teasing on the main cast such as , and in suits, the promotional photos also unveil 's role as a hot bartender named Karina who is annoyed by Barney's fashion.

"Barney needs to nail the hot bartender that works at MacLaren's," Harris told IGN previously. "Oddly, he's never banged a hot bartender before. He has a lot of conquests, but never a hot bartender." Unfortunately, Karina is not a fan of guys in suits leading to a choice for Barney to ditch the suits and bang her or to keep his suits and sing about it.

December 15, 2009 03:27:19 GMT
"" will be back next year bigger, literally. The NBC show about losing weight and leading a healthier lifestyle, will present its biggest contestant ever when 31-year-old DJ from Chicago Michael Ventrella joins the competition at the starting weight of 526 pounds. The show's previous heaviest contestant was Shay Sorrells who weighed 476 pounds in Fall.

Because NBC sets up the next season to be another "Couples" edition, Michael will be competing with his mother Maria. Another couple who tops off Sorrells' weight would be twin brothers James and John Crutchfield from Orlando who weigh 485 and 484 respectively.