November 03, 2009 04:58:43 GMT

How will incorporate with Howard Wolowitz's fantasy has been teased through a photo released by USA Today. "" geek will share the bathtub with Sackhoff's character, drinking white wine and soaking in bubbles.

The episode where the "" star is guesting would be "The Vengeance Formulation" which airs on November 23. Howard is unsure what to do with his new girlfriend Bernadette, so he discusses it with the guys. However, talking with his friends only makes him take wrong turns.

November 03, 2009 04:33:09 GMT
This season alone, "" has gone through a boy-on-boy kiss and an erotic film scene but next week, the show will explore a threesome. There is no word yet which characters will be involved in the three-way sex since the actors refuse to reveal whether they are one of them.

aka Blair previously said, "We're all in college now, so we can definitely push the limit with the sexuality, which is fine by me. I sort of make the kiss happen. I can tell you that much, and that's it." meanwhile was a little more generous, spilling "I would imagine it's going to involve at least one boy and one girl."

November 03, 2009 03:43:30 GMT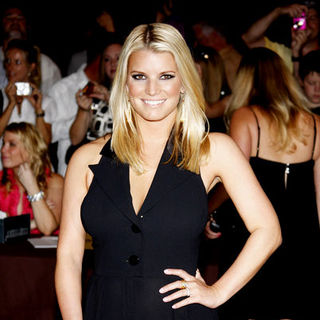 The fact that 's "" character has been written off is pissing her sister . The older Simpson wrote on her Twitter, "CW catching up on MP. who writes this crap?i have had bad scripts to work with,but this?thank God my sister is amazing and got you some press."

Ashlee is canned from "Melrose Place" after starring in the new series for several episodes in season 1. When the show was promoting its season premiere, her character Violet was made one of the regulars. Jessica had been keen on promoting the show while Ashlee was still attached, reminding her Twitter followers to watch it on Tuesday nights.

November 03, 2009 03:11:49 GMT

Somebody from "" will lead a very different life. Brooke receives a life-changing news that she may be pregnant with Julian's baby. The synopsis released by The CW for the November 9 episode however said that instead of being a joy, it is a "devastating news" that "threatens to derail Brooke and Julian's fairytale romance".

Meanwhile, Millie's downward spiral jeopardizes her relationship, her job and her life. Haley returns to the stage and Dan Scott returns to Tree Hill much to the chagrin of Nathan, who is about to sign a new NBA contract with the help of his agent Clay.

November 03, 2009 02:35:03 GMT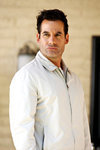 The "" character who will be killed off is none other than Peter's flying brother. Nikki Finke of Deadline Hollywood said that is let go from the show and Kristin Dos Santos from E! Online added that the actor was not fired but he found it out from reading the script.

Nathan was actually one of the characters whom actor said was safe when the news about a major death in "Heroes" leaked last month. Santos' source said, "I know Adrian is getting killed off and was pissed about it because they didn't tell him...Greg could be talking about another death but I think he's probably covering and throwing fans off." There is still no word on how Nathan's exit from the show will be.

November 02, 2009 09:33:47 GMT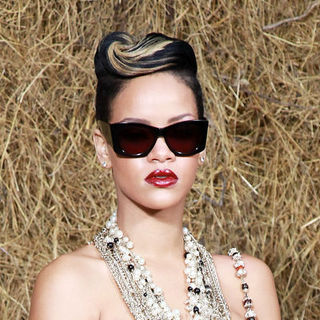 Nearly a year after she was assaulted by then-boyfriend , is set to make her first ever TV appearance on ABC later this week, during when she will tell all about the incident. The network has confirmed her scheduled appearance on its "" and "20/20" through a less than one minute promo video.

Rihanna will first appear in "Good Morning America" at 7 A.M. on Thursday, November 5. Then, the following day she will come to "20/20" at 10/9c. The songstress herself hasn't addressed the report just yet.

November 02, 2009 08:44:06 GMT

Kitty is devastated when she is faced with the visible ramifications of her cancer treatment that she is seeking an alternative beside chemotherapy. Next week on "", Kitty is scaring Nora with her decision that may cost her life.

Nora makes a surprising friend with benefits, putting on a helmet, dressing on leather jacket and hoping on a big bike. "Nora meets Simon, who is an oncologist at the hospital where Kitty is getting treated, and they start an affair," says the show's executive producer David Marshall Grant. Meanwhile, Scotty takes stock when his father delivers some shocking news about his marriage.

November 02, 2009 08:16:08 GMT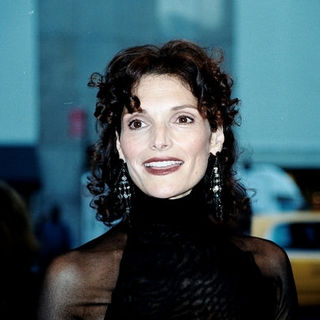 "" is refreshed with the arrival of a new captain in the ninth season. Mary Elizabeth Mastrantonio, known for her recurring role as Anne Cassidy on "" will join the show as the successor of Captain Danny Ross who is leaving after three years in his position. There is no name of the character yet.

Shift in the captain position has been taking place since James Deakins headed the Major Case Squad division and was replaced by Ross in 2006. The casting of Mastrantonio marks the first time a woman is assigned as the captain.

November 02, 2009 06:38:16 GMT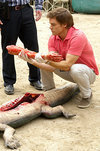 Another person "" should worry about is Quinn. The detective has taken a sudden interest in Dex's life, curiously asking Dexter why he still keeps his apartment although he's been married and moved to the suburban. One of the clips provided for the November 8 episode sees Quinn helping Deb move to Dex's apartment.

In "Slack Tide", Dexter finds himself enjoying a brief moment of tranquility. He's finally managed to strike a balance between work, family and other pursuits. But he's keenly aware that times like these aren't meant to last. When Miami Metro discovers a string of murders connected to a prominent photographer, Dexter sees an opportunity for a clean kill.

November 02, 2009 05:10:06 GMT
From being in the second place in the last leg of "", poker players Maria Ho and Tiffany Michelle plunged deep into the last position. They quit after being unable to complete tough detour challenges in Netherlands where they had to choose between Farmer's Game and Farmer's Dance.

At the beginning of the race, Tiffany said, "Second place is awesome, but we've learned from poker that it's really, really easy to get comfortable and get involved in pots that you shouldn't." Then came the challenges that forced them to give up. They first chose the dance that required them to learn a traditional Dutch dance, perform it and eat a salted herring. After several failed attempts, they switched to the Game.

November 02, 2009 04:05:38 GMT
A news surfacing by the hour, Gregory Itzin is making a return to "" to reprise his role as former president Charles Logan. This means he survived the near-death experience in season 6 when his wife Martha stabbed him with a kitchen knife. He was last seen wheeled into the ER and flatlining on the way.

Passing the good news was Executive Producer Howard Gordon himself who told the press that Logan will be back for multi-episode arc. On how Logan will make his triumphant entrance, FOX said that the in-duty President Taylor () "reluctantly" enlists Logan to assist with an escalating international diplomatic crisis.

November 02, 2009 03:01:19 GMT

The cast of TV's most hyped show this Fall, "", were taking over the Citizens Bank Park on Saturday, October 31 to do the honor of performing the national anthem. The lots had been snubbed by NBC's Macy's Thanksgiving Day Parade but they delivered when tapped to perform at the World Series event.

The likes of , , and took a minute of Game 3 between Phillies and Yankees to sing the song in World Series jerseys and 'Stand Up to Cancer' shirts. But it was who took the center stage, belting out the first few phrases solo. When they got to the "bombs bursting in the air", fireworks were lit.

October 31, 2009 07:10:11 GMT

After an episode paying homage to horror films, "" and "" will return next week with "Devil's Bargain" and "New Terrain" respectively. Melinda is brought to a striptease bar since the ghost had a side job as a dancer while she was alive. Meanwhile, Allison is taken to a bank in her vision.

In "Bargain", Jim, surprised by his colleague's nonchalance to a paranormal encounter, suspects that he is involved in a med student's sudden disappearance. Meanwhile, Melinda senses trouble when Aiden continues to mention his fear of "the shadows." guest stars as Tina Clark, the murder victim who seeks Melinda's help.

October 31, 2009 06:24:32 GMT
Good news comes in two for "" superfans. After NBC has confirmed that it is adding six more episodes to the order, who plays the titular character posted an on-set picture that reveals him as a director.

"On the set directing my first episode of television. Guess which show it is. :)," the actor teased on his Twitter post. Words about him directing an episode have actually circulated two weeks ago with the rumor that the episode he will be directing is called "Chuck Versus the Beard" aka the ninth episode of the third season.

October 31, 2009 04:45:45 GMT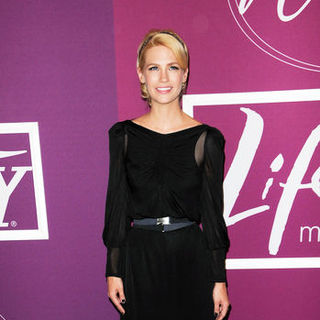 NBC has issued the press release that informs "" audience about the hosts and musical guests in the November sweeps. Apart from which has been locked for November 7 hosting job, the network announces that "" beauty is slated to take the baton from Swift in the following week.

First confirming that Swift will pull a double duty as host and musical performer, NBC reveals that Jones will be accompanied by (BEP) on the November 14 episode. This would be the first time for Jones but the second time for the music group. Both acts are in the middle of promoting their latest works with Jones having a feature movie "" coming out on November 6 and BEP supporting their June release ""