March 09, 2014 14:23:37 GMT
is back causing trouble at work. He reportedly skipped several days of filming FX's "", causing the production to get halted.

Sheen's absence prompted the show's studio, Lionsgate, to push production beyond what was planned and to use stand-ins for the actor in certain scenes, THR reported. His cast members were also suffering from his negligence. A source said they even threatened to stop working if Sheen continued to miss work.

March 08, 2014 06:15:22 GMT

FOX has released a new promo for "" which sheds more light on the storyline. The video reveals that Jack Bauer tries to stop an attempted assassination of the U.S. president in London, something that may cause a world war. "If an American president is assassinated on foreign soil, you're looking at a world war," the heroic agent tells someone unseen.

Four years after the events in the series finale, 's Bauer is now an exile and is being hunted by a CIA agent. Nevertheless, he is willing to risk his life and freedom to avert yet another global disaster. He attempts to thwart an unthinkable terrorist attack in London that could change the world forever.

March 08, 2014 05:22:22 GMT

Who is the Yellow King on ""? Before the answer is given in the show's season finale this Sunday, "" may have 'spoiled' it in a new photo posted on its official Facebook and Twitter accounts.

The image features Homer Simpson almost naked, sitting comfortably on his couch while holding a sandwich in one hand and a can of beer in another. He wears antlers and sports the mysterious insignia 's Rust and 's Marty discovered on a dead body in the first episode, suggesting that the Simpson patriarch is the Yellow King this whole time.

March 08, 2014 04:45:14 GMT

and may return to the small screen with ABC's shows. Both actresses are cast in two different pilots for the network, with the former landing a role in an untitled Richard LaGravenese soapy drama and the latter joining John Ridley's "American Crime".

Described as a high society drama, the LaGravenese project is set in New York City and revolves around the love and rivalry between two equally matched, powerful socialites who play out their obsessive attraction to and seduction of each other through their manipulation of others.

March 08, 2014 03:40:58 GMT

"" may have helped shoot to stardom, but she made waves years before the slavery movie. In 2009, the Oscar winner for Best Supporting Actress starred on a hit MTV show in Kenya which raised awareness about AIDS, HIV and safe sex.

In the raunchy soap opera, which trailer recently landed online, Nyong'o played Ayira, a very modern woman who "navigated the waters of dating, love and sex in Africa and all of the responsibilities that come with it." The show went to become a hit and was broadcast across 40 African countries.

March 08, 2014 02:44:47 GMT

"" is never outdated indeed. Following Tom Hooper's 2012 big-screen adaptation of Victor Hugo's novel, "Sesame Street" now delivers its take on the French historical story with the famous puppets.

In the spoof, Cookie Monster stars as Jean Bon-Bon, a French guy who is very sad because he had no cookies. One day, his pursuit of cookies in the streets of Paris brings him good fortune, but there are still others who are sad because they have no cookies.

March 08, 2014 01:47:21 GMT

FOX has renewed four of its shows. On Friday, March 7, the network announced early renewals for sophomore drama "" and three comedies, "", "" and "".

"These shows are some of the best and acclaimed series on television, with influential, culture-driving stars, and some of the best, most creative talent behind the camera," Kevin Reilly, Chairman of Entertainment, and Joe Earley, Chief Operating Officer, Fox Broadcasting Company, say in a joint statement. "All four are core assets within our 2014-15 portfolio of content, and we're really happy to bring them back to our FOX fans for another season."

March 08, 2014 00:25:59 GMT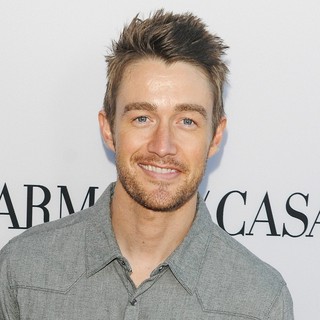 has nabbed major role in a potentially new series "iZombie". The Clayton Evans of "" is cast as the lead character's former fiance in the Rob Thomas adaptation of the DC Comics.

Per THR, the CW supernatural crime procedural centers on Liv, a medical student-turned-zombie who takes a job in the Coroner's Office in order to gain access to the brains she must reluctantly eat so that she can maintain her humanity. With each brain she eats, she obtains the corpse's memories. Together with her medical examiner boss and a police detective, she solves homicide cases in order to quiet the disturbing voices in her head.

March 07, 2014 08:36:01 GMT

E! is entering scripted programming business. The cable channel has officially picked up "" from "" creator Mark Schwahn, marking its first scripted drama series order.

The hour-long drama set in modern-day London is about a fictional British royal family. plays Queen Helena, who will protect her family's image by any means necessary. Vincent Regan, , Alexandra Park, Tom Austen, Jake Maskall, Ukweli Roach and Oliver Milburn also star on it.

March 07, 2014 07:36:46 GMT

stopped by "" on Thursday, March 6 and took part in a funny game. That night, they played Water War in which the one with the bigger number of card gets to throw a glass of water on their opponent.

was the first to splash water on Lohan's face, but the situation soon turned the other way around. At one point, the "" star got so excited that she used two cups of water at the same time.

March 07, 2014 06:06:23 GMT

There will be a touching reunion in "" 100th episode as hinted in newly-released photos for the said outing. reprises her role as Quinn who, in one picture, is seen with 's Puck paying tribute to their late friend Finn () by visiting his jersey memorial.

Former couple 's Santana and ' Brittany have a sweet reunion, while 's Rachel, 's Mercedes, 's Kurt and 's Mike are all back to McKinley High. also reprises her role as April and is booked to return as Holly Holliday.

March 07, 2014 04:23:07 GMT

"" has just had its first shocking elimination early in the final round. On Thursday, March 6, Emily Piriz got the boot though her cover of 's "Let's Get Loud" got rave review from the original performer.

Emily landed in the bottom three along with M.K. Nobilette and Jena Irene, marking the second week in a row M.K. found herself in jeopardy. Emily sang for her life, choosing "Stars" by .

March 07, 2014 03:25:18 GMT

Those who find it difficult to understand what the characters are saying on "" are not alone. thinks the show's dialogues are confusing, especially because of the accent, and pokes fun at it with a parody on "The Soup".

In the spoof, the "" star plays 's Cohle while Jim Rash takes on 's Hart. They often have to ask "what?" as they can't understand what the others say.

March 07, 2014 02:20:47 GMT

AMC has dropped the first teaser for "" season 7. Not giving away any plot details, the 15-second clip shows 's Don Draper descending the stairs of a TWA airplane in slow motion while he's putting his hat on. An earlier version of the video features Wax Tailor's jazzy version of "Que Sera", but it is now set to a soft tune of string instruments and jet noise.

The seventh and final season of the period drama series is split into two parts consisting of seven episodes each. The first part dubbed "The Beginning" will premiere Sunday, April 13 at 9/8c on AMC, while the second half called "The End of an Era" is slated to air in 2015.

March 07, 2014 01:44:21 GMT

is heading back to Seattle Grace Hospital. The former series regular of "", whose exit was highly publicized in 2007, is going to return for an episode this May to help mark the upcoming departure of 's Dr. Cristina Yang at the end of the season.

His character, Dr. Preston Burke, had a romantic relationship with Cristina in the first three seasons. The last time viewers saw him, he left Cristina at the altar because he felt that she didn't actually want to get married.