February 07, 2009 04:04:26 GMT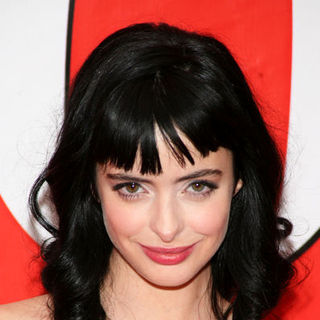 admitted that she received the good news of her joining "" spin-off almost at the same time as everybody else. Speaking to Access Hollywood at the premiere of her latest feature movie, "", on Thursday the actress said that she just got the call about an hour before.

"I just got the lead in the 'Gossip Girl' spin-off, so that's pretty cool!" elated Krysten said. "It feels really overwhelming. I'm lucky. I feel like a million bucks!"

February 07, 2009 03:21:40 GMT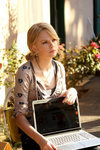 The buzz about making a cameo on "" has been making rounds and CBS have just given a sneak peek to her character through several stills. The photos released are taken from the scenes that she shoots for the March 5 episode called "Turn, Turn, Turn".

Most of the photos show the the country singer sharing screen with who plays Nick Stokes. Taylor meanwhile, plays a girl named Haley Jones whose parents run a seedy Las Vegas motel where a series of murders happens. Over the course of a year, Haley goes through a series of changes that have tragic consequences.

February 07, 2009 02:46:48 GMT

Inviting for the Friday, February 6 segment, "" has a larger scheme ahead, bringing over her boyfriend for the Monday, February 9 episode. Host shoots down to the core, interrogating both the stars who have been playing coy about their relationship.

Jen is in the talk show to celebrate her turning 40 and promote her latest flick "". But Ellen also uses the opportunity to show her some photos of Jen's closest friends who will be invited to Jen's party. After photos of Jen's "Friends" co-star and her husband , Ellen pulls out a photo of John in his famous green swimsuit that he wore in a cruise.

February 06, 2009 09:26:32 GMT

A videotape creates a major situation in the upcoming episode of "". In "The Courtship of Betty's Father", Betty tapes a video tribute for Claire Meade's 60th birthday that's very revealing, just not in the way she planned.

But the real shocker comes when Betty accidentally leaves the camera on at home and discovers some revealing footage about Ignacio. Meanwhile, Daniel and Wilhelmina have difficulty adjusting to the new significant others in their lives. The episode airs February 12.

February 06, 2009 09:02:31 GMT

It is at least another 4 months before "" begins sucking viewers with its second season, and some the cast are coming out to give an update. E! Online, has been trying to dig clues on the answers to the questions that leave the first season hanging. One of the things is whether Lafayette really dies.

It was seen in the very last scene of "True Blood" season one that a foot, very much like Lafayette's, is lifeless in the back seat of Detective Bellefleur's car. To this, who portrays Lafayette, plays it coy saying "They have to wait and see," when asked whether or not it was the end of the character's fate.

February 06, 2009 08:21:56 GMT
Another dip into the crossover event between "" and its spin-off "" has been given. Things got complicated not only in the medical cases but also the relationship among Derek, Meredith and Addison.

The two-hours event will be kicked off with a "Grey's" episode called "Before and After". Addison, Naomi and Sam rush the ailing Archer to Seattle Grace and reunite with old friends Derek and Mark to help save his life. Meanwhile, Izzie employs her fellow doctors in a medical game designed to help teach the interns, and Owen runs into a significant someone from his past.

February 06, 2009 07:22:08 GMT

In two weeks time "" will return with an episode full of fantasy, comic creatures and fanatics. In "The Princess and the Pear", a female Sci-Fi enthusiast is found murdered and the team is lead to a fantasy convention that has gone wrong. The episode airs February 19.

When a group of eighth-graders find the decomposed body of woman wearing a medieval princess dress, the team is on the scene to investigate. With Booth incapacitated due to a back injury, Agent Payton Perotta (guest star Marisa Coughlin) steps in to help with the investigation. With insight from "squint" Colin Fisher, a self-professed geek and expert in the language of sci-fi, the team identifies the woman as a promotional model from ImagiCon, a convention for fans of comic books, video games and other sci-fi genre entertainment.

February 06, 2009 06:41:11 GMT

In the awards show where kids' votes count, a number of names and TV shows are unveiled as those vying for the prize. Nickelodeon's 22nd Kids' Choice Awards, put "" and its star in strong competition against "" and the star .

Both Disney Channel's "Hannah Montana" and Nick's "iCarly" are up for the category of Favorite TV Show. Miley and Miranda meanwhile, are facing each other again in Favorite Television Actress. The biggest contender on TV however, would be twins and who are both under the category of Favorite Television Actor and have their show "The Suite Life of Zack and Cody" nominated for Favorite TV Show.

February 06, 2009 04:44:35 GMT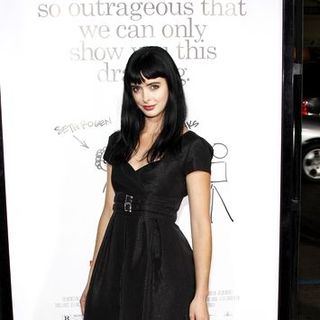 One more step is taken for the spin-off to "". As , the new show will focus on the early life of Lily van der Woodsen in the 1980s Los Angeles and an actress has been cast to be the older sister of Lily.

who is involved in both "" and "", has been signed to play the role of Carol Rhodes. This character will play a major role in changing Lily's way of life, from the high-class society to the junky lifestyle in the San Fernando Valley. Carol is the black sheep in the Rhodes clan and Lily will move in with her in L.A. after falling out with her parents.

February 06, 2009 04:08:50 GMT

One of the biggest questions surrounding "" has been unveiled through that was released yesterday. Jin is alive and is making a return on the February 11 episode called "The Place is Death". Providing further details on the comeback is who plays Jin.

In the final episodes of the fourth season, Jin was presumably dead after the oil tanker where he was last seen blew up in the middle of the ocean. Ben however, reveals to Sun that Jin is still very much alive and that he can prove it.

February 06, 2009 03:23:46 GMT

U.K. is looking forward to cash in on "Camp Rock" popularity by producing a new TV show based on the original TV movie. The network is looking for youngsters between eight to sixteen to fill in the roles in new TV talent show "My Camp Rock" and be the U.K. version of Hannah Montana.

Those interested and have what it takes to be the next Disney star, are welcomed to submit an audition tape of themselves performing "This is Me" or "We Rock" from "Camp Rock". Eight qualified contestants will make it as finalists and sent on a boot camp in Essex where they will be trained vocally by "Any Dream Will Do" vocal coach, Zoe Tyler, and given dance classes by professionals.

February 06, 2009 02:44:38 GMT

On Monday, February 9, "" will present a guest starring slot filled . The rapper who has been dwelling himself in the acting realm, will play attorney Derek Powell whom Horatio and the team suspect as covering up for a murder. The episode is called "Presumed Guilty".

It was reported in November last year that Diddy's cameo in the police drama series will not be a one time stint. He has signed for another one which is also scheduled to air early this year. It will reportedly be the right one after "Presumed Guilty", which is titled "Sink or Swim" and is scheduled to air March 2.

February 05, 2009 09:44:24 GMT
Disney's "" stars and were invited to appear on "" on Wednesday, February 4 and they showed up in underwear. However, the twins wore the trademark underwear on the outside of their pants and joked that it's the latest trend.

At 16, Dylan and Cole revealed that they are eligible to drive but when Ellen asked them about accidents, Cole described his personal experience of crashing into another car. "I was backing up and it was partly because I didn't look and it was night time," Cole explained. "That's the excuse I'm using. It was dark and I hit a $160,000 car."

February 05, 2009 09:17:06 GMT

Two major movie stars are heading to television for a spin-off to "". "Batman and Robin" star and "" star slash rapper are reportedly in talks to be the main cast of the not-yet-titled spin-off.

According to The Hollywood Reporter, O'Donnell will play an average guy named Callen who is born to do undercover work, "taking on different identities". LL Cool J meanwhile, is considered for the role of Sam Hannah who is a tough but charming former U.S. Navy Seal.

February 05, 2009 08:39:07 GMT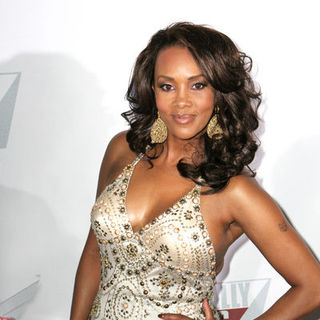 TV Land have hired to host their new reality TV show, "The Cougars". Set to premiere on April 15, the programming will present "an accomplished, beautiful and sexy woman" surrounded by a group of eligible younger men to find a shot of love.

"I'm so excited to be the guide for 'The Cougar's' quest for love," said Fox. "This show will prove to be empowering and enlightening for women everywhere. Plus, 20 hot guys gathered under one roof doesn't hurt."