April 13, 2010 07:08:55 GMT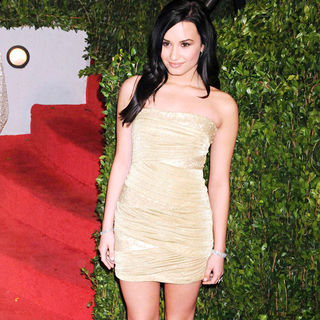 Filming her guest starring appearance late last month, can be seen for the first time on "" through a still obtained by TV Guide Magazine. Her role is a schizophrenic patient named Hayley who falls under the care of ' Alex and Jessica Capshaw's Arizona.

"The first two actors I met were Justin Chambers and Jessica Capshaw, and I was like, 'There's Karev and Arizona!' Then I met ," Lovato gushed. The Disney actress is seen in with scratches on her face. The episode will air on May 13.

April 13, 2010 04:38:07 GMT

As the clock counts down on the highly-anticipated return of "", FOX releases one more promo that reminds people why this return is worth the time. The five reasons are "", "Sue Sylvester", "Great Guest Stars", "Huge Musical Numbers" and "Crazy Plot Twist".

After a very long hiatus, "Glee" will be back on screen on Wednesday, April 13. The first back nine episode is titled "Hello". Fresh off their monumental win at Sectionals, New Directions is on top of the world. With an extra spring in their step, they get to work on new numbers for Regionals. But when Rachel and Finn's budding romance hits a bump in the road after she becomes involved with a competitor, Jesse St. James, it threatens to derail the entire club. Mr. Schuester pays a visit to Shelby Corcoran, coach of Vocal Adrenaline, to confirm Jesse's motives.

April 13, 2010 03:36:58 GMT

The latest "Waiting Sucks" promo of "" gives a tease on what will happen to Jason Stackhouse in the third season. After having trouble with women most of his time in season 1 and 2, the dimwitted brother of Sookie is again falling into the same pit with a new woman (or creature) named Crystal Norris.

This new teaser gives the first look of Lindsay Pulsipher who guest stars as "a mysterious and hauntingly beautiful young woman in sundress" aka Crystal. She has a passionate romp with Jason but becomes aware of the breaking sound in the woods and says, "This can't happen. It's too dangerous." Jason reacts, "Dangerous? Why?".

April 13, 2010 03:14:07 GMT

's destination is found. Less than three months after he his "Tonight Show" on NBC, the host announced that he's moving to basic cable instead of major network. O'Brien has struck a deal to have a talk show airing on TBS this November, two months after his contract with NBC not to appear in television expires.

"In three months I've gone from network television to Twitter to performing live in theaters, and now I'm headed to basic cable," O'Brien said in a statement. "My plan is working perfectly." He added on his Twitter, "The good news: I will be doing a show on TBS starting in November! The bad news: I'll be playing Rudy on the all new Cosby Show."

April 12, 2010 08:20:53 GMT

What will be seen when "" comes back to the small screen on April 18 has been shared in a new clip. ' Albert takes the law into his own hands, while 's LaDonna gets news about her missing brother.

After an on-air sacrifice costs Davis his job, he agrees to work at an upscale hotel in exchange for money from his parents. Janette also turns to her parents for a loan, but doesn't get as much as she'd hoped. Angry that a contractor failed to repair her roof, LaDonna's spirits are raised when Toni announces that Daymo has been found.

April 12, 2010 07:43:07 GMT

A clip from the April 18 episode of ABC's TV series "" has come out as a teaser. Faith and family can weather many storms for the Walker family will take everything they got to solve their problems.

Still reeling from his discovery of Nora's buried secrets about his childhood, Kevin refuses to attend his own birthday party. Meanwhile Justin, Tommy and Kevin confront Dennis York. Additional casts for the next episode include Peter Gerety, Daniel Oshionebo, David Oshionebo, Anne Betancourt and .

April 12, 2010 04:28:56 GMT

With the departure of such regulars as , and , "" producers have recruited a new hunk Grey Damon to the fifth season of the TV series. Damon is confirmed by EW to play a regular on the show.

He will tackle the role of a sexy, laid back basketball player who joins the East Dillon Lions as a wide receiver. His character named Hastings Ruckle is described as a "super, super hot guy who must be over 6 feet tall with a strong athletic build" and has "dark, hippie, party-guy vibe."

April 12, 2010 02:39:37 GMT

hooked up with in two skits of "" show. Also, the Canadian singer made a quick appearance during the monologue where Tina spoofed her hectic schedule in juggling her responsibility in "", "" and guest stint in "SNL".

One of the sketches saw Justin going to a school dance with Tina, and the other has Justin sitting as one of the students in Tina's fictional science class. Being the only pupil who acted nice to her, he was praised by her as "a baby bunny sniffing a tiny flower." She even fantasized about him, daydreaming he serenaded her with a song about "buying her a Panini and some spanks to make her teeny."

April 10, 2010 06:29:21 GMT

"" will be visited by a bunch of people expert on their respective fields. The first look of Huffington Post editor-in-chief Arianna Huffington, "The Sopranos" director Peter Bogdanovich and Crossword Editor of The New York Times Will Shortz is released.

Ted, Marshall, Lily and Barney crash a highfalutin party at a swanky New York apartment, Ted gets the chance to mingle with the snooty guests, one being Jefferson Van Smoot (Michael York) and show off his intellectual side. Called "Robots Vs. Wrestlers", the episode airs on May 10 on CBS.

April 10, 2010 04:30:02 GMT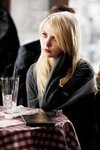 One major character will be noticeably missing from the next season of "". Jenny Humphrey, the character played by , will take a hiatus not because the actress is taking a leave but rather because the writers want so.

Per EW, a source close to The CW series confirmed that the actress will be absent for an unspecified number of episodes at the beginning of next season for "creative" reasons. The source said, "When you watch the finale. You'll see that we're doing something very big with her character."

April 10, 2010 03:54:58 GMT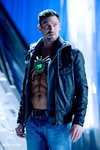 returns to "" as the man with artificial heart, Metallo. In "Upgrade", Zod continues to pose as "The Blur" and asks Lois to investigate one of Tess' secret labs. An explosion rocks the lab, and Lois is rescued by John Corben, Metallo's alter ego, who was a subject of multiple experiments.

While investigating the explosion, Clark is exposed to red kryptonite. And infected Clark takes Zod to the Fortress. Tess turns to Chloe for help and they send in Corben to stop Clark from revealing all his secrets.

April 10, 2010 03:14:51 GMT

A promo of "" for this weekend's episode shows for the first time and in one screen. Tina announced her duty as a host and introduced the musical performer in two takes.

In the first take, Tina said that she counts it as a sex crime to host with Justin. In the second one, she joked "Justin, I'm at least five years older than you. ...just go with it," after Justin complimented that she looks hotter in person.

April 10, 2010 02:46:04 GMT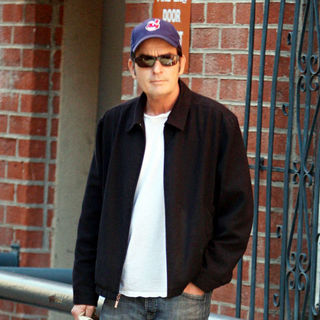 would like to clear the air surrounding the speculation that he quits "" due to salary problem. Moreover, the actor filmed the sitcom's season 7 finale on Friday, April 9 night and he won't deny if it could be his last.

To People Sheen explained, "Much speculation and rumor has arisen from my current status surrounding 'Two and a Half Men'. All of the numbers reported in the press are false. Claims from 'inside sources' regarding offers from the studio as well as my salary, on their best day, are without merit." He went further, "Approaching the start of the current season and as far back as June '09, I submitted my terms for season eight to Warner Bros. and CBS respectfully."

April 09, 2010 09:22:10 GMT

challenged the cast of "" for a battle ala "". On the Thursday, April 8 episode of "", the host welcomed , , , , , and more to battle them in a musical number.

It begins with Fallon getting out of the elevator just like McKinley High students walking past the school's corridor and talk about their club. Approached by his teammates, Jimmy accumulated plans to join the "Sectionals". That was before they met their competition and found out that are on their side. made a cameo as the principal who determined whether Roots can join the "Parks" team.

April 09, 2010 08:06:00 GMT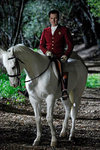 More than a dozen of "" images, taken from the third season, are brought forward. Not only giving previews to what happen to the major characters such as Sookie, Bill, Sam, Eric, Lafayette, Tara and Jessica, the stills also provide the first looks at the new characters.

Denis O'Hare's Russell Edgington aka King of Mississippi riding a horse is pictured separately from his gay lover, Theo Alexander's Talbot. King of Mississippi is to have a serious business with Queen Sophie-Ann. Meanwhile, Talbot has "acerbic sense of humor and loves to cook despite vampires' inherent lack of cooking talents."