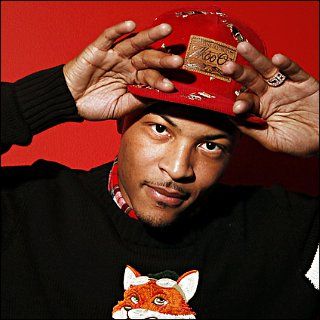 Profile
---
Famous as :
Rapper
Birth Name :
Clifford Joseph Harris Jr.
Birth Date :
September 25, 1980
Birth Place :
Atlanta, Georgia, USA
Claim to fame :
Album "
Trap Muzik
" (2003)

Biography
---
by AceShowbiz.com
---
guns and two silencers, and possession of firearms by a convicted felon. Facing 30 years in jail if convicted of both charges, T.I. walked out of the federal courthouse in downtown Atlanta after posting a $3 million bail; $2 million in cash bond and $1 million in property. He was then placed under house arrest, prohibited from going out of his house except for medical appointments and court appearances. The only people allowed to live with him were his girlfriend and children, with other visitors requiring approval from the court.

Despite this unfortunate ordeal, he kept his spirit high by announcing to his fans that he was working on a new album while on house arrest. The album, which was released September 30, 2008, was titled "Paper Trail", a reference to the method he used in writing the materials. Unlike his previous projects, T.I. was back to the traditional pen and paper instead of technology generated sound from studio in the six songs he had written. Like its predecessor, "Paper Trail" debuted at number one on the Billboard 200, selling 568,000 copies in its first week, becoming T.I.'s highest debut sales at that time. During the 51st Grammy Awards, he was nominated for four Grammy Awards, eventually winning Best Rap Performance by a Duo Or a Group for "Swagga Like Us".

T.I.'s past legal trouble ended him in prison for a year and a day. It was also determined in March 2009 that he was to pay $100,300 for federal weapons charges. Before he began serving time in Forrest City, Arkansas, T.I. performed a farewell concert at the Philips Arena in Atlanta, Georgia. He was released from jail in December 2009 and then moved to halfway house. He was a free man by March 26, 2010 but was subject to drug counseling, DNA testing, and random searches of his property.

Soon after his release, T.I. geared up the work of his seventh studio album. Inspired by his life behind bars, T.I. worked with Jim Jonsin and Trey Songz among others. The first promotional single "I'm Back" was released on March 8, 2010, peaking at #44 on Billboard's Hot 100 charts. T.I. then changed the title of the album from "King Uncaged" to "No Mercy" upon the album's release on December 7, 2010. The album debuted at number four on the US Billboard 200 chart, selling 159,000 copies in its first ...