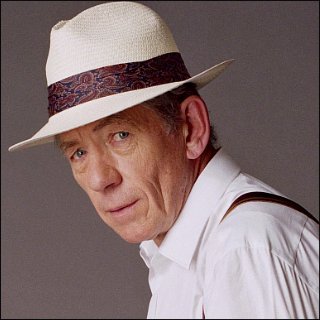 Profile
---
Famous as :
Actor

Birth Name :
Ian Murray McKellen

Birth Date :
May 25, 1939

Birth Place :
Burnley, Lancashire, England

Claim to fame :
As James Whale in "Gods and Monsters" (1998)


Biography
---
by AceShowbiz.com
---
Capable of delivering dynamic and powerful presence in every role he takes, be it onstage or onscreen, Ian Murray McKellen has satisfyingly created a long list of highly memorable performances for over 3 decades to soar as one of the most outstanding British thespians in Hollywood. Familiar with acting since he was still a young kid, Ian is the second child of civil engineer Denis Murray McKellen and his homemaker wife, Margery Lois, born on May 25, 1939 in Burnley, Lancashire, England five years after the arrival of the couple's daughter, Jean. Growing up in another town called Wigan instead, the boy then was introduced by his parents to performing arts through their regular visit to its cinemas also Frank H. Fortescue's weekly repertory company during his childhood, altogether made him deeply fascinated by the idea of how would it feel to be in the actors' shoes. This desire to take part onstage later became really hard to resist by the time he learned about Shakespeare upon watching a stage production of Wigan's Little Theatre and that of Wigan High School for Girls in which his older sister starred.

Yearning for proper medium to nurture his abundant interest, Ian finally encountered the chance when he moved to Bolton following his father's appointment as the Borough Engineer and Surveyor of the town in 1951. Transferred from Wigan Grammar School for Boys to Bolton School Boys' Division, here he was able to broaden his knowledge about theatre, joining its plays while spending summers with other students attending the school's camp at Stratford-upon-Avon to watch Royal Shakespeare Theatre's presentations in the evenings. There were also Bolton's Grand Theatre in which he could see all the shows for free, thanks to the generosity of the owner who befriended his father, and Hopefield Miniature Theatre, a converted Edwardian house where the 13-year-old kid delightfully landed his debut as Malvolio in "Twelfth Night." Being able to garner such exuberant experience, it therefore was not surprising at all to find this youngest member of the McKellens in the end came to a determination of pursuing a professional acting career.

Prior to his journey in materializing the dream, there came for him a scholarship to St. Catharine's College, University of Cambridge to study English Drama at age 18, and willingly nabbed the offer, Ian thus kept developing his performing skills persistently through appearances in dozens of its students ...