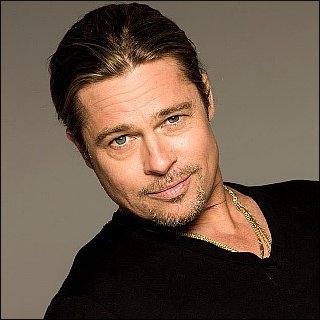 Profile
---
Famous as :
Actor

Birth Name :
William Bradley Pitt

Birth Date :
December 18, 1963

Birth Place :
Shawnee, Oklahoma, USA

Claim to fame :
As J.D. in "Thelma & Louise" (1991)


He and Angelina Jolie won the 5th spot on Forbes' list of Hollywood's 20 Top-Earning Couples, earning $34 million between June 1, 2007 and June 1, 2008.
Teaming up with Kiehl's to develop an ecofriendly body wash, called Aloe Vera Biodegradable Liquid Body Cleanser, to benefit the JPF Eco Systems (August 2008).
Sold the first pics of his twins with partner Angelina Jolie to People and Hello! magazines for a reported $14 million.
Ranked 4th on People magazine's list of "Sexiest Men Alive" in 2007.
Ranked 2nd in Forbes.com's first-ever analysis of Top-Selling Famous Faces (October 2007).
He and wife Angie chosen the No. 9 Best Dressed Couple in the World in the poll by Vanity Fair magazine in July 2007.
Ranked 5th on Forbes magazine's "100 Most Powerful Celebrities" annual list in June 2007, securing $35 million in earnings.
Ranked 1st in Life & Style's list of "Hollywood's Top 10 Dads" in June 2007.
Alongside George Clooney and Matt Damon, his "Ocean's" co-stars, had their hand and foot prints left in cement outside Grauman's Chinese Theatre on June 5, 2007.
Voted the 2nd in the poll conducted by In Touch Weekly on the Sexiest Guy of Summer 2007.
Included in Time magazine's annual list of 100 Most Influential in May 2007.
Included in People magazine's annual "100 Most Beautiful People" list in April 2007.
Placed on the 4th position on US magazine Newsweek's annual list of Most Powerful Actors on the Planet in April 2007.
Is the 10th Hollywood's Hunk according to the 'Guy Candy' list compiled by TV show Access Hollywood in March 2007.
Ranked 7th in NW magazine's survey on the World's Sexiest Men (January 2007).
Named the Best Dressed Man of 2006 in a poll conducted by US news show Access Hollywood to find Hollywood's most elegant man.
Ranked 15th in People magazine's list of Sexiest Men Alive for 2006.
Along with Angelina Jolie made a donation of $100,000 to the Daniel Pearl Foundation on Oct 10th, 2006.
Has been awarded a Guinness World Record for the Most Wanted Man on Internet Search Engine Google in 2005 (Sept 2006).
Along with Angelina Jolie created a new charitable foundation, gave away $2 million, $1 million to the Global Action for Children and $1 million to Doctors Without Borders, to help families affected by HIV/AIDS and extreme poverty (Sept 2006).
The digital memory card containing a number of personal copyright protected photographs of him, Jolie, and their children have been stolen and offered for sale.
Had the $4.1 million pictures of him, Jolie and Shiloh hit newsstand June 9th, 2006.
He and Jolie are reported to have sold the first picture of their unborn baby to an American weekly magazine for not less then £2.6 million with the money given to children's charity UNICEF (May 2006).
Celebrated the birth if his daughter, Shiloh Nouvel Jolie-Pitt, by donating $300,000 to local hospitals in Namibia while also pledged $15,000 for a school and a community center in Swakopmund, which he and Jolie once visited.
Teamed up with national environmental group Global Green USA, sponsoring the Sustainable Design Competition for New Orleans, a contest to find an Earth-friendly plan for housing & community centers in New Orleans destroyed by Hurricane Katrina (Apr '06).
He and Jolie were ranked 3rd at the annual survey by Quigley Publishing Co. on Top Moneymaking Stars of 2005.
Has been voted by In Touch magazine as the 4th Hollywood's Hottest Dad (December 2005).
Narrates six hour-long episodes of "RX for Survival: A Global Health Challenge," which follows health care workers and researchers struggling to contain disease among the poor.
Once diagnosed with Viral Meningitis (July 2005).
Listed in People magazine's annual "50 Most Beautiful People" list in 2005.
Has been one of the Most Searched Names of 2005 according to STARmeter, an IMDB.com's site search index.
Sold the 10,000 square foot Beverly Hills estate, which he and former wife Aniston bought for $13.5 million, for $28 million as a part of their divorce settlement.
Does the Heineken commercial which aired during the 2005 Super Bowl and was directed by David Fincher who he worked with on "Se7en."
Gained over 20 pounds of muscle for "Troy" (2004).
Along with Aniston, he campaigned in the United States to save "EastEnders" (1985) from being axed there.
Tore his Achilles tendon while filming "Troy" (2004), which caused the production of "Ocean's Twelve" (2004) to be pushed back to April 2004.
Has a home at Lake Mohawk in Sparta, New Jersey.
His name was mentioned in the Shania Twain hit song, "That Don't Impress Me Much."
Lost the role of "J.D." in the cult classic film "Heathers" (1989) to Christian Slater mainly because the casting director thought he was too sweet to play the role.
Becoming the spokesmodel of Toyota, Altis model commercial, which only aired in Asia.
Becoming the spokesman for Edwin Jeans ads in Japan and also the face of the ads for a Japanese canned coffee called "Roots."
Spent $1 million on his wedding to Jennifer Aniston.
In 2001 he sued Dalmani International for creating the wedding ring he gave to Jennifer Aniston, which he exclusively designed, selling it replicas and indicating the couple's endorsement of the ring.
Was regarded for the lead role in "The Matrix" (1999).
Learnt how to fly-cast for his role in "A River Runs Through It" (1992).
Donated $100,000 to the Discovery Center, a children's learning museum in his hometown of Springfield, MO. [June 1996]
Is best friend with "Troy" (2004) co-star Orlando Bloom.
Ever took Greek language lessons in secret to surprise his wife Jennifer Aniston, who is of Greek ancestry.
His favorite actress is Dianne Wiest.
His favorite movies are "Planet of the Apes" (1968) and "Saturday Night Fever" (1977).
When still in high school, his friends usually called him Brad the "Pitt-bull."
Is a member of the Sigma Chi Fraternity, which is the Xi Xi chapter at The University of Missouri - Columbia.
Studied acting with the late Roy London.
While in high school he was affiliated to the Key Club and the Forensics Club.
Involved in sports (golf, tennis, and swim), debating, student government and school musicals during his high school.
Forbidden to enter China because of his role in the movie "Seven Years in Tibet" (1997).
Turned down a role as an astronaut in "Apollo 13" (1995) to star in "Se7en" (1995).
Once posed for a campus calendar in college.
Before becoming a star, he earned money by driving strippers in limos, moving refrigerators and dressing as a giant chicken while working for "El Pollo Loco" restaurant chain.
Left college two credits short of graduating to move to California.
Used to act in fraternity shows.