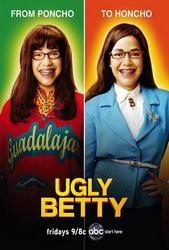 TV Info
---
Episode Premiere
January 13, 2010

Distributor
ABC

Genre
Drama, Comedy

Show Period
2006 - 2010

Production Company
Touchstone Television, ABC


Cast and Crew
---
Director
Richard Heus
Screenwriter
Abraham Higginbotham
Main Cast
Additional Cast
Synopsis
---
Betty tries to turn an assignment about "comfortable stilettos" into a meaningful piece called "Walk a Mile in Their Shoes," showcasing people who do charitable things. We're not surprised that Wilhelmina not only nixes the charitable angle, but makes Betty write the original assignment by literally walking a mile in a pair of dangerous designer high heels, or that Betty ends up on crutches.
Matt meets a woman who volunteers in Botswana who would be perfect for Betty's "walk a mile" article, so he encourages her to write it anyway, by starting a blog! Betty is reluctant, but figures if she can inspire just one person, it'll be worth it. Amanda tells her that her old apartment is now empty, as she and Marc moved across the hall to a two-bedroom, so Betty decides to use it for her first photo shoot. She's not prepared for the landlord's wrath: Amanda didn't give notice when she moved out -- or pay the rent for the last two months!
Wilhelmina "borrows" Marc from Daniel because she doesn't have time to break in a new assistant. When Marc inexplicably starts messing up Daniel's lunch schedule and appointments, Daniel figures it's because he wants to be fired and go back to working for Wilhelmina. We're happily surprised to discover Marc's plan: Having Daniel skip meals was to help him lose weight. And, by appearing more "hard to get" to advertisers, Marc's won back several advertisers lost during Cal's reign. After years of doing Wilhelmina's bidding, we're enjoying seeing Marc call the shots for once. Especially since he really knows what he's doing.
Hilda freaks out about having to take care not only of Justin, her father and a new baby, so Bobby plans an all-Hilda week, doing things just for her. It doesn't go as planned, but seeing him pitch in when Justin gets sick, Hilda realizes that Bobby isn't going anywhere. "I thought ,'How am i going to do this all alone?' But then I realized I don't have to, because I have you," she tells him.
Betty launches her blog and finds that she has inspired someone, just not who she expected. Matt tells her he wants to volunteer in Botswana for six months! "This is big and it's sudden," Betty tells him, but decides, "You have to go. You have to do this." We can't help but go "awww" when he tells her, "Betty, you changed my life." Amanda shows up with the missing money, and an admission that she avoided Betty after losing Matt to her. Betty says that they've both lost Matt now.
Wilhelmina won't listen when Connor tries to give him up, considering that he's in jail for years to come. Instead, she presents him with two rings and tells him, "We're getting married." He agrees, but when she shows up in a stylish white suit to marry him, the guard informs her that Connor's been transferred to parts unknown. Really he's just paid off the guard to lie to Wilhelmina.