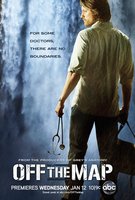 TV Info
---
Episode Premiere
February 16, 2011

Distributor
ABC

Genre
Drama

Show Period
2011 - 2011

Production Company
Shondaland Productions, ABC Studios


Cast and Crew
---
Director
Donna Deitch
Screenwriter
Joe Sachs
Main Cast
Additional Cast
Synopsis
---
The clinic is robbed leaving our favorite jungle docs with no medical supplies. A patient, Julio, goes into cardiac arrest when his appendix bursts. Thieves stole the battery to the defibrillator, so Ben has to literally pound the heartbeat back into the guy with his fist. Julio stabilizes but they need to operate now.
Julio is a top-notch fix-it man according to Lynn, the woman who loves him. He even fixed her, which is why she begs the team to do whatever it takes to save him. Ben has 30 minutes to do the operation before the local painkiller they're using wears off. Otis knows it's not enough time. He suggests they use something else. Something he knows he can get his hands on: heroin.
As Ben preps for surgery, Otis and Mina paddle down the river to the secret drug lab in the jungle. Otis used to be a frequent buyer, so it's tough for him to handle this return visit. That's why Mina steps inside to make the buy. The dealers don't want to sell to her. They change their tune when Mina offers to save the life of a young girl who is overdosing right in front of them. Her fee is the drugs they previously refused her. Deal!
Julio starts feeling the pain at the 28-minute mark of the surgery. Fortunately, Otis and Mina are back with a syringe full of heroin ready to go. Ben orders Otis out of his OR. There's no way he wants him watching as they shoot this guy up with drugs. Julio pulls through and Mina has a heart-to-heart with Lynn, who talks about the joys of jungle life. The chat gives Mina something to think about. Earlier she had mentioned to Lily that she was heading back to the States once her rotation is up next month.
Tommy meets a few vacationing college kids who are members of his old frat. One of the boys had a few too many drinks the night before, but that's not what's making him sick. When the kid starts seizing, Tommy realizes he has viral meningitis. They don't have the meds to treat him, so Tommy asks his old medicine man pal Papa for help.
The frat boy doesn't want Papa to touch him. Tommy convinces the kid that the medicine man's knowledge of jungle remedies is his best shot. Papa does his thing and the kid pulls through. Tommy is grateful to Papa and hits him up for some advice on how to deal with new girlfriend Alma's angry father. Papa says the guy just wants know if Tommy respects the place he now calls home. With the help of a Spanish-American dictionary, Tommy manages to convince him that he does.
Otis helps Ryan search for a young girl who bolted from the clinic with a badly swollen eye. They need to find her fast, so they hop on a motorcycle and cruise off into the jungle. Vrooom! They discover assassin bugs hiding inside the little girl's home. They carry a harmful parasite that will eventually cause cardiac arrest.
Ryan knows this firsthand because the bite of an assassin bug killed her sister. At least, that's the story she tells the girl's mom to get her to seek treatment. Otis knows Ryan doesn't have a sister. She's the one that was bitten by the bug as a kid. That's why she's been having shortness of breath lately. Her heart is failing. She tells Otis that no one needs to know about her condition.
At the end of the day, Lily gets a visit from the MIA Mateo, who decides to join her in late-night waterfall shower. Elsewhere, Zee tells Otis that just because they aren't together anymore, that doesn't mean they can't be friends. He says he doesn't know how to do that. Unfortunately, Otis does know how to shoot drugs which is why it's so disturbing to see him holding some stolen heroin in his hands.
Ben's been particularly cantankerous all day because his wife has shown no improvement in six months. He has some hard decisions to make. Lily tries to make him feel a little better by saying that he's what makes the clinic what it is. Without him, the place is just a building. Ben tells Ryan that the only thing worse than losing the clinic would be losing her. It looks like she's about to tell him about her condition when something distracts them. The chopper that's transporting their patients is in trouble. It's going down.