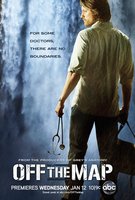 TV Info
---
Episode Premiere
March 09, 2011

Distributor
ABC

Genre
Drama

Show Period
2011 - 2011

Production Company
Shondaland Productions, ABC Studios


Cast and Crew
---
Director
Michael Katleman
Screenwriter
Mark Fish
Main Cast
Additional Cast
Synopsis
---
Ben and his team of jungle docs spring into action when a water taxi capsizes in the river. Ben and Tommy find a missing man who was swept away. The guy's in bad shape with lacerations that came courtesy of a propeller. Ben needs Tommy to get his mind off his big night with Mina. The patient has a severed artery, so Tommy puts in a shunt to keep blood flowing. That'll work.
Lily learns that there may be one other person missing-a teenage boy. A rescue team is on its way, but time is of the essence. Lily finds the kid holding on for dear life amidst the rapids of the river. He can't swim, so Lily dives in after him getting caught in a strong current. They need to keep their heads above water until help arrives. Unfortunately, they have no idea when that may be.
When Ben and Tommy return to the main triage area, they realize Lily is missing. She's still holding onto the kid, though not for long. They both fall into the rapids. Lily isn't strong enough to keep the teen above water. He's drowning as he slips out of her grip. Ben arrives to pull Lily from the water. The boy is nowhere to be found.
Back at the clinic, Ben tries to tell Lily that what happened at the river wasn't her fault. His words have little effect. As far as the other patient, he starts to go south fast. Tommy wants to give him a transfusion with his own blood. Ben says it's time to just let the guy go. Yeah, that's not gonna happen. Tommy does the transfusion solo. Ben is shocked. It looks like the guy is actually going to make it. Way to go, Tommy!
Zee's more than a little peeved when she realizes Mina and Tommy trashed her garden during their night of inebriated lovemaking. She's also frustrated with Otis, who has memorized the eye chart. They work together to treat a newly-adopted baby with red spots on the skin. Turns out the child has leukemia and must stay in South America for treatment.
The parents don't know what to do. Zee suggests they consider returning the baby to the orphanage if they're not up for a long fight. The parents say they are, but the mother has second thoughts immediately. It's not because the baby is sick. The woman is a career lawyer who realizes that she never really wanted to be a mother.
Otis thinks Zee scared the parents away, but she knew that woman did not want a baby. She wants to be sure that every child she encounters goes to the right home. Looks like she'll get her wish. The adoptive dad leaves his wife to care for his sick little girl. He'll have help. All of the other adoptive parents that came to this place as a group will delay their return trip to the States. They'll all stay as long as this brave new dad needs them.
Ryan is headed to the Big Apple for her heart evaluation. She has time before her trip to assign Mina a patient with big old lesions on his butt. The patient, Richie, owns a pizza stand in town and has diabetes, which he largely ignores. Ryan wants Mina to play hardball with this extremely difficult dude. It doesn't fly.
Richie insults Mina by calling her a chicken lady. She says, "It's like a cat lady except with chickens." Pizza dude is a total tool and Mina lets him know it. It's the first time anyone's ever gotten in the last word with Richie, but that's because the guy codes and dies. Later, Mina decides to throw a funeral. Ryan says, "I think you just might be the biggest humanitarian in this place." Mina responds, "No, I'm just a chicken lady."
At Richie's funeral, Tommy promises to make things right between him and Mina. Lily has no idea what they're talking about. Once Tommy clues her in, Lily breaks down in tears. It's been a rough few days for her. At least she has her friends to hold her tight. As for Ryan, Ben speeds off to catch her before her flight departs. He says she forgot something and that "something" is him. Nice.