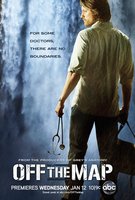 TV Info
---
Episode Premiere
March 23, 2011

Distributor
ABC

Genre
Drama

Show Period
2011 - 2011

Production Company
Shondaland Productions, ABC Studios


Cast and Crew
---
Director
Karen Gaviola
Screenwriter
Christine Boylan, Jeannine Renshaw
Main Cast
Additional Cast
Michael Arden
Nicholas Gonzalez as Mateo
Roma Maffia
Marta McGonagle
Elizabeth Pena
Brett Tucker
Synopsis
---
Mina is screaming at Tommy for eating all the bagels that came in her care package. Tommy is screaming at Mina because her chicken is always roaming around their humble home. Lily is giggling with delight because her two roomies have obviously gotten over the awkwardness of having slept together. Everything's as it should be. Yeah, that's not gonna last.
Ben's old med school buddy, Jonah, pops by the clinic he helped to build with an intriguing proposition. He wants to do a kidney transplant smack dab in the middle of the jungle. His patient won't be able to get into a hospital for months. That's a problem because he'll likely be dead in a week. Jonah says the guy's niece is a match. Ben agrees to help his old pal perform the risky procedure.
The patient's niece gets a little skittish when Lily starts asking personal questions about her uncle. That's because the two aren't really related. This is a business transaction-cash for kidneys. Ben and Jonah pop a brand new kidney into their patient before Lily can break the news that this is a black market transplant. Ben is understandably upset when he finds out, but he's utterly stunned when he learns Jonah brokered the deal.
Ben knows what they did is akin to murder if the patient dies. They work feverishly to save the guy when he rejects the kidney, but to no avail. Later, Jonah questions Ben's motives for keeping his wife alive on machines for the sake of funding the clinic. Soon the two men are slugging it out in a modern day rumble in the jungle. Ben bids a final adieu to his former friend once the slugfest is over. But Ryan probably feels like the one who has been sucker punched after Ben admits he can't let go of his wife.
Zee suspects an elderly patient is being abused by his caregiver daughter. Otis discovers the old guy isn't being beaten. No, his injuries are the result of having sex with a younger woman. The daughter tells her father's secret girlfriend that it's her turn to take care of him now. She has some living to do in Rio! Otis uses Zee as a partner to show the old man and his lady some positions that'll help them avoid injury during sex. This leads to a passionate kiss between Zee and Otis once the teaching session is done. Who says homework isn't fun?!
Tommy and Mina head down river to tend to some wounds sustained by a volunteer church group building a school. The foreman running the extremely unsafe operation is yappy dude named Pher (short for Christopher). The construction site is a disaster waiting to happen. Correction, it's a disaster "happening" when the weak scaffolding collapses. Many are injured and foreman Pher ends up losing a few toes.
Tommy and Mina use a special medicinal tree sap as a natural bandage to save Pher's foot. They laugh and chat as they drain the sap. Amazingly, it's not weird. Well, it's not weird for Mina. Tommy is still looking to be more than platonic pals. Back at the clinic, Mina learns that Tommy insinuated to the flirty Pher that he was her boyfriend.
Mateo's mom, Inez, fakes a few symptoms to get Lily to make a house call. The plan is to get her son and personal physician together for a romantic dinner. Her diabolical scheme works, as Lily gives Mateo an unexpected kiss. It's all part of the "go for it" attitude she told Tommy to take regarding his feelings for his other beauty of a roomie. Mina shares this mentality, too. Unfortunately, she's "going for it" with their toeless patient in the shower. Is Tommy bummed about this? Pher sure.