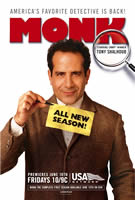 TV Info
---
Episode Premiere
January 16, 2009

Distributor
USA Cable Network

Genre
Drama, Comedy

Show Period
2002 - 2009

Production Company
Mandeville Films, ABC, NBC, UMS


Cast and Crew
---
Director
Anton Cropper
Screenwriter
Nell Scovell
Main Cast
Additional Cast
Synopsis
---
Monk and Natalie are downtown when a man steals a bicycle from a nearby office building. As the thief rides away, he hits a pothole and crashes. Natalie, unaware that the man is stealing the bike, helps the crook to his feet and sends him on his way. Seconds later, the bike's rightful owner, a man named Dean Berry, bursts out of the office building, but it's too late. The thief has gotten away.
Natalie feels guilty about what happened, and goes to Berry's office to try to make amends. Berry is a research scientist who runs a high-tech, bioengineering lab. A square tomato Berry is developing impresses Monk, but the lab's most important project is an experimental corn seed that sprouts in 20 minutes. All that's left is to show the high-tech seeds to investors at an upcoming meeting. After a successful demonstration, Berry locks the seeds in a passcode-protected vault.
Natalie offers to buy Berry a new bike, but unfortunately for her, the bike was a gift from a non-profit group, customized specially for Berry, so it's irreplaceable. Natalie promises to recover the bike, and pressures Monk to help her. Monk reluctantly agrees.
Monk and Natalie identify the thief, a man named John Kuramoto, from a book of police mugshots. They go to Kuramoto's residence to investigate. Monk knocks on the door, and suddenly, a gunshot rings out from the house. Monk has been shot in the leg!
Monk is okay, but he'll be confined to a wheelchair during his recovery. Natalie feels terrible about what happened, but Monk doesn't let her off the hook, keeping her at his beck and call every second of the day.
Meanwhile, Stottlemeyer and Disher are on the trail of John Kuramoto. They learn that Kuramoto was paid a lot of money to steal that specific bike, but they can't figure out why. They talk to Dean Berry again, but he confirms that there's nothing intrinsically valuable about the bike.
The plot thickens when Kuramoto is found shot to death in a cemetery. What is it about this bike that has people willing to kill for it? Finally, the mysterious bike is found in a garbage dumpster. Every part of the bike is recovered except for its lock.
Monk and Natalie return the bike to Berry at his lab. Barry is happy to get it back, but he has more pressing concerns. His big meeting with investors was a flop when his quick-growing seeds failed to sprout. Then, Monk makes a realization. Every part of the bike has been recovered except for the high-tech lock. Monk has solved the case!
Dean Berry's assistant has been behind the whole thing. She gave the bike to Berry, claiming it was a gift from some non-profit group. Then she hired Kuramoto to steal the bike. But it wasn't the bike she wanted; it was the lock. Berry's assistant knew her boss used the same combination for all his locks. She custom-designed the bike's lock so she'd be able to retrieve the combination, knowing it would match the combination he was using on the vault where kept the quick-growing " and very valuable " seeds. Her plan worked. She used the combination to get into the vault, where she replaced the quick-growing seeds with ordinary ones. Then, she sold the stolen seeds to a source in China. When Kuramoto drew too much attention, she killed him. There's no proof she stole the seeds, but Monk notices some environmentally friendly sandals in her possession that match footprints found at the scene of Kuramoto's death.
The assistant knows she's caught and makes a break for it. Natalie gives chase and catches her just outside the building. After a struggle, the assistant pulls out a gun. Monk emerges and courageously stands on his wounded leg in an effort to save Natalie. Natalie snatches the gun and the assistant surrenders. With the situation under control, Natalie turns to Monk and accidentally shoots him in his good leg. What began as an apparently minor case of a missing bicycle ends up being a most painful case for Monk.