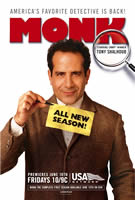 TV Info
---
Episode Premiere
November 13, 2009

Distributor
USA Cable Network

Genre
Drama, Comedy

Show Period
2002 - 2009

Production Company
Mandeville Films, ABC, NBC, UMS


Cast and Crew
---
Director
Michael Zinberg
Screenwriter
Joe Toplyn, Josh Siegal, Dylan Morgan
Main Cast
Additional Cast
Synopsis
---
Monk and Natalie are at police headquarters when Capt. Stottlemeyer's girlfriend, T.K. Jensen, shows up to meet him for their anniversary. Monk observes Stottlemeyer and deduces - for everyone to hear -- that the captain is going to propose to T.K. that night! Stottlemeyer is annoyed that Monk spilled the beans, and offers to propose on the spot. T.K. won't let him, but her emotional reaction makes it clear that her answer will be yes.
Months later, Stottlemeyer calls Monk to a grisly crime scene. A man's severely burned body has been found in a park. The victim was shot first, then the body was burned using alcohol as an accelerant. All that remains for identification is the victim's boot.
The investigation continues at police headquarters, where Stottlemeyer pulls Monk aside and asks him to be his best man. Monk says yes. Stottlemeyer gives Monk T.K.'s wedding ring, and Monk swears he'll hold onto it tightly until the wedding. T.K. enters. She's looking for her maid of honor, Stephanie Briggs, who was arrested the night before for speeding.
Stottlemeyer arranges for Stephanie's release, and they go to the impound lot to get her car. Stephanie explains that she was only speeding to get to the caterers before they closed. Stephanie has Stottlemeyer's tux in her car, which he gratefully takes from her.
At home, Monk is taking his role as best man seriously. He's planning the bachelor party, and he won't let go of the wedding ring for a second. Across town, Stottlemeyer and T.K. return from a date. When they open the door to Stottlemeyer's place, they see that it's been ransacked!
Later, Natalie and Stephanie work on the seating chart in T.K.'s apartment while T.K. tries on her wedding gown. She looks amazing, but she confesses to Natalie and Stephanie that she was so scared after the break-in that she almost called off the wedding. She's not sure she can be a cop's wife.
Meanwhile, Monk, Stottlemeyer and Disher are at a police crime lab investigating the burn victim's boot. Monk finds a neatly-cut thorn and a piece of green Styrofoam and concludes that the victim was a florist.
Elsewhere, T.K. answers her phone and is threatened by an electronically disguised voice. T.K. is deeply shaken, but won't let Stottlemeyer cancel his bachelor party to stay with her, since Monk has worked so hard on it. Stottlemeyer tries to reassure T.K. that threats like this never happen, but she's clearly having second thoughts about becoming a police officer's wife.
Monk throws the lamest bachelor party ever, with balloons, juice, and pizza without sauce. Or cheese. Disher tells Stottlemeyer they were unable to get any prints off the payphone where the threatening call was made. Monk makes a toast that rehashes all of Stottlemeyer's bad relationships, until Stottlemeyer finally cuts him off. Then Monk busts out the beer-one bottle per guest. Rather than have everyone stay sober, Stottlemeyer has Disher drink all the beer, appointing him the "Designated Drunk." As they settle down to watch a movie, Disher drunkenly staggers in to tell the captain his car is on fire!
At work the next day, Stottlemeyer tells Disher that T.K. is terrified. Someone is ruining Stottlemeyer's life and they have no leads. Later, Monk, Natalie and Disher check out a flower shop whose clerk has gone missing, hoping to identify their burn victim. The store's hippy-dippy owner, Joy, gives them a name-Charlie Doyle-but no address. They take Doyle's shears and gloves for fingerprinting. Joy identifies people as flowers: Natalie is an orchid, Disher is a crocus (he's always felt like a crocus), and Monk... is a plastic flower.
At the wedding rehearsal, Monk wants to walk down the aisle with T.K.'s father because they're the exact same height, but Natalie says no. Disher arrives with the news that Charlie Doyle is really Martin Kettering, a fugitive from an eco-terrorist group responsible for three deaths. DNA analysis has comfirmed that Kettering, who has been in hiding for twelve years, is definitely their burn victim. The rehearsal begins, and Stephanie wonders to Monk if T.K. can really go through with the wedding. Then, a wedding gift explodes, starting a fire in the back of the church! As Stottlemeyer battles the flames, a horrified T.K. leaves.
The next day, Natalie and Stephanie try to comfort T.K., who has called off the wedding. Stottlemeyer offered to quit the force, but T.K. wouldn't let him. Stephanie thinks T.K. did the right thing, but Natalie says she was never sorry she married her husband, a navy pilot who was killed in action.
Back at Stottlemeyer's office, Monk refuses to give Stottlemeyer the ring back, telling him not to give up. Stephanie stops by to pick up Stottlemeyer's tux. Monk realizes that Stephanie was pulled over for speeding the same night Kettering was killed, not far from the murder scene. They confront Stephanie by her car, and she pulls a gun out of the tux bag and takes Monk hostage. Stephanie has been behind the threats all along!
Monk explains. Stephanie and Kettering were old friends from the eco-terrorist group. After years apart, Stephanie ran into Kettering at the flower shop. Stephanie, who had built herself a happy, new life, was afraid Kettering would talk to the authorities about their outlaw days. She killed Kettering, but left the murder weapon in Stottlemeyer's tuxedo bag. If the wedding went forward, Stottlemeyer would open the bag and find the gun, and Stephanie would have some serious explaining to do. Rather than take that risk, Stephanie decided to sabotage the wedding to prevent Stottlemeyer from ever opening the bag.
T.K. shows up - she's had a change of heart and wants to marry Stottlemeyer. Stephanie takes her hostage as well. Stottlemeyer tricks Stephanie into firing the only bullet in the gun and then arrests her.
A week later, T.K. and Stottlemeyer are married on the beach in a simple ceremony. The only mishap occurs when Monk can't let go of the ring and Natalie has to pry his fingers open. T.K. insists that Stottlemeyer wear his badge as they are pronounced Mr. and Mrs. Stottlemeyer.