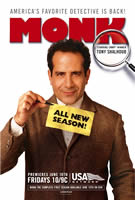 TV Info
---
Episode Premiere
November 27, 2009

Distributor
USA Cable Network

Genre
Drama, Comedy

Show Period
2002 - 2009

Production Company
Mandeville Films, ABC, NBC, UMS


Cast and Crew
---
Director
Randall Zisk
Screenwriter
Andy Breckman
Main Cast
Additional Cast
Synopsis
---
Twelve years ago, Monk enters his kitchen singing a Christmas carol. He greets Trudy, who's making breakfast. She asks about the case of a missing midwife named Wendy Stroud. Monk senses that something is bothering Trudy. She explains that she has a lot of things to do and is feeling overwhelmed. Monk notices a gift under their Christmas tree. Trudy tells him that it's for him, and makes him promise not to open it until Christmas.
Later that morning, Trudy approaches her car in a parking garage. She's scared. She thinks she's being followed. She gets into her car. The car explodes.
Meanwhile, Monk is with Stottlemeyer at the birthing center where Wendy Stroud worked. They're questioning Dr. Malcolm Nash, the clinic's director, about Stroud's disappearance when Stottlemeyer receives a phone call. Something terrible has happened to Trudy...
Later that day, Monk and Natalie meet Stottlemeyer and Disher at the same birthing center where Monk got the news of Trudy's death. This time, they're there to investigate the murder of Dr. Nash, the same doctor they talked to twelve years earlier during their investigation of Wendy Stroud's disappearance. Monk examines the scene and determines that Nash's killer was a professional, and that the killer used Nash's computer. The killer's M.O., along with a fingerprint found at the scene, points to a hitman named Joey Kazarinski.
Later, Natalie is grocery shopping with her boyfriend, Lt. Albright, when Kazarinski shows up and "accidentally" takes her shopping cart for a few seconds. Natalie doesn't suspect anything and continues her shopping.
Later, Monk is eating dinner with Natalie, Lt. Albright, and Julie. Albright is meeting Julie for the first time, so things are a little awkward. Monk, meanwhile, is feeling sick. Albright, a medical officer, examines Monk and decides to take him to the hospital, where tests reveal that Monk has been poisoned by a synthetic toxin. Someone is trying to kill Monk!
The doctors need to know the exact composition of the poison to cure Monk, so a desperate search begins for the poison's source. Fortunately, Natalie sees a photo of Joey Kazarinski and recognizes him as the man who took her shopping cart in the supermarket. Kazarinski must have planted poison in Monk's groceries. Doctors begin analyzing the groceries while Stottlemeyer and Disher step up their efforts to find Kazarinski.
Stottlemeyer and Disher catch up with Kazarinski at a train station. They try their best to capture him alive, but Kazarinski steps in front of a moving train and is killed, taking any information about the poison he used on Monk to his grave.
With death becoming an increasing certainty for Monk, he pays one final visit to Trudy's grave. Monk tells Trudy he loves her, and then has Natalie take him home. Natalie asks if Monk wants anything, and Monk asks for one thing - the unopened Christmas gift Trudy left for Monk before she died.
Monk opens the gift and finds a video tape. He plays the tape. Trudy appears on Monk's television screen, looking anxious and scared. "If you're watching this, it means I'm dead," she says. "...there's something I never told you. Something happened... something terrible. It was years ago, before we met..."