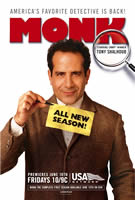 TV Info
---
Episode Premiere
November 28, 2008

Distributor
USA Cable Network

Genre
Drama, Comedy

Show Period
2002 - 2009

Production Company
Mandeville Films, ABC, NBC, UMS


Cast and Crew
---
Director
Andrei Belgrader
Screenwriter
Peter Wolk
Main Cast
Additional Cast
Maggie Kiley
Melissa Strom
Faye DeWitt
Tony Larkin
Synopsis
---
It's Christmastime, and three homeless men come knocking on Monk's door. But they aren't looking for a handout. Their friend, Willie, has turned up dead, and the police have ruled it an accident. The homeless men suspect murder, and they'd like to hire Monk to investigate. Monk resists, but Natalie insists that Monk help these less-fortunate souls during the holiday season.
Monk takes the case, and soon agrees that Willie was in fact murdered. Monk goes to police headquarters where he finds Lt. Disher picking up the slack for Captain Stottlemeyer, who is suffering from severe back pain. Disher agrees to look into the case, and urges Stottlemeyer to go home and get some rest. Stottlemeyer arrives home and is greeted by a mysterious message painted on his door. The message depicts an angel pouring water, accompanied by the word "drink."
It turns out that many people have been receiving this same message, and they've been flocking to a local monastery's fountain that resembles the drawings. To add to the mystery, the fountain appears to have miraculous healing powers for those who drink from it. Stottlemeyer is skeptical of the whole thing, but when he goes to the monastery, he's so desperate to feel better that he decides to take a drink.
Meanwhile, Monk makes an interesting discovery in the investigation of Willie's death. Some empty bottles found in Willie's possession came from Stottlemeyer's trash. Monk and Natalie want to talk to Stottlemeyer to find out if he saw or heard anything unusual the night Willie died, and are surprised to learn that Stottlemeyer's taken up residence at the monastery. Stottlemeyer's bad back has been cured, and he's preparing to leave the police force for a monastic life.
Moved by Stottlemeyer's apparent conversion, Natalie convinces Monk to try drinking from the fountain. They go to the monastery, but Monk can't bring himself to imbibe. After noticing that many of the healed patients' discarded pill bottles are from the same pharmacy, Monk doesn't need a miracle to know what's been going on.
Monk and Natalie disguise themselves as monks, and head into the monastery where they find Stottlemeyer and explain what happened. Years ago, a local pharmacist named Owen McCloskey killed his partner and buried him on the monastery's grounds. Later, the monastery built a fountain where the body was buried. Now, the monastery was planning to remove the fountain as part of a renovation, and McCloskey, afraid that his dead partner's body would be found, needed to stop it. He started changing the prescriptions of his patients to make them sicker, then, he would paint the messages on the sick patients' homes. The patients would go to the fountain and drink, then McCloskey would readjust their medication so they'd feel better. The fountain would appear to be miraculous, and the monastery would never tear it down, thus leaving McCloskey's dead partner's corpse undiscovered. Willie was rummaging through Stottlemeyer's trash and saw McCloskey painting on Stottlemeyer's door, so McCloskey had to kill Willie to keep his plan alive.
The police arrest the murderous pharmacist, granting the homeless men a too-infrequent measure of justice in their lives, thanks to Monk. Stottlemeyer leaves the monastery and returns to his job feeling better, despite the fact that the miracle was a hoax. After seeing the effect the fountain had on his friend, Monk goes to the fountain and considers making his own holiday leap of faith.