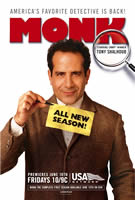 TV Info
---
Episode Premiere
January 13, 2006

Distributor
USA Cable Network

Genre
Drama, Comedy

Show Period
2002 - 2009

Production Company
Mandeville Films, ABC, NBC, UMS


Cast and Crew
---
Director
Randall Zisk
Screenwriter
Jonathan Collier
Main Cast
Additional Cast
Joe Latimore
Brian Palermo
Alejandro Chaban
Anne Betancourt
Synopsis
---
When Monk starts noticing imperfections in his shirts, he seeks out the woman who inspects them to make sure nothing is wrong. When Monk meets the woman, Maria Ortiz, he learns that something is wrong. Maria's beloved son, Pablo, is in jail for the murder of a fashion model named Clea Vance, and Maria has been living under great duress ever since. She knows her son isn't guilty, and Monk agrees to look into the case.
Monk visits Pablo in prison, and soon finds clues that point to Pablo's innocence. Monk follows up with the police, who maintain that Pablo was guilty, and that the case was a slam-dunk. A forensic expert named Howard "Gordo" Gordon explains that significant amounts of Pablo's DNA were found at the crime scene. Unconvinced, Monk continues to investigate. He talks to Clea Vance's former roommate, Natasia Zorell, who claims that Pablo was stalking the dead model. He also meets another acquaintance of Clea's, an egomaniacal fashion designer named Julian Hodge.
When Natasia Zorell turns up dead soon thereafter, Monk knows he's onto something. While Gordo the forensic expert calls Natasia's death a suicide, Monk suspects foul play. In fact, Monk suspects that the designer, Julian Hodge, is responsible for the deaths of both Clea Vance and Natasia Zorell. But he can't quite get around the preponderance of Pablo's DNA that was found at the original crime scene.
So Monk goes back to the scene of Clea Vance's death, where he finds an additional strand of hair. He gives the hair to Gordo for analysis, and Gordo quickly determines that the hair belonged to Pablo Ortiz. And with that, Monk has solved the case! The hair was Monk's ' it was a test to prove that Gordo was falsifying evidence.
Here's what happened: When Gordo examined the evidence during the original Clea Vance murder investigation, he realized that Julian Hodge was the killer. Gordo decided to cash in. He went to Hodge and offered to bury the evidence for a price. Hodge agreed, and they decided to use Pablo Ortiz as a fall guy. Natasia Zorell was in on the plan. When Monk started snooping around, Hodge got nervous, and killed Natasia.
With Monk's instincts and the forensic evidence running counter to each other, something had to be wrong. As usual, it wasn't Monk. If only the crooks had tried to frame a different man, one whose mother doesn't inspect Monk's shirts, they might have gotten away with their evil scheme!