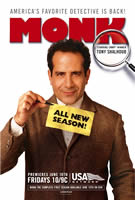 TV Info
---
Episode Premiere
August 19, 2005

Distributor
USA Cable Network

Genre
Drama, Comedy

Show Period
2002 - 2009

Production Company
Mandeville Films, ABC, NBC, UMS


Cast and Crew
---
Director
Tony Palmieri
Screenwriter
Liz Sagal
Main Cast
Additional Cast
Taber Burns
Robert P. Benedict
Holland Taylor as Peggy Davenport
Ashley William
Synopsis
---
When Natalie needs a last-minute date to her brother Jonathan's wedding, she reluctantly agrees to let Lieutenant Disher accompany her. The wedding promises to be stressful for Natalie, since she's been estranged from her wealthy and overbearing parents for years, largely due to their disapproval of her late husband, Mitch. Her parents do, however, approve of Jonathan's bride-to-be, Theresa, who is marrying Jonathan after a whirlwind three-week romance.
The wedding is being held at a posh resort, and everything seems to be going fine - until Disher gets run over by a car in the resort's parking lot. Disher suffers serious injuries and barely survives the horrible incident. Captain Stottlemeyer and Monk show up to investigate, and they quickly determine that the driver of the car, who fled the scene, must be a member of Natalie's family. But why would one of Natalie's relatives try to kill Lieutenant Disher?
With everyone at the wedding a suspect, Stottlemeyer poses as a photographer and begins taking pictures of all the guests. Meanwhile, Monk catches some suspicious verbal slip-ups by Theresa, the most significant being her reference to Lieutenant Disher as Sergeant Disher. Before Monk can explore this angle any further, the wedding's photographer, who's been missing, turns up dead in one of the resort's mud baths. When the mud from the bath matches mud found in the car that struck Lieutenant Disher, it becomes clear that the two crimes are related.
Stottlemeyer accompanies the local police to the dead photographer's studio to explore. While there, they find a newspaper clipping from years ago that depicts Theresa, then living in Philadelphia under a different name, as a suspect in the murder of her own husband. The lead investigator on the case: Sergeant Randy Disher (Disher used to live in Philadelphia). Stottlemeyer rushes to the wedding ceremony to share his findings with Monk.
By the time Stottlemeyer arrives at the wedding, Jonathan and Theresa are already married, and Theresa is pushing to leave the reception for their honeymoon. After he briefs Monk and Natalie on what he's found, they explain to Natalie's parents what's going on: Theresa is planning to kill Jonathan for his money, she's done it before while living in Philadelphia, and she knew that both the photographer and Lieutenant Disher (who she mistakenly remembered as Sergeant Disher) could identify her, so she killed the photographer and tried to kill Disher. But in order to put Theresa away, Stottlemeyer needs Disher to identify her.
Rising to the occasion, Lieutenant Disher, in pain from several broken bones, dramatically makes his way to the wedding reception while Monk stalls to keep Theresa from leaving with Jonathan. When Disher arrives, he identifies Theresa as the murder suspect from years before. Caught and desperate for a way out, Theresa grabs Jonathan and puts a knife to his throat. With her brother's life at stake, Natalie heroically saves Jonathan - and in the process, finally earns the respect of her parents.