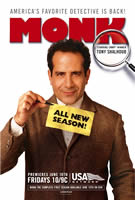 TV Info
---
Episode Premiere
July 29, 2005

Distributor
USA Cable Network

Genre
Drama, Comedy

Show Period
2002 - 2009

Production Company
Mandeville Films, ABC, NBC, UMS


Cast and Crew
---
Director
Jerry Levine
Screenwriter
Nell Scovell
Main Cast
Additional Cast
Fred Stoller
Meredith Scott Lynn
James Logan
Synopsis
---
When a masked man kills a parking garage attendant and breaks the right hand of stock analyst Warren Kemp, Monk is called in to investigate. The most baffling question: why would somebody want to break the right hand of a stock analyst?
Warren Kemp wants answers, so he hires Monk to work undercover at his office. Surprisingly, Monk enjoys his first day of work. He likes the repetitive nature of the tasks and the uniformity of the decor, and his obsessive organizational skills are highly valued. He makes friends with a co-worker named Abby, and he also meets a potential suspect named Chilton Handy who seems to have an axe to grind with Warren Kemp.
When Natalie arrives to meet Monk for lunch, she is surprised to hear that Monk can't join her. He's on his way to lunch with a group of people from work. Monk has made new friends! Natalie opts to have lunch with Warren Kemp in his office, where she flirts with the powerful businessman. She also notices that Kemp's window has a perfect view of the restaurant where Monk and his new friends are eating.
After lunch, Monk is recruited to play in an office bowling tournament. The office has two teams, and Monk finds himself pitted against Chilton Handy's team as Warren Kemp's injury replacement. Is it possible Chilton injured Kemp's hand so Chilton's team could win at bowling? Monk thinks so, until he discovers that Chilton has an alibi: he was at the bowling alley the night Kemp was injured. The next day, Monk runs into an interior decorator who is putting up new curtains throughout the office. Later that night, the decorator is murdered in her studio.
With murder and mayhem running rampant at the office, Monk gets a break. Monk and Natalie are eating lunch at a restaurant when something amazing happens: Natalie thinks she sees something in her soup, and a man sitting across the restaurant checks his soup at the same time. Monk notices, and deduces that the man must have read Natalie's lips. Eureka! Monk has solved the case. The lip-reading man has a clear view into Warren Kemp's office, and must have been reading Kemp's lips to get valuable inside financial information. Kemp recently rearranged his office, so when he talked on the phone, his right hand was blocking the lip-reader's view. The lip-reader needed to get him to use his left hand, so he attacked Kemp in the parking garage and broke his right hand. When the garage attendant got in the way, he had to die. And the interior decorator was going to put up curtains - that too would have blocked the lip-reader's view, so she had to die!
With the case solved, it's time for Monk to say goodbye to the office, punching the clock on another successful crime investigation.