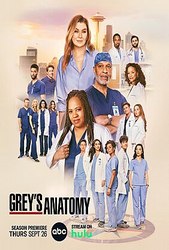 TV Info
---
Episode Premiere
September 28, 2006

Distributor
ABC

Genre
Drama, Comedy, Romance

Show Period
2005 - now

Production Company
Mark Gordon Co., Touchstone TV, ShondaLand


Cast and Crew
---
Director
Jeff Melman
Screenwriter
Krista Vernoff
Main Cast
Additional Cast
Elizabeth Sampson
Javier Grajeda
Peter Paige
Eric Dane as Dr. Mark Sloan
Roxanne Hart
Richard Roundtree
Synopsis
---
Izzie is coping with her grief by baking muffins nonstop. George tries to appeal to Miranda to talk to Izzie, but she won't listen.
Cristina surprises Burke in his hospital bed by stripping down to her lacy red underwear just as his parents arrive for a visit.
Cristina agrees to meet the mother in the cafeteria for a chat, but first begs Burke to get her out of it. Mrs. Burke says she assumes that Cristina intends to follow a less time consuming career path if she expects to marry her son. While Burke is getting coffee, Mrs. Burke tells Cristina she's selfish for getting him out of bed and that's why their relationship won't last long. Stung by the criticism, Cristina stops by that night on her way home, and asks them both if they need anything.
When Miranda sees Meredith's panties pinned to the lost and found board, she's furious and sure they belong to either Meredith or Cristina. Callie comes to their rescue by pretending they are hers, which causes George to become insanely jealous. Meredith offers to tell George the truth, but Callie says she loves him being jealous.
Addison tells Richard who's been sleeping in his office since Adele's ultimatum that she needs the day off to go drinking, because she knows her marriage is over.
After hours, Richard finds Callie rocking out in the basement in just her underwear. He tells her he knows why she lives here, to get all the best cases, but that she has to leave. And that means he'll have to stop living at the hospital too.
George arrives with flowers, finally telling her he's jealous, and finds her in her underwear, sitting on the bed with Richard. She runs after George to explain and ends moving in with him.
A middle aged woman with aggressive lung cancer who's never smoked a day in her life decides against surgery in favor of going out and "living life." She ends up at Joe's, where she flirts with Alex, and asks him to join her in the bathroom to help a possibly dying woman live a little. She emerges with a smile on her face and goes right back to the hospital, ready for her surgery now.
A teenage boy is brought to Seattle Grace with a tree trunk piercing his body from a luge accident. His frantic father is blocking the stretcher so Alex shoves him out of the way and into a wall. Miranda snaps at him for that and for helping Izzie; he tells her she's confusing him with Izzie.
The father of the boy tells Miranda that the accident is his fault for being too soft after his divorce. Miranda has a revelation and goes to tell Izzie that part of Denny's death is her fault, and that she wasn't around when Izzie needed her. And then she tells her she should come back to the hospital.
Derek decides that today is the day he's going to end it with Addison, but he can't find her. Richard tells him that he knows something about affairs himself, and to give Addison some time. Derek tells him he can't wait, and that "Meredith is not an affair."
Another surgical patient, Benjamin, says everything that pops into his head because of a tumor that's pressing on his frontal lobe. He tells Cristina that she always seems annoyed and he asks Derek if he's sleeping with Meredith.
Meredith, taking a cue from Benjamin, is determined to follow her gut and pick Derek. Until she goes home to check on Izzie and finds Finn instead. He came with lunch for Izzie, because he says bringing food was the only thing that helped when his wife died. She's so impressed that she thinks maybe she should choose him instead.
At Joe's, she tells Cristina that she's going to flip a coin to decide between them and be spontaneous like Benjamin. Cristina tells her that Benjamin isn't spontaneous, he's mentally ill, and that he just died on the operating table.
Finn and Derek both show up and Izzie tells them she's not choosing: she wants to date them both, if they're up for it. Neither man follows her out of the bar.
Derek finds Addison at a hotel room, in a robe, drinking champagne. He apologizes for sleeping with Meredith at the prom, but adds, "Our marriage is over," and that he's very sad about it. And then the bathroom door opens and Mark steps out in just a towel. "I feel much better now," says Derek, finishing off the champagne.