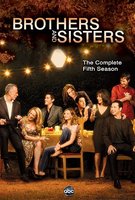 TV Info
---
Episode Premiere
April 19, 2009

Distributor
ABC

Genre
Drama

Show Period
2006 - 2011

Production Company
After Portsmouth, Berlanti, Touchstone TV


Cast and Crew
---
Director
Laura Innes
Screenwriter
Cliff Olin, David Marshall Grant
Main Cast
Additional Cast
Ken Olin as David Caplan
Luke Grimes as Ryan Lafferty
Jason Lewis
Matt Letscher
Luc Charbonnier
Nigel Havers
Cristian de la Fuente
Synopsis
---
What time is it? Time for the Walkers to get busy.
But first, the big news: Tommy's coming home! Since Holly has agreed to drop all charges, he's finally going to fly back from Mexico where he's been hiding. That's a relief!
Now, to a couple of hot kisses:
1. Robert, sensing his wife's emotional distancing from him, gives Kitty a big ol' romantic smooch to get her excited. It doesn't work. She warns him he still has a week of recovery before he can have sex again. Denied, dude!

2. Kevin runs into his old boyfriend, soap opera stud Chad Barry (Jason Lewis), on the street, who gives Kevin an old fashioned Hollywood movie kind of kiss. It's very passionate, but Kevin politely informs Chad that he's married to Scotty.

3. Nora gets a surprise visitor: Roger Grant. You know, the swinging Londoner she dated until she found out he was married? Well, he's divorced his wife to be with Nora, so when he goes in to kiss her, she gladly accepts it.
Romance, or something like it is certainly in the air. When Sarah returns to the family business, she gets hot and bothered by all the guys working there now. As she tells Kevin, Ojai Foods has somehow been transformed into "Ojai Dudes." She gets particularly turned on by a handsome young accountant, Cal. Us, too. Wow, that guy's in shape.
And Chad apparently has Kevin on the brain. He invites his ex and Scotty to have drinks with him sometime. Now that could be interesting! Why's Kevin so resistant? Happily though, when Kevin broaches the subject with his husband, Scotty couldn't be more excited to hang out with his daytime soap opera idol.
Meanwhile, Rebecca has brought Ryan over to meet her mom and dad. Although Rebecca insists she wants to remain platonic with her houseguest, Ryan's little pat on her bare knee doesn't go unnoticed by David, nor us. That kid's got ideas.
At the bar, Chad seems a little, um, flirty to us. Ok, it's more than flirty. He outright propositions Kevin and Scotty to have a threesome. Excuse us while we pick our jaws up off the ground ...
Actually, there's no time for that. At Ojai, Sarah eyes Cal like a giant slab of meat. Alone with him late at night in the storeroom, she asks him to get something off a high shelf, just so she can watch him climb a ladder. When he gets back down, their lips lock and in no time their clothes are flying across the room. They're like animals.
At home, Kevin and Scotty are also getting it on. Without Chad. They turned him down, but just getting propositioned has made them horny. However, when there's a knock on the door and they think it's Chad, they're quick to let him in. But, SURPRISE! It's only Sarah coming over to brag about her steamy night in the storeroom. Unfortunately, she's a mood-killer and Scotty storms off to bed. Alone.
Robert tries again with his wife. He hands her a signed affidavit from his doctor allowing him to have sex before his recovery is up. Ok, it's a corny move, but it's kind of cute and at least he's trying. Unfortunately, Kitty is still very cold to her husband. He begs her to talk to him, to tell him what's going on with her. But, she can't. It's painful to watch them suffer like this.
Even more painful is when Sarah comes to work the next morning wearing a hot pink little number, clearly an effort to keep Cal turned on. However, Holly informs her that the young stud was only a temp and yesterday was his last day. Sarah looks thoroughly humiliated, but good for her she got some when she did, right?
Also, after Nora and Roger's own romantic night together, he takes off to oversee a project in Paris, promising to return as soon as he can. He better!
Especially when Nora gets some bad news. Julia comes over, her eyes filled with tears. Tommy has changed his mind. He doesn't want to be around the Walkers anymore. He's not coming home.