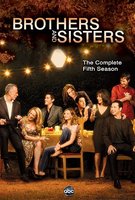 TV Info
---
Episode Premiere
March 01, 2009

Distributor
ABC

Genre
Drama

Show Period
2006 - 2011

Production Company
After Portsmouth, Berlanti, Touchstone TV


Cast and Crew
---
Director
Ken Olin
Screenwriter
Molly Newman, David Marshall Grant
Main Cast
Additional Cast
Ken Olin as David Caplan
Luke Grimes as Ryan Lafferty
Sonja Sohn
Michanne Quinney
Maia Danziger
Kristina Lear
Tyrees Allen
Amol Shah
Synopsis
---
Nora races through a hospital. Ambulance sirens blare.
Nurses won't let her into the ER. She says she's family. A man lies on a bed. Doctors try to revive him. Who is it?
We'll have to wait. Flash back to 24 hours earlier:
Nora has called the entire family together for dinner. The kids are suspicious that she's up to something. But, it's Robert with the big news. He announces that he's running for governor. However, he's not officially announcing for another week, so they have to keep a lid on the news.
But, Nora drops an even bigger bombshell. She tells them she's met with Ryan Lafferty, or as Kitty calls him, "The bastard?" Ryan is William's illegitimate son. Although the kids are up in arms that their mother has met with Ryan, she says he has a right to know where he came from. End. Of. Discussion.
The next morning, Robert's news has already been leaked to the Drudge Report. No, it wasn't a Walker who spilled the beans. However, Robert needs to do damage control. He tells Kevin that his candidacy announcement speech has to be moved up. To this afternoon. Kevin gets on it.
Then Kitty, visiting her mother and Saul, gets a call on her cell phone. It's news. Alarming news. But, good alarming for a change. It's Trish, the pregnant woman whose baby Kitty and Robert are going to adopt. Her water has broken. THEY'RE HAVING A BABY! Nora, Kitty and Saul scramble to get to the hospital.
Kitty calls Robert. Uh oh, he's got that big announcement speech. He promises to bail out as soon as he can, even skip the speech if Trish is ready to pop. He better not miss the birth. We'll never forgive him. Oh yeah, Kitty probably won't either.
At least when Kitty and Nora arrive at the hospital, Trish is in good spirits. She's only 3cm dilated, so Robert should have no problem making it in time. Except, another fly lands in his candidacy ointment. The only reason he decided to run was because incumbent Republican Governor Kern (Michelle Greene) had announced she wouldn't seek re-election. But now she barges into Robert's office to tell him she's changed her mind - and he's going to have a major in-party battle if he still runs.
Back at the hospital, Trish is now howling with pain. WHERE'S THE EPIDURAL! When Nora finally drags the doctor into the room, he says Trish is too far along for drugs. She's unexpectedly dilated to 8cm in just a half-hour. The baby is coming now! And she can't have any pain killers.
Sarah, who's arrived at the hospital, hops on the horn with Kevin to get Robert there NOW! However, it's too late, he's already begun giving his announcement speech to a group of reporters. Robert runs through the speech and Kevin gives him the wrap-up signal that it's time to go. But, instead of hopping off the podium, Robert starts taking questions from the reporters.
Kitty runs into the waiting room to find her husband. She does find him, but he's still on live TV answering questions. She flies into a rage, feeling betrayed by her husband who said his family would always come before politics. "There's no coming back from this," she states grimly. If she does give Robert the boot, we'd be hard pressed to blame her.
She runs back to the delivery room where Trish is pushing frantically. Kitty, Nora, the nurses and doctor are coaching her, "Push! Push! PUSH!"
Finally, Robert wraps up his speech and Kevin hustles him through the parking garage to a waiting car. Robert's still trying to make it to the hospital on time. But, then he suddenly stops. He's sweating profusely.
Trish keeps pushing!
Robert clutches his chest. Bile spews out of his mouth. He falls to the ground unconscious.
Trish gives one final push ... and the baby is out. IT'S A BOY! A healthy baby boy!
As Kitty looks at her new son and cries tears of utter joy and happiness, paramedics arrive in the garage and place Robert on a stretcher ...