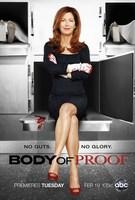 TV Info
---
Episode Premiere
March 19, 2013

Distributor
ABC

Genre
Drama

Show Period
2011 - 2013

Production Company
ABC Studios


Cast and Crew
---
Director
Alex Zakrzewski
Screenwriter
Corey Miller
Main Cast
Additional Cast
Henry Ian Cusick
Matthew John Armstrong
Rosa Salazar
Synopsis
---
Freddie Delgado is shot dead while driving his car through a parking structure. Tommy finds photos of young girl in the victim's automobile. The pictures are of a six-year-old he accidentally shot during a robbery years ago. The little girl's dad, Paul Winters, vowed to kill Freddie. He planted the photos so the guy wouldn't forget what he did. He's not sorry Delgado is dead, but claims he didn't kill him. Winters lets the press know that his daughter was taken by a monster. The guy got what he deserved. People need to pay for their actions one way or another.
The statement made by Paul Winters goes viral. It sparks a wave of vigilante justice throughout the city. Megan and Tommy visit the victim's wife, who says he gave up his gang life once he had a baby of his own. She also says Paul Winters was harassing her hubby, but the distraught dad alibis out. Tommy is happy to say that karma killed their victim. In other news, Kate is preparing to announce her run for public office. Megan promises she'll handle the vigilante case while she preps.
Megan is upset to learn that her mother, Joan, is selling her house. She finds an old photo of her dad along with some of his belongings. Megan and her mom get into an argument about the box of items she found. The fight is cut short when duty calls. A woman at a halfway house is found dead after having had acid thrown in her face. She'd been locked up in the past for doing the same thing to someone else. The cops pay a visit to Susan Hart, the wife of the man she killed, while Megan has a chat with her therapist, Trent Marsh (guest star Henry Ian Cusick). The guy asks her if she lost someone to suicide when he sees her perusing one of his books. Megan avoids answering the question.
Marsh tells Megan that he specializes in grief counseling. He gives her a copy of the book she was skimming. Later, Joan shows up with the box from the attic. She used to tell others that her husband died of a heart attack. She hid his suicide note in that box. Joan gets frustrated when Megan again voices her belief that her dad may not have killed himself. She'll never stop believe in that possibility. Lacey lets her mom know that perhaps she could see therapist to talk about things. That's why she calls Dr. Marsh.
In the comfort of a psychiatrist's office, Megan opens up about the day her dad died. She remembers wondering who was going to water the plants now. Marsh asks if Megan ever felt guilt about her dad's death. She did. She wondered if she was bad. She wondered if that's why he did it. Megan tearfully and abruptly ends their session. She notices Paul Winters in the waiting room. He's Dr. Marsh's patient just like Susan Hart. There has to be a connection.
Paul Winters and Susan Hart both deny knowing each other. They also deny killing anyone. Adam gets a call saying the DNA from both crime scenes prove that they are telling the truth. Now the only thing linking the two murders is the therapist, Dr. Marsh. As it turns out, the shrink's wife was murdered 10 years ago. The prime suspect in the case was let go due to lack of evidence. A year later, Marsh opened up a practice specializing in bereavement counseling.
It's obvious that Marsh is ticked that so many murderers walk free due to lack of evidence. The DNA of the killer matches that of the man accused of killing the shrink's wife. The guy has been missing for over a year. Megan believes that Marsh is behind the disappearance. He's using the missing man's DNA to frame him. He's basically getting away with murder. Megan pays him another visit let him know that the victims of those he's killed may one day seek vengeance on him. Later, she asks Tommy for a favor. She wants him to analyze her dad's suicide note. She doesn't believe a word of it. Her father did not kill himself.