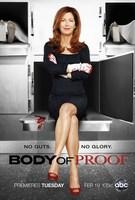 TV Info
---
Episode Premiere
May 28, 2013

Distributor
ABC

Genre
Drama

Show Period
2011 - 2013

Production Company
ABC Studios


Cast and Crew
---
Director
John Terlesky
Screenwriter
Corey Miller
Main Cast
Additional Cast
Henry Ian Cusick
Lorraine Toussaint
Jonathan Banks
Larry Sullivan
Synopsis
---
Megan gets the go-ahead for the exhumation of her father's body. She's shocked to discover that his coffin is empty. Her mom, Joan, is equally stunned. She feels guilty for standing in her daughter's way all these years. The records regarding Megan's dad old medical cases are also missing. Chief Angela Martin gets wind of the formerly covert investigation and asks Tommy to keep her in the loop. Trent Marsh, the slightly-psycho psychotherapist that Megan met in "Eye for an Eye," approaches her in the street. He offers his assistance. Megan says she'll deal with her "daddy issues" her way.
Megan finds a key hidden in her father's old lighter. It unlocks a secret area in his old study. One of the missing medical files is hidden there. Megan believes this case is probably what got her dad killed. The file is for a young woman named Lindsay Pratt who was murdered the day before her father died by a serial killer named Earl Brown. Megan and Tommy pay a visit to the guy in prison. He denies killing Lindsay Pratt. Brown is already serving life for killing many others, so he has no reason to lie.
Megan and Tommy pay a visit to the retired detective, Glenn Fitz, who investigated the Earl Brown murders. He's positive the jury got it right when they convicted Brown for Lindsay Pride's murder. Megan isn't so sure. She finds a discrepancy with how Lindsay was asphyxiated. Her murder shows signs that she was killed by a police chokehold method. Megan believes Glenn Fitz may have killed the girl. Tommy gets permission from Chief Martin to question the retired cop. Megan bursts into the interrogation room to flat-out accuse Fitz of killing Lindsay Pride as well as her father.
Megan fears Fitz is going to get away with murder. Trent Marsh, again, offers to avenge her father's death his way. Once again, Megan declines. In other news, Kate has Ethan give her the breakdown on a body that was found in the woods. She reconstructs the John Doe's facial features. Curtis can see how much she digs doing this type of work. She loves it way more than politics. The sketch of her victim's face looks familiar to Megan. It's Glenn Fitz's former partner, Arthur Wilcox. BANG! BANG! Two gunshots strike Glenn Fitz as he's stepping out of his car in his home driveway. Now both of the cops who worked the Earl Brown case are dead.
Megan rushes to tell Tommy the news, but finds Chief Martin instead. She fills her in on the details of what she learned. Martin agrees to accompany Megan back to the office. She pulls out a gun during the drive. She tells Megan that she's the one who killed Lindsay Pratt in a jealous rage. Arthur Wilcox helped her cover it up. Martin forced Megan's dad to write his own suicide note before killing him. He was a loose end. She's the one who dug him up out of the ground to cover her tracks. Martin also killed Fitz and now she needs to kill Megan. BANG! Chief Angela Martin falls to the ground. She's been shot dead by Trent Marsh.
A stunned Megan tells Tommy that Marsh is the man who saved her life. The cops storm the therapist's office, but it's been cleaned out. The only thing left is a copy of a book titled Silent Anguish: Survivors of Suicide. Megan pockets the note inside that simply reads "You're Welcome." She heads home to grieve with her mom. Later, Megan shows up at Tommy's place. She thanks him for everything he did. Megan lets Tommy know that she's held the past against him for far too long. She doesn't know why he puts up with her. For Tommy Sullivan, the answer is simple. He knows Megan Hunt is worth it. The two of them share a kiss that's been a long time in the making.