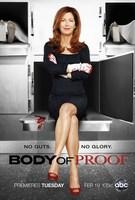 TV Info
---
Episode Premiere
May 14, 2013

Distributor
ABC

Genre
Drama

Show Period
2011 - 2013

Production Company
ABC Studios


Cast and Crew
---
Director
Milan Cheylov
Screenwriter
Krystal Houghton Ziv
Main Cast
Additional Cast
Alan Dale
Kenneth Mitchell
Tracey Middendorf
Khary Payton
Synopsis
---
A prisoner transport van makes its way down a dark road late at night. One of the inmates, a convicted murderer named Robert Riley, breaks free from his shackles. He attacks one guard while another prisoner shoots the van's driver. CRASH! The van flips. The wounded driver shoots one escapee, but Riley gets away. The wounded prisoner says his inmate pal has some scores to settle. Riley may be seeking vengeance on all those who put him away. One of the names on his list is Megan Hunt.
D.A. Dan Murphy says he wants Kate to assure Emmitt Harrington that her office is doing everything they can to recapture the man who killed his wife, Caroline. Tommy believes Riley has already struck. One of the witnesses who testified against him is found dead. Megan is confused when she finds antibacterial cream on the victim's wounds. She wonders why someone would treat a wound that he inflicted. Megan gets into her car at the office parking structure. Riley is waiting for her in the backseat with a gun. He wants her to help prove that he didn't kill Caroline Harrington. He claims the real killer is her husband, Emmitt.
Riley says Emmitt killed his wife and framed him for her death after learning about the affair. He bolts when he sees a uniformed cop walk by. Megan is safe, but she now has doubts about Riley's guilt. She wants to look at Caroline's body. She interrupts Kate's meeting with Emmitt and his new wife to ask to exhume the body. She even suggests the rich hubby may be hiding something. Megan forces Adam to take her to the residence of another witness. Riley is seen driving down the street. Megan stops Tommy from shooting him allowing for another escape.
Megan proves that the second witness lied on the stand. Both witnesses received large payments from an unknown source after the trial. An exhumation order is granted. Too bad Caroline's body has been compromised due to a coffin that wasn't airtight. Still, Megan finds a fragment of something that blended in with the victim's ribs. It's a part of an ivory blade. It's a piece of the murder weapon that was used by someone other than Riley. Kate calls in a favor to get a warrant to search Emmitt Harrington's place. Megan finds the knife that killed Caroline. Emmitt promises that Megan will lose her job after all this.
Emmitt Harrington's lawyer gets the knife evidence revoked, but Megan forges ahead anyway. When Riley learns that Harrington may walk, he vows to serve justice his own way. He holds Emmitt hostage. Things are about to get bad when Megan storms into the room. She says Emmitt didn't kill his wife. She has proof. She pleads with Riley to not pull the trigger. He complies. Riley is placed under arrest. Megan then reveals that the real killer of Caroline Harrington is his former assistant and new wife, Stacy. Emmitt is stunned and Stacy is placed under arrest. Case closed.