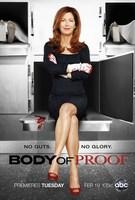 TV Info
---
Episode Premiere
March 27, 2012

Distributor
ABC

Genre
Drama

Show Period
2011 - 2013

Production Company
ABC Studios


Cast and Crew
---
Director
Alex Zakrzewski
Screenwriter
Matthew V. Lewis, Lawrence Kaplow
Main Cast
Additional Cast
Synopsis
---
Dani accepts a drink offer from a guy while waiting for Peter at a club. Moments later, she staggers out to the street in a disoriented state. BAM! Peter watches in horror as Dani is accidentally run down by an oncoming car. When the man she met at the bar is brought in for questioning, he starts convulsing in the interrogation room. Soon the hospital is flooded with people with similar symptoms. Megan says, "We better get the morgue ready. I think we've got an outbreak."
Dr. Charlie Stafford (guest star Luke Perry) leads a team from the CDC into the Medical Examiner's office. As you can imagine, Megan isn't thrilled to have strangers taking over on her home turf. The two dueling docs are dealing with an escalating number of victims. Charlie doesn't want anyone who is emotionally involved on this case. Megan convinces him that the fact that her team cares makes them the perfect partners.
Bud obtains a video in which a masked man has deemed Philadelphia as a target for depopulation. The thing has gone viral. FBI Special Agent in Charge Brendan Johnson lets everyone know that he really is the one who is "in charge" now. He wants to tell the worried public that the victims are suffering from meningitis. Megan wants her boss to stop the guy from making this unproven statement. But Kate has bigger problems at the moment. A cut on her finger may have contaminated her with the deadly strain.
The police raid the home of a teenage computer geek because they he believe he could be the person behind the threat. The kid is smart, but he's not a terrorist. He also knows that whatever is killing these people isn't meningitis. Megan lets Agent Johnson know that he should stop lying to the public since he can't even fool a 17-year-old. The disease they are dealing with is all over the map and claimimg more and more victims.
Peter meets with a young girl who used spend a lot of time with Dani. She was like a big sister to her. This is all news to Peter, who is feeling bad that he didn't know Dani better. As for the case, Sam and Bud manage to track down the location where the terrorist video originated. They find more bodies with syringes next to them. The terrorist infected himself with a disease. Anyone who comes in contact with him will die.
Antibiotics are stabilizing some of the patients. That's the good news. The bad news is that Special Agent Johnson wants Kate to make a statement to the public which excludes the fact that there's someone out there infecting people. Megan can't believe she's going to withhold this vital piece of information especially after Ethan calls to say the antibodies aren't working. Every patient is dead. They can't stop this thing.
Kate makes her statement, but seems disoriented as the press asks questions. One of the queries is about how the terrorist is transmitting the disease. Kate answers truthfully. The terrorist is sick and he's still out there infecting others. Then Kate collapses to the ground gasping for breath. We have no idea how bad her condition is because this one is TO BE CONTINUED.