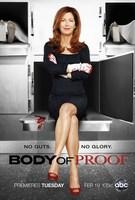 TV Info
---
Episode Premiere
March 13, 2012

Distributor
ABC

Genre
Drama

Show Period
2011 - 2013

Production Company
ABC Studios


Cast and Crew
---
Director
Michael Grossman
Screenwriter
Christopher Murphey
Main Cast
Additional Cast
Synopsis
---
Donna Whirley is one of two young girls who are brought into the hospital after a terrible car wreck. The other young lady is Keri Greyson, who is in a coma. Donna, however, doesn't make it. Two grieving fathers come to blows in the lobby until Megan cools them off by dousing them with water from a vase. She'll give them the answers they all crave as soon as she's done with her investigation. It's a task cuts into her date with Aiden.
Megan learns that someone shot at the girls in the car. The bullet went through Donna and is lodged in Keri. The parents won't give the police permission to remove the slug. Bud and Sam track down a driver who may have shot the girls in a case of road rage. But the team also believes one of the girls may have been targeted by Susie Foster, a fellow student who was up for a scholarship that Donna ended up winning.
Megan learns that Donna had lupus, but her examination shows no sign of the condition. Both girls had their faces severely injured in the crash. Megan realizes that they were misidentified after the accident. Keri is the one who died while Donna is the girl in the coma. As you can imagine, Keri's parents are devastated and furious.
Peter learns that Keri had a stalker. Someone even snuck into her college apartment to roll around in her bed. The team finds pictures of Keri in a photo lab. They fear that the stalker will come after Donna thinking that she's Keri. Donna's mom shows Megan a box that Keri gave to her daughter for safekeeping. It contains an item that allows Megan to identify Susie Foster as the killer.
Susie shows up at the hospital with a syringe in hand. Megan is there waiting for her. The two of them struggle. Bud, Sam and Peter arrive in the nick of time to take this disturbed young woman away. Later, Kate initiates a meeting between the parents of both girls so that they can make amends. Still, someone has to take the fall for the identity mix-up. That would be Curtis. Just like that, Kate is back in charge.
Megan hates awards banquets, but the fact that Aiden accompanies her to the latest one makes things more bearable. Of course, the two of them sneak out before the main festivities take place. It's so Megan can share a quiet moment with Aiden outside. It doesn't last long once Joan calls after having found Lacey passed out in her room.
Lacey is diagnosed with diabetes at the hospital. Needless to say, Megan is a wreck even though her daughter will be okay. Lacey is scared, but she can be comforted by the fact that her mom will be there for her every step of the way in the future.
In other relationship news, Dani's lease is up at the end of the month, so she wants to move in with Peter, who thought they were keeping things casual. He feels like she's pushing him a bit. Peter later lets Dani know that he may not be ready to move in with her, but he is ready to start thinking about it.