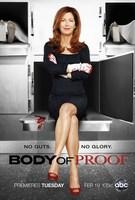 TV Info
---
Episode Premiere
February 14, 2012

Distributor
ABC

Genre
Drama

Show Period
2011 - 2013

Production Company
ABC Studios


Cast and Crew
---
Director
Nelson McCormick
Screenwriter
Allen MacDonald
Main Cast
Additional Cast
Robert Picardo
Azita Ghanizada
Donna Pescow
Synopsis
---
Joe Sanella, the owner of a popular Italian family restaurant is dead. One of his employees shocked herself on a live wire when she found the body, which was stored in a walk-in freezer. Megan determines that the victim was alive for awhile in the aftermath of a bludgeoning with a meat tenderizer.
Bud and Peter follow a trail of footprints to an apartment above the restaurant. They find the dead man's brother-in-law/business partner, Henry Pedroni, washing blood off his shoes. Megan quickly determines that Henry may have Alzheimer's. Joe's wife, Maria (guest star Donna Pescow), says her brother's illness made things a bit of a struggle lately.
Henry's frustrated son, Anthony, and his wife, Karen, moved back to Philly to help with the restaurant. In other news, a blood drop on the victim's pants is traced back to the worker who found the body. She's no killer though. Joe patched up her finger after she cut it on a cheese grater. She also says that Anthony has no interest in running Sanella's.
Megan, Curtis and Ethan determine that the killer stayed with Joe inside the freezer because he heard Henry outside and was waiting for him to leave. Henry is afraid that he may have killed Joe. Megan assures him that the evidence suggests otherwise. Henry then remembers seeing Alice running out the back door covered in blood. Too bad Alice is his wife who passed away 10 years ago.
Annabelle Kip is a restaurateur who was interested in buying Sanella's for $2 million. Her fingerprints were found at the crime scene. There were also potential specs for a deal to create a franchise for Sanella's. Annabelle was trying to pressure the family into selling. She was dealing with Henry's son, Anthony, who claims he was driving to the family's organic farm during the murder timeline.
After a little push from Dani, Peter makes the first call to his biological father, Jack Cranston. He learns that his mother's name was Katie. She died shortly after he was born. Jack was 16 at the time. He felt the best thing he could do for his son was to give him up for adoption. Peter isn't ready for any of this. He will, however, accept the photo of his mom that Jack provides and visit Jack again later.
Megan has a theory that Henry doesn't have Alzheimer's, but Maria puts the kibosh on doing any tests. This ticks off Peter, who tells Megan about contacting his birth father. He also gives her the scoop on his relationship with Dani. Regarding the case, Megan finds a chunk of food in the victim's mouth. This suggests he was eating when hit on the head. If the killer was holding his mouth to keep him quiet, bacteria tests may help with an ID.
After Henry accidentally overdoes on his meds, Megan determines that he truly doesn't have Alzheimer's. The hospital doctors agree. A spinal condition is what's causing his issues. It can be treated with a 45-minute procedure. Now Maria is all for doing whatever it takes to make her brother well again. As for the case, the bacteria test reveals that Anthony's wife, Karen, killed Joe in a fit of rage. Case closed.
Maria says goodbye to her husband and hello to her brother when Henry wakes up from his surgery. The procedure was a success. He's back to the man he was before. Henry tells his son that Sanella's was his dream. Anthony is free to follow his own. This case brought back memories for Megan about the days before her father passed away. Joe thanks her for not giving up on him. Megan responds, "It wasn't an option."