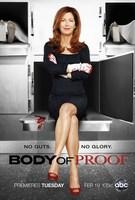 TV Info
---
Episode Premiere
January 17, 2012

Distributor
ABC

Genre
Drama

Show Period
2011 - 2013

Production Company
ABC Studios


Cast and Crew
---
Director
Christine Moore
Screenwriter
Sunil Nayar
Main Cast
Additional Cast
Synopsis
---
Megan's mom, Judge Joan Hunt, acquits Hillary Stone of the brutal murder of her five-year-old son. The most hated woman in America is later found dead near a construction worksite. Peter doesn't think anyone will care if this murder goes unsolved. Well, that's not quite true. Megan Hunt cares.
Sheila Temple (guest star Marcia Gay Harden) is a sensationalist TV reporter who has been capitalizing on the press from the Hillary Stone case for her show Temple of Justice. Ethan is a big fan of the program. However, he's no fan of the deceased, Hillary Stone, who Megan believes was beaten, raped and buried alive.
Bud escorts Hillary's mother, Ruth (guest star Rita Wilson), past the media frenzy out front led by Sheila Temple. An angry public has egged this woman's house and slashed her tires. Ruth tells Megan that her wild daughter got pregnant by her boyfriend, Craig. Even the birth of her grandson couldn't ground a troubled Hillary.
Megan assures Ruth that she cares about justice for her daughter just as much her mom, who is up for reelection as a judge. It won't be easy to win considering all the bad press surrounding the Hillary Stone case. Much of the scathing publicity comes from Sheila Temple, who happens to be interviewing Hillary's boyfriend, Craig, when Bud comes to arrest him.
Craig admits having sex with Hillary, but says she was gone when he woke up. Bud tracks down a prison guard who let Hillary stay on her boat. She locked Hillary inside after she showed up drunk. Dandruff on the boat's bed sheets suggest someone else was there around the time of the murder. Megan deduces the flaky-scalped mystery person is Sheila Temple.
The outspoken TV host admits tracking down Hillary on the boat, but she wasn't there when her camera crew arrived. Later, Bud gives credence to one of the many liars who want to take credit for Hillary Stone's murder based on info in Megan's report. Only Megan didn't write that particular report. Ethan did. Due to his disgust toward the victim, he made a rookie mistake that may have compromised the entire case.
Megan believes that Hillary caught a ride to the construction site with her killer. When the driver stopped suddenly, the victim was injured from impact to the dashboard. Ethan apologizes for his earlier behavior to help with a lead on the case. One of the tire marks at the crime scene is different from the others. That's probably because the tire was a replacement after the original had been slashed.
Hillary's mom, Ruth, confesses that she was with Hillary before she died. Her daughter admitted that she had sex with Craig so that she could get pregnant again. She said she wanted to get things right the next time. It was at that moment that Ruth knew that Hillary had killed her grandson. She slammed on the brakes. Hillary was hurt as she ran out of the car. She tripped and hit her head. Ruth covered her to finally give her daughter peace.
Megan runs into a disgruntled citizen while voting with her mom. The results of the election are not good. Judge Joan Hunt loses. She believes her entire career has been undone by two days of bad press. Megan comforts her mom by mentioning how she protected her from that disgruntled citizen at the voting center. Joan may not be a judge anymore, but she'll always be a mom.