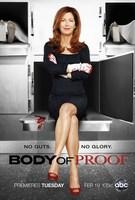 TV Info
---
Episode Premiere
January 10, 2012

Distributor
ABC

Genre
Drama

Show Period
2011 - 2013

Production Company
ABC Studios


Cast and Crew
---
Director
Kenneth Fink
Screenwriter
Lawrence Kaplow
Main Cast
Additional Cast
Brett Cullen
Deirdre Lovejoy
Mark Rolston
Emily West
Synopsis
---
The body drug dealer Johnny Vasquez is found at a truck stop. The guy was shot execution-style. Sawdust on his shoes lead Bud and Sam to a dive bar where they meet a drugged-up woman named Kirsten, She says Johnny was going to help her launch a music career. Hard to believe the guy had many connections in show biz since Johnny was actually an undercover cop.
Peter's ex-partner, Detective Charlie Meeks, says Vasquez's real name was Eddie Castillo. He gets the entire precinct riled up to bring in his current partner's killer. Captain Perkins tells Megan that Eddie set himself up as a mark to flush out whoever was shaking down folks at the docks. Emotions are high in the precinct. Bud is especially on edge when he catches fellow detective Dave Lopez drinking the orange juice he'd bought for his pregnant wife, Jeannie, who has been drinking oodles of the stuff lately.
Kirstin the wannabe be singer becomes a prime suspect after she tries to skip town after an attempted robbery. But Ethan discovers hair on the victim's body belonging to a two-time felon named Quentin Whitsett. The police move in to raid this lowlife's apartment. Megan wants them to call off the arrest. Further analysis of the hair leads her to believe Whitsett is being set up by his most recent arresting officer: Detective Charlie Meeks.
SWAT barges into Whitsett's apartment to find Meeks holding a gun to the suspect's head. A gun found at the scene is a match to the one that killed Eddie. More lab tests point to the possibility that Meeks is a dirty cop. This is something Peter refuses to believe, so he has a chat with his old partner. Of course, Megan wonders why he didn't come to her first.
Megan tells Captain Perkins that she's recommending mandatory drug testing for his entire department. She hopes to flush out any cop who may be using. She ticks off the entire department, as Detective Lopez and his partner bring the urine samples to the lab. In an act of defiance, everything is delivered in one container. Hey, at least they put a nice bow atop the bottle.
Tensions are high with this case, but Peter reluctantly follows orders to retrieve the murder weapon for analysis. Megan gets a nasty cut on her hand as she does a test firing of the weapon. It's called a berretta bite. It can happen when discharging an unfamiliar firearm. Curtis finds a piece of latex in the box used to transport the gun. Peter convinces Meeks to comply with a DNA test. Afterwards, he's arrested for the murder of his partner.
The arrest was just a ruse. Captain Perkins makes all the men in his charge sign a statement as the team looks for someone with a cut on his hand from the berretta bite. They find a marking on the hand of Detective Dave Lopez. He's the dirty cop and Eddie Castillo's killer. Guess Bud won't have to worry about this guy stealing his wife's OJ anymore.
Speaking of Bud's wife, Megan finally gets to meet her. But this isn't really a social call. Megan does a quick test on Jeannie for gestational diabetes. It's something she can control with her diet, but that there's nothing Jeannie can do about the stress she feels every time Bud goes off to his job. The good news is that he always comes home.
Kirsten the wannabe singer looks like she's going to make the most of her second chance, as evidenced by the swell song she belts out at a service for Eddie Castillo. At the bar, Megan makes nice with Peter, who says they just needed to go a few rounds with each other. That's the thing about these two—they always fight the good fight.