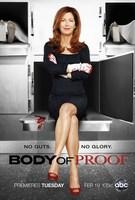 TV Info
---
Episode Premiere
October 25, 2011

Distributor
ABC

Genre
Drama

Show Period
2011 - 2013

Production Company
ABC Studios


Cast and Crew
---
Director
Paul Holahan
Screenwriter
Christopher Murphey
Main Cast
Synopsis
---
Brynn Walker was a top equestrian before she was found dead in the woods. A jittery meth-head was caught going through her pockets at the crime scene. This could be a drug-related beating. Traces of glitter are found on the victim's lips and a bloody handprint was found on her shirt. It belongs to an ex-addict named Zoe Brant, who is currently in prison. Megan asks, "How do you kill someone if you're already behind bars?" Excellent question!
Zoe Brant took part in Brynn Walker's horse therapy for prisoners program. She claims the blood came from a cut she sustained after a horse kicked her to the ground. Brynn helped her up. Bud thinks Zoe is an addict who killed Brynn during an escape attempt. Megan disagrees. After all, Zoe has a daughter she loves and only three months left on her sentence. She believes people can change.
A spiral fracture on Brynn's leg suggests she was dragged by a horse after getting her foot caught in her stirrup. Will Brooks manages the stables where the victim used to ride. He says Brynn only ever rode one horse, but that wasn't the one she fell from. Peter and Ethan find a white mystery steed in the woods. Megan seeks some assistance from her daughter, Lacey, who notices that the safety stirrup on the white horse is broken. Someone tampered with it.
Brynn's boyfriend, James Savage, is also a rider. They met at a competition a year ago. He believes Will Brooks is behind the murder, as he made some passes at Brynn in the past. But James is also a suspect once Peter learns that his horse was recently disqualified from a competition for having too much of a pain reliever known as bute in his system. The theory is that James took revenge on the victim after she buted his horse. But Megan knows Brynn would never abuse an animal like that. James buted his own horse.
Brynn was drugged with a substance used to put horses down. Zoe Brant was training to be a vet, so she's back in the suspect mix. She claims her prints were on the box that contained the drugs because Brynn asked her to put it away after she had just stopped someone from putting down a horse-a white horse. Bud learns that an argument Zoe had with Brynn was over her attempts to bring about reconciliation with her mom.
The team learns that Will Brooks tried to sell the white horse by altering the teeth (a process called bishoping) to make the animal seem younger. Brynn found out about his scheme, but Will denies killing her. After all, they had a deal. She wouldn't blow the whistle as long as he donated all the old horses to her program. He even stayed up all night helping her save the colicky white horse.
The drugs that were injected into Brynn's system were enough to paralyze her, but not kill her. Ethan does some manure tests to determine that a second horse was present at the crime scene. Glitter was ingested by this second horse. It's the same glitter was on the killer's hands when he suffocated Brynn.
The glitter came from a homemade substance that's used to put a shiny coat on the nose of the horse of the one person Brynn continually beat in competitions: James Savage. The guy believed his girlfriend was having an affair with Will Brooks. He's stunned to learn that the Will was simply helping Brynn save a horse. Case closed.
Bud lets Zoe Brant know that Brynn's horse therapy program will continue. She'll be able to pursue her dream of becoming a vet. The good news keeps coming for Zoe when she gets a visitor. Her daughter comes into the room followed by her mom. It looks like this family is going to get a second chance to make things right. Speaking of second chances...
Megan learns that Todd and Kate are planning to take a trip to Boston with Lacey, who would rather stay home to go to a party. After a nudge from Kate, Todd agrees to let his daughter stay with her mom. Megan convinces Lacey to skip the party so they can go to a movie. That'll work, as will the news that Lacey will now be able to spend every other weekend with her mom. Looks like Megan is getting a second chance, too.