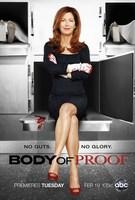 TV Info
---
Episode Premiere
September 27, 2011

Distributor
ABC

Genre
Drama

Show Period
2011 - 2013

Production Company
ABC Studios


Cast and Crew
---
Director
Paul Holahan
Screenwriter
Christopher Murphey
Main Cast
Synopsis
---
Shot ring out as various members of the Loeb family take aim at buck dancing through the woods. The animal escapes injury, but one Julie Loeb does not. She was the new wife of multi-millionaire Martin Loeb, who was enjoying a little outdoor fun with Julie and his two grown up kiddies from a previous marriage, Erica and Thomas. As you may have guessed, Megan has a feeling this was no hunting accident.
Megan basically accuses the influential Martin Loeb of killing his wife. This forces Kate to take over the case. Oh, and she's taking Peter with her. As you can imagine, this doesn't go over well with Megan. She's already ticked at her boss for the influence she's having on her daughter. Apparently, Lacey wants a new pair of sexy shoes similar to Kate's.
Martin Loeb denies that scratch marks on his neck are from a fight he had with his wife, who happened to be pregnant. The only person Julie told about the pregnancy was her hubby's business manager, Alan Wright, who was preparing an audit of Martin's assets to update of his will. A new kid would cut into the inheritance of his current children as well as perhaps his ex-wife, Alexandra, who just happens to be a hunter, too.
Alexandra hates her ex-hubby but she's already out of his will so there's no motive for murder. The kids also assure Bud and Sam that they'd still get plenty of loot from their plenty-rich dad, so they have no need to kill. Perhaps it was her loving husband then. A paternity test reveals that he was not the father of his wife's unborn child. But a sterile Martin Loeb assures the police that Julie had his blessing to visit sperm banks so they could have children together.
To keep Megan away from the Loeb case, Kate has her investigating the bludgeoning of a Patrick Deline. The guy has paint under his nails. Paint was also found on Julie Loeb's body. In other news, Peter hits every sperm bank in town, and he's not the least bit tired! He's been trying to ID the father of Julie Loeb's baby. Megan could have saved him some time. She knows the surrogate daddy in question is her victim: Patrick Deline. Looks like she's back on the case!
Patrick's partner says Patrick and Julie were best friends from college. In fact, Patrick was the one who introduced Julie to Martin Loeb. That ticked off Alexandra, but she's still no killer. She does say that Patrick used to hide his assets.
Megan and Kate determine that the bullet that killed Julie grazed a leaf with some pollen on it before it entered her body. They now know where the shooter was standing. Ethan and Curtis find traces of Minoxidil at the crime scene as Bud and Sam find discrepancies in the family trust records. All of these clues and more lead the team to arrest Martin Loeb's business manager, Alan Wright.
Wright had been cooking the books to get out of a failed business venture. He knew he'd be found out during the financial audit. Martin Loeb tells his old friend that he could forgive him for the money, but not for what he did to his wife and unborn baby. Martin Loeb shoots Alan Wright dead as he's being led away in handcuffs.
In random news, Curtis has a tough day of interviews trying to hire a new driver for the office. It just takes a certain type of person to cruise around town with dead people. Bud has made some amends with his wife, as he's back sleeping in his own bed. Megan's been giving Peter grief about his recent dates while also having verbal catfight with Kate over the Lacey situation.
At the end of a long day, Peter shows Megan a videotape Patrick Deline made for his biological daughter. His message is about wanting the best for your child no matter who provides it. The words hit home with Megan. When the video ends, she places a call to Lacey. She wants her to have those shoes she liked and she also wants to be the one who buys them for her.