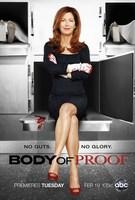 TV Info
---
Episode Premiere
April 19, 2011

Distributor
ABC

Genre
Drama

Show Period
2011 - 2013

Production Company
ABC Studios


Cast and Crew
---
Director
Matthew Gross
Screenwriter
Christopher Murphey
Main Cast
Additional Cast
Carolyn McCormick
Milena Govich
Meta Golding
Synopsis
---
A sweaty, panicked Ted Harbinson makes his way through the city streets. A short time later, he's dead. After Megan takes a whiff of his duffle bag, she realizes the guy may have recently had a cheese steak. They just need to find out where. No problem. How many cheese steak places can there be in Philly, right?
The bag was grabbed by a worker at Al's Cheese Steaks. The guy claims he took the abandoned duffle bag, but didn't see a body. Back at the lab, Megan realizes the victim recently had surgery at her old hospital for a gall bladder problem. She does a little cutting to find the guy's abdomen full of blood. Megan says, "A mugger did not kill Ted Harbinson. A surgeon did."
Megan meets with one-time friend Gwen Baldwin, who now runs things at her former workplace. Gwen seems more interested in caring for a bonsai tree than chatting with her old chum. The tree belonged to Gwen's son, who overdosed at a frat party four years ago. Megan is, of course, sympathetic. But she still needs to chat with the victim's hotshot surgeon, Dr. Mark Chandler.
Dr. Chandler claims he did everything by the book. Things get real combative, real fast. Gwen tells Megan all future queries are to go through the legal team. But a surgical nurse, Nancy Follett, tells Megan and Peter that it's only a matter of time before the reckless doc kills a patient. This is a situation Megan knows all too well. She also knows the artery clips Dr. Chandler used on his patient were not properly closed. The question is: Was this malpractice or murder?
Ethan and Curtis examine a woman who died from a blood clot that was the size of a hot dog. The sight of the woman's identical twin sister catches Ethan off guard. Is it bad taste to call Karen Archer (guest star Christina Hendricks) drop dead gorgeous since she came in to ID her deceased sis? Ethan feels an immediate connection to this woman. Could it be because she's Geoffrey Arend's real-life wife? Nah.
When Karen asks Ethan to help her outside the office, he worries it could be inappropriate. But he goes out with her anyway. Did we mention she's gorgeous? Back at the office, Curtis tells Ethan that his new lady friend is at risk from that same condition that killed her sister. The race is on to find Karen. Ethan tracks her down to say there's no way she's getting on a plane until a top doc checks her out. Some guys will do anything to keep a girl around. Ethan says, "I'll settle for keeping you alive." Nice.
Kate uses her influence to get access of the video that was taken during Ted Harbinson's operation. The hospital claims there is no recording. However, Gwen turns over the files for everyone who had access to the surgical equipment. Ethan and Curtis dig through gobs of infectious waste to find the gun used to clamp the artery. Someone tampered with it.
Sam learns that Ted Harbinson's wife dined at the cheese steak place she visited earlier where she met with Nancy Follett. The wife and the nurse could have been in cahoots to split the dough from a malpractice lawsuit. That's not the case, as Megan learns their victim had his surgery rescheduled. He wasn't the intended target. She also realizes that there are two other faulty clamp guns somewhere out there. Kate, Megan and team march into the hospital to shut things down.
One of the defective staple guns was used on a man named George White. Megan and Peter find the guy unconscious on the floor of his home. They need to act fast or he'll die. The last time Megan cut into a patient, she killed the person. She manages to save George, who later reveals he was in a frat at a school with a name she recognizes.
Traces of bonsai tree were found on the defective staple guns. Megan realizes that her old friend Gwen tampered with the surgical instruments used in the operation. She wanted revenge on the frat leader she blamed for her son's OD. Case closed. Later, Megan tries to convince the cocky Dr. Chandler to be more careful and caring in the future, as she used to be just like him. Thankfully, she's not anymore.