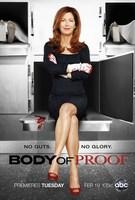 TV Info
---
Episode Premiere
April 12, 2011

Distributor
ABC

Genre
Drama

Show Period
2011 - 2013

Production Company
ABC Studios


Cast and Crew
---
Director
Christine Moore
Screenwriter
Diane Ademu-John
Main Cast
Additional Cast
Mary Mouser
Tom Pelphrey
Abigail Hawk
Pun Babdhu
Li Jun Li
Matthew James Cogswell
Kathy Searle
Synopsis
---
A hand and foot are found sticking out of the ground. Megan realizes there's no need to dig up the body. That's because there isn't a body-only parts. The victim has been dismembered. Kate joins Megan in the lab as they try to determine if they have just one body in pieces or multiple bodies and a serial killer on the loose.
Megan knows they are dealing with one victim: a male in his 50's who had arthritis. Injuries and scars suggest the guy was a welder. The victim had a stamp on his hand from a casino. Video footage helps them determine that he was gambler named Cal who recently won $25,000. He was seen getting into a black sports car with a mystery man. Two more body parts are found in an alley-a knee and a thigh. A serial number on the victim's knee replacement part gives the team his name: Callum O'Donnell.
Lacey's doing a school project that involves videoing her mom at work. Megan doesn't want her daughter exposed to anything too intense. Anytime Lacey gets close to learning something cool, her mom cuts her off. Eventually, Megan opens up by talking about what she learned just from Cal's hand. Megan says, "They're not just dead bodies to us, Lace. They're the stories of a life."
The victim's daughter, Jenny, and son-in-law Dean Avery hadn't seen him in awhile. Dean didn't care for Cal, as he always seemed to be hard up for money even though he lived in a rent-controlled apartment. The owner of Cal's building, Mike Walsh, says his tenant was always asking him to make repairs. Peter finds more of Cal's body parts in his freezer. Talk about a cold case!
Cal was cut up in the bathroom. His neighbors, James and Mira Ling, didn't hear a thing. They had their place soundproofed because of their new baby. The couple's nanny says Cal never had any trouble with her bosses. But residue from the victim's arm matches cigarette ash from James Ling's fingertips. He's the guy who drove Cal back from the casino. He's not the killer and he also doesn't have a nanny.
The 25-grand Cal won turns up at his daughter's place. Jenny says her dad gave it to her as a way to get away from bonehead Dean to start a new life. In other news, a comment from Lacey helps Megan realize the victim was killed from blunt force trauma to the head. Cal also had an ulcer which required injections. That's hard to do when you have arthritis. He must have had help, perhaps from a caretaker who lied about being a nanny.
Irina Tomislava is a former surgical nurse from Serbia. Cal was paying her under the table. Megan realizes that Irina actually cared for Cal. His body is proof of her fine healthcare services. She didn't kill him, but she did cut him up after finding him dead in the bathtub. That's because he died before he could write an immigration letter to get her son sent to the States. Irina was looking to buy time so she could write the letter herself before anyone knew Cal was dead. She had to hide him.
Irina leads the team to the last missing body part, Cal's head. Megan knows Irina is telling the truth. There was hammer blow to the skull. Irina isn't tall enough to make the angle. But the owner of Cal's building, Mike Walsh, is. He wanted the guy out of the apartment so he could profit from condo development. Walsh trips up when he claims he didn't chop up Cal. He was shocked when he saw the body wasn't there. Megan says that's because, as the killer, he knew where it should have been. Case closed.
At the end of a long day, Megan gets a sneak peek at the final cut of her daughter's school video. Lacey now knows that her mom does a lot more than just cut up dead bodies. Peter points out a sign that translates to the following: "This is where death rejoices to teach the living." Lacey ends the video with a statement that brings a tear to Megan's eye. She says, "I finally understand what my mom does and I'm proud to be her daughter."