May 31, 2010 03:40:04 GMT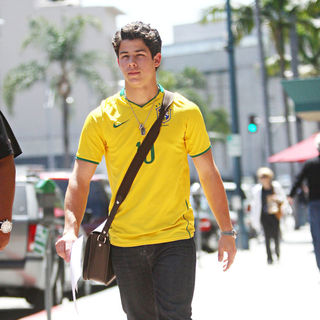 is the focus of the latest reality television series "Jonas Brothers: Living the Dream". The youngest in the band talks about his side project which spawned the album "" in February this year.

"Ever since I was a kid I had an active imagination," Nick said while photos of him as a toddler dressing like a rockstar were displayed. "I had always been making up stories in my head," he said, adding "What with my most recent musical side project, I finally have the chance to share those stories with you."

May 31, 2010 03:11:14 GMT
fueled rumors he will replace on "" as he made his concert comeback following a string of health scares. The star appeared onstage in Biloxi, Mississippi on Friday, May 28, marking his first full gig since suffering a near-fatal brain haemorrhage, an emergency appendectomy and a stroke.

Despite a slight limp, Michaels performed a string of his Poison hits for the crowd, including "Talk Dirty to Me" and "Every Rose Has Its Thorn". He told his fans, "I've got a little bitty hitch in my left giddy up, but I think we'll be all right. It's an awesome feeling, I'm glad to be here."

May 31, 2010 02:25:13 GMT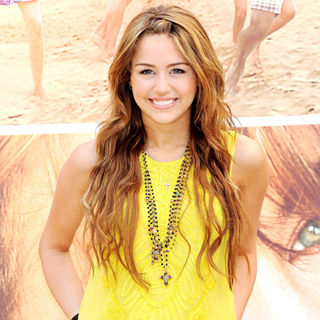 Forget ever seeing on "", the singer-actress has expressed her disinterest on the show despite having her song "The Climb" featured once. In an interview with Billboard magazine for the June issue, Cyrus said, "Honestly, musicals? I just can't."

The starlet, whose TV series "" sees her as a pop star, said she can't stand the concept of springing into a song in the middle of doing something ordinary. "What if this was real life and I was just walking down the street on Rodeo Drive and all of a sudden I just burst into song about how much I love shoes?" she added, pausing a moment before continuing "It would get you hits on YouTube."

May 29, 2010 06:41:40 GMT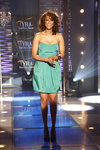 Five seasons and 810 episodes after, "The Tyra Show" came to an end on Friday, May 28 with teary goodbye from its host . Wearing green dress, Tyra closed the Emmy-winning show with a montage of her years going under disguise as well as her interviews with famous people around the world.

"I had journalists tell me this show was going to be canceled in two weeks, and it's five years," she said proudly. She proceeded with a clip of her as a homeless, jailbird and fat woman as well as her precious time with important people such as President Obama, Hilary Clinton and John Edwards.

May 29, 2010 06:06:59 GMT

A longer sneak peek to The CW's new reality series "" is provided. The show is basically a makeover of a girl who usually avoids make up and stylish clothes. Through coaching, she is turned to one attractive chick in limited amount of time.

Each of the eight episodes will feature a new "Jane" searching for the change of a lifetime. With the help of British fashion expert Louise Roe, each Plain Jane will receive a head-to-toe style transformation, including new wardrobe and confidence-building exercises. Once the transformation is complete, the formerly Plain Jane will surprise her unsuspecting crush with the new look and reveal her true feelings to him.

May 29, 2010 04:08:12 GMT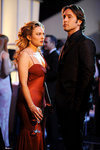 Beginning June 3, The CW will bring back CBS' canceled series "Moonlight" to life. In order to fill the vacant slot left by "" which is making a transition to season 2, "Moonlight" will be aired every Thursdays at 9/8c.

The network's version of promo has been released under the slogan "It's a summer crush that doesn't suck". The vampire-themed series is starring who will soon be seen as the lead star of CBS' "Hawaii Five-O". Beside attempting to re-popularize O'Loughlin, the repeat is done in the middle of "Vampire Diaries" and "" fever.

May 29, 2010 03:29:25 GMT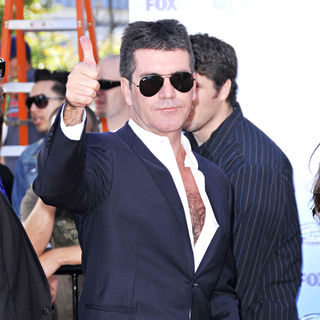 will be presented with a special honour at next month's British Academy (BAFTA) Television Awards. The music mogul has been chosen by the BAFTA committee to receive a trophy for his "outstanding contribution (to TV) and for his development of new talent."

The 50 year old could take home two awards at the June 6 event - his hit TV reality contest "" is nominated for Best Entertainment Programme. It is the second special honor Cowell is set to receive in 2010 - he will also pick up an International Emmy award in November for having "reshaped 21st century television and music around the world."

May 29, 2010 03:00:11 GMT

, who is hot on the headlines, revealed in a segment of her reality show "" that she thinks her ex-boyfriend was jealous of her life as a celebrity. This is the side of story according to Kendra after the former flame Justin Frye sold the private tapes to Vivid Entertainment.

In a sneak peek of the upcoming episode, the ex-Playboy girl told her autobiographer that she once had a boyfriend she would "have sex every couple days" with. She admitted that they would tape it every now and then. "There's a lot of couples who do that," she said, adding "At that time I wasn't a celebrity. I didn't even know I was going to become a celebrity."

May 29, 2010 02:24:55 GMT

There's an in-depth look at the new season of "J.O.N.A.S!" which now goes by the title "JONAS L.A.". The , and reveal how this second season is totally different compared to the first one.

Beside taking place in Los Angeles and hitting the right spots in the city, the brothers will make new friends in the new environment. There are the likes of and in the guest stars list. While the former's role is still unknown, the latter will play a neighbor to the boys named DZ.

May 28, 2010 09:23:34 GMT

In a preview of "Kourtney and Khloe Take Miami", the Kardashian sisters cause a scene during a photoshoot of their DASH boutique promo. is pissed when tells her to pull it up together and be "professional" for five minutes.

Khloe who is visibly not happy since the make up was applied, snaps "Oh I forgot you're such a mom. Your life is so perfect, you've never been drunk. You used to be the party queen, so shut the f**k up, don't be a hypocrite." In a solo testimony Khloe explained her outburst, saying she was naked, pressed to girls she didn't even know and was irritated that her sister was yelling at her.

May 28, 2010 07:59:06 GMT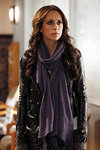 "" is officially dead. Post canceled by CBS following a streak of mild rating, the show starring was said to be considered by ABC. However, the latest news revealed that even the Alphabet is not interested to keep the show in business.

"After five wonderful seasons and over 100 episodes, we are disappointed to announce 'Ghost Whisperer' will not be returning for a sixth season," executive producers Kim Moses and Ian Sander said in a statement Thursday, May 27. "We've had an incredible experience and owe a debt of gratitude to everyone involved."

May 28, 2010 07:31:19 GMT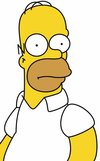 The Simpsons' dumb dad Homer Simpson has topped a new list of the best TV and movie character of the last 20 years. The yellow cartoon character with a love of doughnuts beat out boy wizard Harry Potter and 's TV vampire slayer Buffy to take the top spot on the new Entertainment Weekly magazine countdown.

Tony Soprano and "Batman" villain The Joker round out the top five, while 's "Friends" character Rachel Green, 's Edward Scissorhands, Hannibal Lecter, Carrie Bradshaw and Spongebob Squarepants made the top 10.

May 28, 2010 04:45:01 GMT
ABC is still trying to compensate the end of "" by replacing it with equally gripping shows. The closest the network gets at the moment are "" and the newbie "". However, there's a report that the Alphabet is brewing a plan to bring back "Alias".

E! Online reported that a "reliable insider" informed them about a talk in ABC where the award-winning series will get a "reboot". It should be noted that nothing is official yet because it is only a "very initial talk at this point".

May 28, 2010 03:02:36 GMT

The CW has been generous in sharing the sneak peek to two of their new series. "" and "" are the freshly-picked up series which will join the other shows this Fall. "Nikita" which is targeting older audience is set to replace "" while "Hellcats" which is about high schoolers replaces the short-lived "".

Viewers are given the background story of how Nikita became an assassin in the first place and what motivated her to bring down the division. Then it shows other characters such as Michael who is played by . It hints that Michael has personal feelings for Nikita but he's assigned to hunt her down.

May 27, 2010 08:46:46 GMT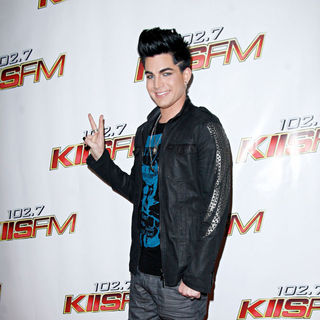 was noticeably absent from "" season 9 final on Wednesday, May 26 night while a number of familiar faces from show turned up to pay a tribute. Rumor has it he was on doctor's order to rest his vocal and some nasty rumors said Adam was not even invited to be on the stage.

In a series of Twitter rant, Adam defended his situation, saying both rumors are wrong. "Would have loved 2 have been at the Idol Finale to wish Simon farewell and support the finalists, but this tour for my fans is my priority," he began with the real reason.