September 23, 2009 06:21:33 GMT
Next Tuesday on September 29, "" will return with "The Porn King" episode. Dixon continues his whirlwind romance with Sasha by driving to Napa for the weekend. On the return trip though, he is forced to face reality when a flat tire leads to a trunk of porn and a bunch of lies.

Annie, in the meantime, finds her confident attitude quickly disappearing when she realizes that Jasper, the nephew of the man she hit on prom night, is a student at West Beverly. Navid continues to run the Blaze News, assigning Silver and Gia to interview Jasper for a news piece about his uncle. Things get steamy when Adrianna confides in Teddy. And, Liam finds a way to get revenge on Jen and reveal the truth to Naomi about their night together at prom.

September 23, 2009 03:10:41 GMT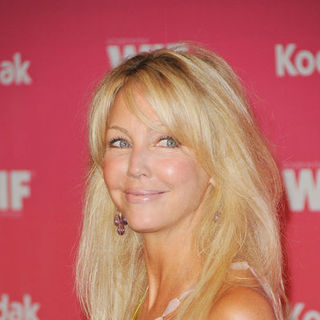 is returning to the sexy apartment complex. Although she had turned down the offer to reprise her Amanda Woodward role earlier, the 47-year-old has been confirmed by The CW to join the cast of the refurbished version of the 1990's drama series, "". She will be making her first appearance on the show on the November 17 episode.

"We're ecstatic to have the chance to bring Amanda Woodward back to 'Melrose Place,' " executive producers Todd Slavkin and Darren Swimmer said in a statement. "Heather's involvement in the show is something we've been working on for some time as we couldn't imagine creating and producing this show without the iconic character's inclusion."

September 22, 2009 09:09:03 GMT

Pam and Jim are getting their own wedding website at . The characters on "" who will get married this season, put up their photos, welcome guest to drop in some comments and would soon reveal details about their wedding through the website.

"I would hope that if you're looking at our wedding blog, you already know us," the couple wrote in 'About Us' section. "So an explanation of who we are and what we do seems kind of pointless, but in case you accidentally stumbled on this site: He's a paper salesman. She's a paper salesman. Together, we're easily the seventh most interesting couple in Northeastern Pennsylvania paper sales."

September 22, 2009 08:24:48 GMT

While attending Primetime Emmy Awards on Sunday, September 20, stopped for a quick word with Extra, to whom he hints a retirement. The actor said cryptically that his days as Charlie Harper on "" maybe over after his contract with the studio reaches the end.

"I got five kids, I've got amazing wife. There is life outside of show business," Sheen said on the red carpet. He added further, "It's been a great run. This is my last contract year, so maybe it's up to CBS and Warner Bros." The half-hour comedy show is airing its seventh season and thus it would be the final season for Sheen if he indeed quits.

September 22, 2009 06:51:08 GMT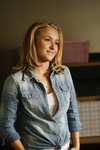 The preview given at the end of "" premiere suggests that Claire will take a huge portion of the next episode. The cheerleader who wanted to lead a normal life has to suffer the consequences of being caught by her roommate while recovering from a fall. H.R.G. suggests that they hire the Haitian to clear Gretchen's memory.

Meanwhile, Peter faces unexpected consequences for his heroic acts and encounters a reluctant new hero (guest star ). He also meets the leader of The Carnival, Samuel, who moves heaven and earth to recapture the memories of his late brother Joseph. Elsewhere, Matt struggles with his internal demons as Sylar mysteriously resurfaces.

September 22, 2009 06:31:53 GMT
House declares he wants to quit the job and makes a reference to in the preview for next week's episode of "" In "Epic Fail", House returns home to Princeton where he continues to focus on his recovery, but surprises Cuddy with the news that he's making a big change in his life.

Meanwhile, the team is unable to diagnose a loud-mouthed video game creator who posts each new symptom on the Internet and opts for treatments suggested by the online community rather than by the doctors, and Foreman angles for House's job, but the pressure to solve the case creates tension in his relationship with Thirteen.

September 22, 2009 04:46:13 GMT

The CW has provided fans of "" with the clip from the first episode of season 9. Oliver is involved in some kind of underground fight and Lois penetrates the place to seek his help. She tells him that a woman has been following her, but shortly later the talked-about figure shows up only to lure Clark out of the hiding.

Clark decides that he is ready to start his training at the Fortress, but Jor-El insists that he returns to Metropolis to cut his ties with Lois before he begins. Lois reappears in the city with no recollection of vanishing, and her investigation into a monorail crash brings her into contact with a new reporter named John Corben who is opposed to the Red and Blue Blur.

September 22, 2009 03:15:13 GMT

It looks like a deal is brewing between and . The two stars, who enjoyed a shower of attention at the recent Primetime Emmy Awards, may be sharing a screen should a deal between him and the writers of "" reach a favorable end.

To Access Hollywood, Fey expressed her interest in getting the singer-turned-actor to join the comedy. "We should track him down. He'd be good," the depicter of Liz Lemon on the series said. "I'm sure he'd totally do it - he's not busy."

September 22, 2009 02:41:44 GMT

Next week on "" the scandal case is not yet resolved but Haley begins to wonder if Renee's accusations have merit. Meanwhile, Clay and Nathan disagree on how to handle an ever-worsening scandal. Quinn and Brooke organize a photo shoot, and Mouth ups the stakes in his battle with Skills. Alex makes Julian an interesting proposition.

On "", it's an Upper East Side face-off when Blair and Chuck both set their sights on a particular item up for bid at Sotheby's and the personal stakes are high. Serena suspects that Carter may be up to his old habits, Georgina takes an interest in Dan, and Vanessa begins to suspect that something isn't quite right with Scott (guest star Chris Riggi).

September 21, 2009 09:07:09 GMT

Disney Channel is giving a head start for "" by releasing its first teaser. Not giving away any scene from the TV movie, the teaser is quite informative in terms of its release target and story plot. The sequel to "" is coming to the channel in Summer 2010 with the summer camp threatened to be shut down.

According to its early synopsis, the second installment sees Mitchie, Shane and the others discovering that some of the students and instructors have ditched it for a nearby rival Camp Star. Also, there would be sort of a "Romeo and Juliet" love story when ' Nate falls in love with the daughter of Camp Star's owner.

September 21, 2009 07:48:14 GMT

A new poster is released to promote the sixth season of "". Like the first one that shows a white umbrella over the black ones, this new poster tags the show's latest slogan, "The season that changes everything". Apart from the design, the photos of the cast are rather old with Izzie still having her short blonde hair.

The season is particularly going through changes in the casting and star's appearance. is no longer part of the show and will take a break from several episodes to concentrate on her feature movie project. Also, pregnant is due to give birth this Fall and she will need a maternity leave.

September 21, 2009 04:49:20 GMT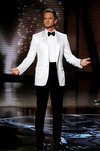 The ceremony of 61st Primetime Emmy Awards has just ended but some notable moments from the live event were captured. opening number and a dance sequence by several dancers from shows such as "" and "" were among the highlighted moments apart from the winners revelation.

Harris, wearing white Tuxedo, worked the stage with a Broadway number of "Put Down That Remote". His performance included a shout out to who won as the impersonation of Sarah Palin, whose name rhymes with tuba, and as well as who "everyday look luscious and cool".

September 21, 2009 03:33:20 GMT
"" and "" managed to grab the coveted awards at the 61st Annual Primetime Emmy Awards. The former was hailed as the Best Comedy Series while the latter was the winner of Best Drama Series. This would be "Mad Men" second time in a row to win the category while for "30 Rock" it's their third year holding the title.

The cast ensemble for both shows took the stage to receive the trophy. "30 Rock" creator thanked NBC for keep airing the show although it is much more expensive than a talk show. Creator of "Mad Men" Matthew Weiner meanwhile said, "We worked very hard to not have it stink the second year. It is an amazing time to work in TV and I know that everything is changing but I'm not afraid of it because I feel like all these different media, it's just more choice and more entertainment and it's better for the viewers in the end, and I'm glad to be a part of it."

September 21, 2009 03:03:19 GMT

and were among the early winners at 61st Primetime Emmy Awards on Sunday, September 20. Chenoweth won the Best Supporting Actress in Comedy for her role on the now-canceled "" while Cryer snagged the Best Supporting Actor part.

Cryer, the depicter of Alan on "" beat who was hosting the show. In finding out that his role as Barney on "" did not win, Harris cracked the joke, "It's not awkward. I won't let it get awkward."

September 19, 2009 06:42:55 GMT

"" has mashed up its season 6 scenes with the music video of 's "She Wolf". Susan and Gaby stripping down to their lingerie, Bree committing adultery and Lynette unbuttoning her work suit emphasize the sexy theme of the promo.

"She Wolf" is the single from Shakira's new studio album of the same name, "", which will be released in the United States on October 13. The music video was directed by Jake Nava, featuring Shakira wearing skin-colored leotard and dancing inside a cage. The single itself has been used as a background music for several promos of the show.