April 29, 2010 09:33:03 GMT

"" is two weeks away from its first season finale but NBC has released a clip from the May 12 episode. The scene revolves around Chloe bumping to Briggs in a bar feeling under the weather. When she starts crying, Briggs comforts her and lands a kiss on her lips.

The episode is called "That Crazy B*tch Was Right". The official synopsis is read, "When two boys get trapped in an abandoned building, Veronica finds herself in the right place at the right time to help them. Back at the hospital, Chloe pressures doctors to perform a risky surgery to save her comatose boyfriend from brain death."

April 29, 2010 08:52:35 GMT

"" reveals yet another witty and clever poster which is released prior to the series' premiere in June. This new and sixth poster released from the collectibles takes the picture of several flamingos flocking in a park with the sign "Please do not feed the shapeshifters. Thank You".

For "True Blood" fans, this poster can crack a smile, knowing that shapeshifters mean humans that can change shape to any kind of animals. Sam is one of them, frequently shifting to dog. A poster which highlights this special ability has been released as the .

April 29, 2010 07:56:16 GMT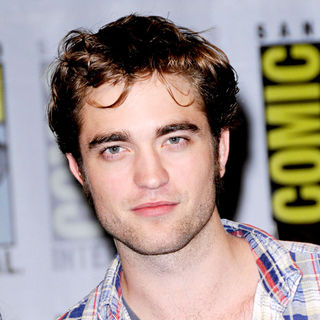 will stop by "" next month in a bid to promote his latest movie. He had appeared on the show last year in support of "" and he returns to ' couch this time around for its sequel "".

The episode will air on Wednesday, May 19 but Pattinson, who plays vampire Edward Cullen in the series, will tape the appearance a day before. The appearance is considerably early for "Eclipse" will only be unleashed to U.S. theaters on June 30.

April 29, 2010 07:16:06 GMT

Words out there are, "" may end after eight seasons only instead of nine like Marc Cherry wanted at the first place. ABC is looking at two-season renewal for the hit series so that the creator could avert his attention to creating a new project for the network.

According to a report by Deadline, beside eager to have a new show, ABC makes this decision based on the response from the lead actresses of "Desperate". , , and have deals through next season but they have yet to commit further.

April 29, 2010 06:13:44 GMT

History's miniseries about the Kennedy family is taking shape with the casting of First Lady Jacqueline Kennedy and President John F. Kennedy. The execs from the basic cable channel announced on Wednesday, April 28 that and will take over the roles.

In the eight-hour miniseries which will be controversial, Holmes and Kinnear will be joined by as family patriarch Joe Kennedy Sr. and as Attorney General Robert Kennedy. The series which is History's first foray into scripted miniseries, will be broadcast in 2011.

April 29, 2010 03:42:02 GMT

In an interview with BBC Radio while promoting "" across the pond, has let it slip that he's not going to reprise his role as the eccentric boss of Dunder Mifflin on "". He said, "(I have a) contract through next season."

When asked if he'd stay on after, he replied, "I don't think so. I think that'll probably be my last year." It's been known that Carell's contract will expire after this current season but this marks the first time he publicly reveals he's leaving the show. NBC would not comment on this or whether the show will end if Carell's Michael Scott is not there.

April 29, 2010 02:25:45 GMT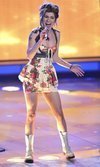 "" reveals a shocking result this week with the elimination of Siobhan Magnus. The 20-year-old from Cape Cod, Massachusetts was never in the bottom three before but her rendition of 's "Any Man of Mine" became her stumbling block.

Siobhan was in the bottom three with Michael Lynche and Casey James. But the former was sent to the safe zone first, leaving the battle between Casey and Siobhan. Crystal Bowersox looked devastated as the only remaining woman beside her left. Siobhan's departure also means 's prediction that a woman will win the competition this season is slimmer.

April 28, 2010 09:29:00 GMT
A bunch of clips are coming out for the next episode of "". On May 2, the teams which remain intact from last week since none was eliminated, are assigned to create three radio spots for Clockwork Home Services.

To impress the executives, the teams must create original commercials for the company's plumbing, electrician and heating & air conditioning services, and one team may have pushed the envelope too far. Tempers flare when one celebrity questions another's ability to perform, but in the end, one team's commercial wins over the client, and Mr. Trump sends another celebrity packing.

April 28, 2010 08:44:53 GMT

"" will soon begin a new chapter and a sneak peek at the chaos, rivalry and eccentricity that the socialites bring to the screen has been released. Danielle remains the 'villain' in this group, feuding with most of the housewives after one of them dug out her criminal past.

In one clip Danielle visits a priest to discuss about the girls going against her. In the first season finale, Danielle's secrets were revealed, exposing her past that includes stripping, cocaine use, and an arrest for kidnapping, extortion and drug possession. In another clip the group talks about Danielle but Jacqueline prefers to keep quiet.

April 28, 2010 08:18:14 GMT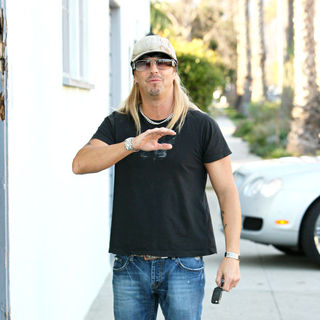 Property tycoon-turned-reality TV king and his fellow "" producers are trying to find a "formula" that will deal with rocker ' absence from the show. The star, who is a contestant on the current season of the hit show, is fighting for his life in a Texas hospital after suffering a brain hemorrhage last week - and is unlikely to make another appearance on the reality TV series.

And Trump, who hosts the show and is an executive producer, admits he's trying to come up with a way to address Michaels' condition on TV. He tells U.S. TV news network MSNBC, "I can't imagine Bret coming back in four weeks and being, like, 100 per cent, because supposedly the speech is very slurred and lots of other things are going on. Hopefully that'll be the worst, because the worst is not so good."

April 28, 2010 07:48:13 GMT

Disney Channel is ready to announce the specific date of "" premiere. The TV movie which is the sequel to "" will air for the first time on Friday, September 3 at 8/7c.

Long before fans can watch the movie, a soundtrack album and a tour with "Camp Rock" theme will be available first. The compilation of songs in "Camp Rock 2" is on sale July 27. Containing 15 songs including "We Can't Back Down" which has been teased earlier this week, the album will range in sounds from Hip-Hop to rock to pop.

April 28, 2010 06:29:07 GMT

"" will welcome two guest stars next week in the episode "Bad Reputation". is Brenda Castle, McKinley High's badminton coach who develops a prickly and combative relationship with Sue. Meanwhile, appears as herself, singing "Physical" with Sue.

Mr. Schuester starts an investigation when a salacious list about members of the glee club circulates the halls of McKinley High. Meanwhile, Sue is mortified when a video of her performing the Olivia Newton-John classic "Physical" surfaces.

April 28, 2010 04:57:59 GMT

was both the mentor and the theme this week on "". Her hits from "You're Still the One" to "No One Needs to Know" were brought on stage by the Top 6. And Michael Lynche successfully squeezed out tears from the country singer who sat among the audience during the performance night.

Lynche was the second performer of the night, singing "It Only Hurts When I'm Breathing". During the rehearsal, Shania said she was moved by the way Mike sang it and by the time Mike performed it on stage, Shania shed a tear while clapping. compared Mike to while said, "It was a little bit girly for you."

April 28, 2010 03:44:18 GMT

"" is going full throttle this week, releasing not only the first cast photo of season 3 but also the first webisode written by Alan Ball and also a teaser titled "Bill Is Missing". The vampire series will premiere on June 13 on HBO.

With the tag line "Do Bad Things", the poster is ordinary if people won't look beyond the positioning of each character. Bill, Sookie and Eric love triangle is put upfront and center while former flames Tara and Sam are huddled together in the back. The poster, while presenting none of the new characters in season 3, does include Pam, Jessica and Lafayette.

April 28, 2010 02:24:54 GMT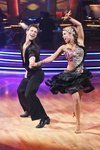 The Bachelor himself is eliminated. Jake Pavelka is leaving "" this week after stumbling in samba and criticized by the judges as having poor wiggle ability. For having the lowest combined score, Jake was in the bottom two along with Niecy Nash who didn't do well in tango.

"You know what, this is, I think, the best season of Dancing With [the] Stars I've seen," Jake said after learning his fate. "I was so honored to be here. I enjoyed every second of this. I want to thank Texas, I want to thank all the Mavericks fans, Canada, all the tweets, Facebook. ...thank you for keeping me here for six episodes. I can't even put it into words how much I enjoyed this."