November 12, 2009 09:23:11 GMT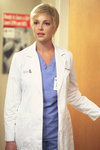 Just when she returns on this week's episode of "", a report emerges that 's Izzie Stevens will be out of the screen again. EW's Michael Ausiello cited some sources as saying that the actress wants to take a break from the medical drama again, this time for a personal reason.

Heigl has once taken a hiatus from the show last month to complete her feature movie project "". While it was for professional reason, this second leave is for her family's sake. She reportedly wants more quality time with her newly-adopted daughter Naleigh. This means Izzie will not appear in several episodes most likely those that air in early 2010.

November 12, 2009 07:44:32 GMT

For the second time, former Vice President of United States Al Gore shows up on "". Closely associated to environment, Gore will appear as himself and share a scene with aka Kenneth. Jack Donaghy tells "TGS" staff it has to cut its carbon footprint by 5 percent, and puts Kenneth in charge of getting it done.

This November 19 episode will kick off NBC's "Green Week" which is held annually. The Peacock is spreading a pro-environmental message across five of its prime-time entertainment programs including "", "", "" and "". McBrayer said, "It's something that is relatable and is something that a lot of people are doing."

November 12, 2009 06:57:31 GMT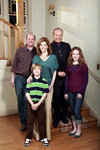 Out of the four half-hour shows that are debuted this Fall on ABC, one cannot survive. "", the comedy starring will stop its production after wrapping the 10th episode, which is currently filming, because ABC has no intention to continue the show due to low rating.

So far five out of ten episodes have been aired but the network has not given any statement whether the remaining five will go on air in the future. ABC has replaced "Hank" with comedy repeats and holiday specials that will run in the next few weeks. It had once been preempted for a Charlie Brown Halloween special in October and is taken off air this week for Country Music Association Awards live broadcast.

November 12, 2009 05:00:30 GMT

And then there were two. "" cycle 13 has wilted down the number of contestants from four straight to two this week, something which the show hasn't done since cycle 4. "tonite's top model,2 girls eliminated.1st time just 2 finalists n final episode! shocker to the girls.u gotta see it! ws hard2 choose," host wrote on Twitter before the show went on air Wednesday, November 11.

Eliminated in the tenth week are Jennifer An and Erin Wagner. Their photo shots as Pele, the Hawaiian goddess of volcanoes, were not enough to impress the judges. Miss J said that Jennifer's was stiff while Nigel Barker said it wasn't her best. On the other hand Erin was actually praised for her portrayal of Pele with Nigel saying it was gorgeous and sexy.

November 12, 2009 04:32:52 GMT

Somebody has a crush on Mr. Schuester and she is willing to clean his toilet. Next week on "", Rachel who is played by is seeing stars on Will's eyes. "So I have to sing songs for her to keep her back. I think Will handles it well. We do a duet of 'Endless Love'," said in an interview with TV Guide.

In "Ballads", Will has the Glee Club split up into pairs to sing their favorite ballad, but when one kid gets sick, he's forced to step in and winds up in a sticky situation. Meanwhile, Finn has dinner with Quinn's parents. The episode airs on Wednesday, November 18.

November 12, 2009 04:07:38 GMT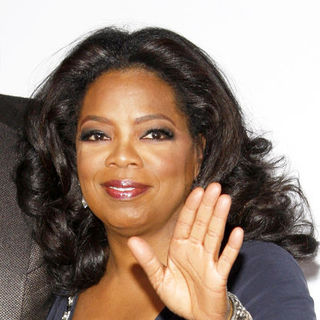 On Wednesday, November 11, made a special announcement about her upcoming interview with former Alaskan Governor Sarah Palin for her talk show. With a video cam, Oprah said that Palin had just left the studio and did an interesting interview despite people not favoring her to appear on the show.

"She talked about inside the campaign. About what it felt like when she was asked to be the vice president," Oprah said. The host added, "We talked about Bristol, her pregnancy, Trig her baby, and Levi Johnston. We talked about her marriage, we talk about everything!".

November 12, 2009 03:03:19 GMT

In order to give "" a room, The CW's Monday night line-up will have to be benched. In that case, "" and "" will take a six-week break each, being shuffled with "Unexpected" which is currently slated for 13 episodes only.

"Gossip" is taking the hiatus from January to February while "Hill" will rest between March to April. In the meantime, "Unexpected" will bounce from the 8/7c and 9/8c timeslots throughout. The shuffle will begin on January 18 with "Hill" airing in its usual 8/7c slot followed by the season premiere of "Unexpected".

November 12, 2009 02:24:33 GMT

After struggling in the first season and survived, "" can't sustain the life of the second season. FOX has canceled the Joss Whedon-created show but will air all the 13 episodes which have been in the first order. Whedon has come out with a response to the devastating news.

Shortly after report of the cancellation spread out, Whedon wrote on Whedonesque.com, "Hmm. Apparently my news is not news." He went on, "I don't have a lot to say. I'm extremely proud of the people I've worked with: my star, my staff, my cast, my crew. I feel the show is getting better pretty much every week, and I think you'll agree in the coming months. I'm grateful that we got to put it on, and then come back and put it on again."

November 11, 2009 09:10:07 GMT

"" next week will all be about accumulating plan to get a retaliation, with Jax suggesting to Clay "We kill them all". In this week's episode called "Balm", the whole truth came out when Gemma tells SAMCRO what really happened to her. In continuation of that, Opie seeks both revenge and reconciliation, while Chibs makes a secret deal with Agent Stahl to protect his wife and daughter.

In the season 2 premiere Gemma was the victim of a gang rape but she chose not to tell the boys and claimed it was an accident. Tara was in the know of this but she also kept it a secret. who plays Tara said, "The revelation of what happened to Gemma is so big in and of itself that it's kind of distracting from everything else around it. There isn't a ton of blowback. It's something that's dealt with, but at the end of the day it's pretty easy to understand why Tara's kept that secret."

November 11, 2009 08:26:13 GMT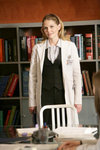 In "" interview scheduled to be aired on Wednesday, November 11, sets straight the confusion whether her character will be yanked out of "". Morrison gives a nod when throws the question "You're done with House?", saying further "I am as far as I know, yes."

Back in August, there was a rumor that Cameron, the character played by Morrison, will be written off the story after she is having troubles with her husband Chase. It stems from the fourth episode of this season when an ailing ruthless dictator forces the team to split their moral obligation and logic. Chase did not tell his wife that he had forged the patient's test results, causing the dictator to lose his life.

November 11, 2009 07:40:13 GMT

Loyal and dedicated fans of "" have started a petition directed at ABC Chairman, Stephen McPherson for him to bring back the show on screen. The comedy did not receive additional episodes order on Monday, November 9 beyond the original 13-episode commitment.

"We need to save 'Eastwick', one of the best show of the year," part of the read. At the time of writing, the signatures accumulated have reached 2,000 plus. There is also a to save the show starring being set up for trending topic.

November 11, 2009 07:00:46 GMT
Things get more complicated when the aliens are granted the visa to travel anywhere they like and when they come to knowledge that a certain someone is leading a resistance group. Next week on "", Chad reports from the Peace Ambassador Center as 100 diplomatic visas are being issued to the first wave of American Visitors, with Anna getting the 1st.

But not everyone agrees with the decision. Erica has started tracking a death threat while paired with a V officer, as she actually has to protect the V's. Meanwhile, Ryan starts reaching out to his old friends to build up opposition forces and help fight-off the V's.

November 11, 2009 06:35:27 GMT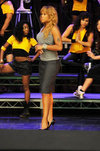 The first look of rapper guest starring in FOX's musical series "" is given in form of episode stills. Eve will play the role of Grace Hitches who is an instructor of a rival Glee club. Concerned that Sue is up to no good, Will pays a visit to Grace to see what information Sue may be leaking, which leads to the club getting a look at their hair-rising competition.

Along with the picture of Eve, there are pictures of "" season 4 contestants in yellow attire. Katee Shean, Kherington Payne, and Comfort Fedoke will be part of the competing Glee club members. It is not known yet whether they have speaking roles.

November 11, 2009 04:36:32 GMT

The CW is not wasting their success in nabbing one of the hottest artists this year, , as the guest star of "". After releasing a regular promo which was played at the end of this Monday's episode for "The Last Days of Disco Stick", the network drops the one which is focusing entirely on Lady GaGa and her "Bad Romance" performance.

In the episode, GaGa is invited because Blair wants to impress the elitist theater kids at NYU with her private concert. The singer previously said that she refused to only sing in the middle of the scene and "screw everything up" with a sudden, meaningless performance. She thus joined the writers and producers to reveal what kind of performance she wants.

November 11, 2009 04:08:52 GMT
One of the dancers of "" this season has been extracted from the competition to leave four people in the semifinals. Taking the fall in the eighth week would be and his partner . Carter stumbled when he was required to dance the Foxtrot. He only managed to score 23 out of 30, the lowest number outed on the Monday night performance.

It was between Carter and on the result night, but Osbourne had a slight win from the judge and apparently the audience. Saying goodbye to the competition, Carter said, "One thing that I will always remember from this competition is the lessons I've learned. I've grown some much with your compliments and your criticisms, so thank you. Thank you for helping me be able to grow on this show."