November 19, 2009 04:20:47 GMT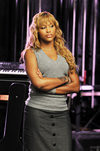 It will be one hair-rising event of "" next week when McKinley High gets into competition with the other Glee Clubs. Concerned that Sue is up to no good, Will pays a visit to an instructor of a competing Glee Club to see what information Sue may be leaking, which leads to the club getting a look at their hair-rising competition.

The episode airing November 25 is guest starring as the instructor of the rival club. Among the members of her team are the fourth season contestants of "", Katee Shean, Kherington Payne, and Comfort Fedoke.

November 19, 2009 03:21:31 GMT

Nicole Fox has won "" cycle 13 and thus becomes the first petite model to have claimed the title. Nicole is entitled to a Seventeen magazine cover shoot and six-page spread, a spot at Wilhelmina Models and a $100,000 contract with CoverGirl cosmetics.

Nicole beat Laura Kirkpatrick on the finale after completing her CoverGirl commercial smoothly and conquering the final runway. Laura stumbled a bit on the challenge because of her dyslexia. And when Nigel Barker asked her to think something emotional, Laura could not deliver it to the camera. However, Nicole wasn't exactly an obvious winner from the beginning. Jay Manuel disliked the way she read her CoverGirl commercial because she sounded like a snob.

November 19, 2009 02:44:30 GMT

"" gets the privilege of being the only talk show to have all three principal cast of "" on the same seat. , and have taped an appearance on 's talk show last week and the segment will be aired on Friday, November 20.

During the interview, Robert couldn't stop laughing and Taylor explained to Jimmy his bulking up regime. The host asked Taylor about the transformation from "" to "New Moon" and the actor said that the hardest part was actually not the work out but the eating. As he had said a couple of times, he had to "put something" in his mouth every two hours in order to gain mass.

November 18, 2009 03:31:00 GMT

and were the first two celebrities announced advancing to the finals of "". The former topped the leader board on Monday, November 16 performance night with 87 out of 90 points. She scored a perfect 30 for their Salsa, 29 for Cha Cha Cha and 28 for Waltz. Osmond, being the one with strong fan base, grabbed 27 for Jitterbug, 26 for Samba, and 21 for Tango.

It was between and when the hosts were about to announce the third couple in the finale. Krupa earned 81 points on Monday and fell at the second place. Osbourne meanwhile, received 78 points and sat at the third place. Although she scored higher, Krupa did not get the same vote of confidence from the audience and was thus eliminated. "It's been such an amazing experience... I've grown as a person," Joanna said.

November 18, 2009 02:44:51 GMT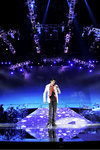 's "" lands on MTV's hand. The documentary about the King of Pop's last rehearsals before he passed away in June will be aired on the music channel in 2011.

The deal with Sony Pictures Releasing that distributes the film includes broadcasting rights to other domestic channels under MTV Networks such as VH1, VH1 Classic and Palladia. BET which is owned by the same company that owns MTV, Viacom, is also included in the deal which will last about six years.

November 17, 2009 07:28:59 GMT

Burnt with the intention to break Cuddy and Lucas, House gets the statement from Cuddy that there could be nothing between her and House. Next week on "", House is not only punched at heart but literally on his face, courtesy of Chase.

Meanwhile on the medical side, House and the team take on the case of James Sidas, an exceptionally brilliant physicist and author who traded his successful career for a job as a courier. For the ailing patient, intelligence is a miserable burden that has prompted depression and addiction, and this, coupled with his myriad unusual symptoms, nearly stumps the team.

November 17, 2009 06:31:08 GMT
Without the intention to leave the hands that feed them, and want to have another reality show beside "". The married couple who is known to crave for fame said in an interview that they want their fans to have a bigger scoop on their lives.

Speidi revealed their plan to The Associated Press during a promotional event of their new book "How to be Famous: Our Guide to Looking the Part, Playing the Press, and Becoming a Tabloid Fixture", on Monday, November 16. In fact, they have started pitching the idea to several networks.

November 17, 2009 04:26:24 GMT

Next on "", Julian divulges a secret to Alex (guest star ) that leads to a confrontation with Brooke. Nathan and Haley's careers bring about a tough decision for the family. In the preview, Julian says that Brooke can't have kids and Haley says the record company wants her to do a tour.

Meanwhile, Clay tries to resuscitate his career as an agent, and Jamie learns the truth about Skills' new job. And a fresh-from-jail Millie finds an unlikely supporter in Victoria (guest star ). The episode is airing in two weeks on November 30.

November 17, 2009 03:36:31 GMT

Not only it is now confirmed that playing Hawkman on "" will be , the first look of the actor as the DC Comics superhero has also been shared. Additionally, TV Guide Magazine acquired an interview with Shanks who will appear as the flying hero on a two-hour movie event airing on February 5.

On the physical appearance, Shanks revealed that the "Smallville" version won't exactly follow the comic. "No nudity," he affirmed. "The way the harness is designed they needed to create a bronze chest plate. The helmet is also more of a bronze-tone than a big yellow gold thing. My whole upper torso becomes a big immobile object."

November 17, 2009 02:44:23 GMT

Taking a two-month hiatus, "" will keep its fans entertained with a week-long marathon. This week's episode will be the last airing this year before it returns in January 2010. In anticipation of that, The CW will run all the 10 episodes in season 1 to celebrate the holiday season.

The marathon will begin Monday, December 14 and end Friday, December 18. The 10 episodes, which have managed to deliver the show a status of being The CW's most-watched series among adults 18-34 this season, will be cramped within the week by airing two episodes each night starting at 8/7c. The show is slated to come back with originals on January 14.

November 16, 2009 08:53:10 GMT

In "", the wife of a billionaire suffers the consequences after a setback leaves her without a new liver and her husband resorts to buying one on the black market. Meanwhile, a friend from Andy's past resurfaces.

In "", the team reopens a 1983 case, originally investigated by Stillman, of a teenage Chinese-American who was slain before he could obtain justice for his girlfriend who was killed by one of many bullets unleashed at a festival by Chinese gang members.

November 16, 2009 06:53:13 GMT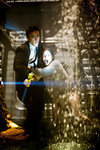 Literally hours after finding out that "" has gathered around $225 million in its opening weekend on theaters, FX Network snatched the opportunity to be the network with its TV broadcasting right. FX will begin airing the movie directed by Roland Emmerich on its screen starting early 2012.

Although "2012" performed quite well in the box office both domestically and internationally, FX paid a standard fee for the license. According to THR, the cable put out 12% of the domestic income, which is around $7.8 million. FX also paid 12% for another box office champ, "".

November 16, 2009 06:09:32 GMT

A preview for "" November 22 episode is released to reveal that Sonny and Chad are about to reveal each other's feelings. When Sonny and Tawni are guests on "Gotcha with Gilroy Smith," Gilroy tries to get Tawni and Sonny to confess some embarrassing moments on "So Random!".

Sonny and Tawni make a pact backstage that they will have each others back but they realize that there is a hidden camera so Gilroy knows about their pact. Tawni breaks the pact and Sonny starts to think about Chad, but Gilroy knows that is a face of someone who has a boy crush. Gilroy brings Chad out and shows a clip of him and Sonny.

November 16, 2009 04:26:42 GMT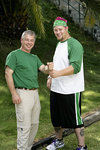 Saved from being sent home last week through the non-elimination round, Gary and Matt cannot keep up with "" this week. The father and son duo had to perform an additional task for coming the last in the previous leg, spending five minutes inside a Sauna Buss in Estonia before they can perform the Road Block.

All teams actually started at the same time because the boat that took them to Tallinn was so late that they all ended up on the same spot. But once there, Gary and Matt had to perform the speed bump while the others moved on with the Road Block. Here, teams were required to travel to Mustpeade and one member must dash to the cellar to acquire a candelabra and an empty scroll inside a room. The scroll contained clue written in invisible ink which will be visible by holding it near the candle. Gary and Matt actually were not too far behind at this point but they made a mistake of not burning the entire clue, causing them to look around in Pik Hermann Tower Garden for the clue box.

November 16, 2009 03:44:29 GMT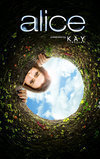 "", SyFy's take on the Lewis Carroll classics "Alice's Adventures in Wonderland" and "Through the Looking-Glass" has been given a short but new promo. This TV spot introduces one by one briefly the main characters of the miniseries from the titular character to the villainous Red Queen.

28-year-old actress plays Alice since the writer/director Nick Willing wants this version to follow the more adult and "fiercely independent" version of the character. Alice is a stranger in an outlandish city of twisted towers and casinos built out of playing cards, all under the rule of a deliciously devilish Queen who's not very happy about Alice's arrival. Playing the Red Queen is .