July 10, 2009 08:20:49 GMT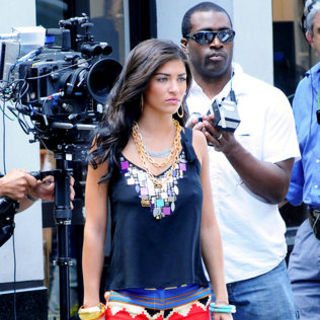 Some of "" cast were seen filming for the third season in Soho, New York City on Thursday, July 9. , who plays Vanessa in the series, is spotted with summer outfit, clutching a bright yellow bag and heading somewhere. On another scene, aka Dan is shooting near a limo.

Vanessa will hook up with someone new in the season, someone whom EW's Michael Ausiello hinted as a person she met briefly at the end of last season. Also, Vanessa will get a new roommate while in college. guest stars for seven episodes as Olivia Burke who is a movie star seeking an ordinary college life.

July 10, 2009 07:19:07 GMT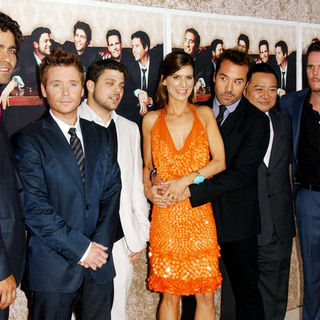 Paramount Theater in Los Angeles, C.A. hosted the premiere event of "" season 6. Most of the show's main and secondary cast like , , , , , and Rex Lee turned up at the event held on Thursday, July 9.

The show returns on HBO this Sunday, July 12 with episode "Drive". Vince's career is on the verge of being relaunched after he scored a stint in Martin Scorsese's "Gatsby". He will be attending the red carpet premiere of the movie and appear on 's show to promote the movie.

July 10, 2009 04:41:41 GMT
"" narrows it down to Top 10 with the elimination of Phillip Chbeeb and Caitlin Kinney on Thursday, July 9. The two dancers, who were not a pair on Wednesday show, got the boot after the judges went unanimous on the decision.

The good news is, Philip and Caitlin will still be touring nationally with the Top 10 starting this September. "I have secured with the producers that you - and Caitlin - will be on the tour," Head Judge Nigel Lythgoe announced after cutting Phillip.

July 10, 2009 03:55:53 GMT
Resting for a week during Fourth of July celebration, "" will be back on Sunday, July 12 with the episode "Shake and Fingerpop". A scene is clipped, showing the chemistry between Eric and Bill as well as explaining how such a powerful vampire in Dallas that they are about to rescue, got abducted.

With Jessica in tow, Bill and Sookie head to Dallas to carry out Eric's vampire-reconnaissance mission, but a surprise awaits them at the airport. At the Light of Day Institute, Jason falls victim to a practical joke, but has the last laugh when the Newlins anoint him for a higher calling.

July 10, 2009 03:19:09 GMT

From being the hunted to the hunter, is guest starring on "" as a police officer. The ex-inmate of "" puts up his NYPD suit and saves a rape victim in the episode called "Unstable".

His character is named Nate Kendal and he interacts with Det. Elliot Stabler and Olivia Benson. In the clip which has just been released, Captain Donald Cragen holds Nate to work with the unit in solving the case although the officer is reluctant to do so.

July 10, 2009 02:48:00 GMT

The veil covering long-delayed season 6 of "" is taken off. 16 designers who have participated and finished shooting for the fashion competition in February this year are revealed and three of them come from as far as Russia, Bosnia and the Republic of Georgia.

Nicolas Putvinksi is a 27 year-old born in Moscow who has been living in New York. He is an F.I.T. graduate whose design commissioned for W and Vogue, but Tim Gunn thinks he is a bit of a fashion snob.

July 09, 2009 09:34:17 GMT

Disney Channel goes behind the scene of "" in the new DCOM Extra. The special feature contains insights from the cast, new footage and the filming process that shows technical rehearsals.

, who plays Alex Russo in the movie, says she likes the scene she shares with . "I think my favorite scene would have to be between Justin and Alex by the campfire," she opened up. "It's a very sweet brother and sister moment."

July 09, 2009 07:32:13 GMT

Bravo TV has had a premiere date for its high-rating series "". The sixth season which will take place in the Sin City, is set to kick off August 26 with 17 hopefuls. Participating contestants are larger in number compared to the first season that started with 12 only.

One by one these 17 chefs will be wilted down until one is crowned the champ. They are competing for the prestigious title, $100,000 from Glad, $100,000 of merchandise from Macy's, a feature in Food & Wine magazine and a showcase at the Annual Food & Wine Classic in Aspen, Colo.

July 09, 2009 06:17:22 GMT

Some of the characters involved in the refurbished version of "" are introduced individually via short promos. This bunch of people takes over from the '90s characters except for Sidney Andrews and Michael Mancini who are original characters played by the same actors, and Thomas Calabro respectively.

Lauren () has the dream of being a doctor and she works in the same profession as Dr. Michael Mancini. Lauren wants to enter medical school but she has little money, so she 'calls' to men. David () is the son of Michael who loves women. Sydney takes an interest in him, so does Ella.

July 09, 2009 04:50:58 GMT

The lesbian storyline on "" may involve 's Naomi Clark. The actress has projected her desire to try on the same sex relationship with on-screen, saying that she is a big fan of Rumer's mom, .

Rumer recently was signed to the drama series as a lesbian student named Gia. "[I'm] very happy to have her, I have met [Rumer] once or twice and she is very sweet," AnnaLynne told Access Hollywood. "I think she's awesome and obviously, you know, I kind of have a girl crush on her mom so its good to have her."

July 09, 2009 02:38:06 GMT

All the coverage on 's death culminated on Tuesday, July 7 when his memorial service was held at Staples Center. Home viewers number who watched through 19 channels that simulcast the service is 31 million, Nielsen Media Research reported. Still, the number cannot beat Princess Diana's funeral back in 1997 which drew 33 million viewers.

Michael, a pop culture icon whose June 25 death sent shock all over the world, lost in number to the Princess because of timing factor among other things. The service was held on a work day and at the hour where people are mostly in the office while Princess Di's funeral was held on Saturday.

July 08, 2009 09:52:41 GMT

More about "" sequel are peeled, including how the plot will borrow a thing or two from Shakespeare. "" will begin the production this summer, and there is a story of "Romeo and Juliet" when Nate falls in love with the daughter of a rival camp owner.

Apart from the plot, Disney Channel also announced that the TV movie will have a new director and writer despite the fact that the first one became the second highest viewed DCOM behind "High School Musical 2". Taking over from Matthew Diamond is Paul Hoen who directed "Jump In!". The writing is tackled by Dan Berendsen ("") with Karin Gist and Regina Hicks assisting.

July 08, 2009 08:24:55 GMT

Although it's only coming in 2010, a trailer for "" has been out there. It is a leak which writer Jesse Alexander explained on Twitter as "NBC's upfront ad event". The showrunner wrote, "VFX not complete. Temp music. But it's a first look at my show!"

What begins as an ordinary day suddenly turns into chaos when a global disaster strikes the high buildings. The show, which is expected to be part of NBC's midseason show, is deemed as "" meets "". It will follow a group of people who have survived a post apocalyptic event and must work together to rebuild and save the Earth from a menace that have consumed countless other worlds.

July 08, 2009 04:25:13 GMT

The un-aired 13th episode of "" which creator Joss Whedon described as "spectacular", "special", "very different" and "very funky" is teased through a clip. Called "Epitaph One", the episode has guest starring as a post-apocalyptic character named Mag, 30 years in the future.

"Epitaph One" was produced as an extra episode after FOX scrapped the pilot from being aired because 20th Century Fox the studio has set a deal that the DVD and Blu-Ray will contain 13 episodes. The full streaming of the episode will be available when Fox releases it on July 28.

July 07, 2009 09:45:09 GMT

The talks about a crossover event between "" and "" are heating up with the latest scoop from TV Guide suggesting that it would be a 'he'. Questions were thrown about which character from "90210" will help to revamp the spin-off to '90s "Melrose Place".

Ryan Eggold, who plays Ryan Matthews, has been deemed to be 'the chosen one'. In response to this, Eggold said, "You know, I've been hearing this and I don't know if it's true either. But it will be fun to play this character Ryan as a twenty something in a show like that. Just to kind of open him up a little bit. I'd love to sort of check out a different passage of Ryan."