July 13, 2009 06:51:46 GMT

Months before was pronounced dead in June, A&E has commissioned a reality show based on the Jackson family. The shooting has finished and a one-hour "backdoor pilot" tentatively titled "The Jackson Family" came as a result.

According to THR, it follows Jackie Jackson, Tito Jackson, , Marlon Jackson and in their bid to prepare for a new album and Jackson Five reunion tour. Michael's name, however, is not mentioned. A&E is looking forward to air it as a one-hour special next year and will "wait and see" whether it has the potential to be a series.

July 13, 2009 06:06:59 GMT

A video comes out to give a behind-the-scene look at future "" episode. Released over the weekend, the footage shows the Stackhouse siblings, Sookie and Jason, in a car accident. They are amazed and confused on how the two victims walk out of the scene unharmed.

"True Blood", which is in second season, is airing every Sundays on HBO. Accompanied by Bill and Jessica, Sookie uses her telepathic skill to rescue a higher vampire in Dallas. Jason meanwhile, is still tangled in his involvement with the Fellowship of the Sun church.

July 13, 2009 02:33:54 GMT

The first part of the vampire saga on "" is previewed. Disney Channel will air 4 episodes that welcome a vampire family to the neighborhood, starting with "Wizards vs. Vampires on Waverly Place" that airs Friday, July 24.

When a new sandwich shop (the Late Night Bite) opens in Waverly Place, Justin falls in love with the owner's daughter, Juliet. But when his family finds out that they are vampires both parents say they can't date. guest stars as Juliet.

July 11, 2009 06:39:06 GMT

In an effort to spare their leader a shame, a Russian TV channel cuts a segment of "" that mocks Prime Minister Vladimir V. Putin. The channel, which is called "2x2", said through a spokesman on Friday, July 10 that "the given scene in this version was absent."

Originally airing in U.S. back in 2005, the episode called "Free Willzyx" portrays Putin as a leader who is desperate for money. When Kyle calls him about sending a killer whale to space, he demands 12 million dollars. But realizing that it is just a non-serious call from America, Putin curses on the phone and says "Kiss my a** George Bush, this isn't funny".

July 11, 2009 04:46:12 GMT

A new promo of "" is released by The CW. This time, it focuses on the irresistible attraction between Stefan and Elena when they bump at school. "The story of their love, will be written in blood," so read the tag line.

Both Stefan and Elena keep diaries to pour out their feelings. Stefan admits to the silent witness that he simply cannot stop thinking about the mortal beauty he newly met in class. Elena too, becomes fascinated with the mysterious new boy in school but she has no way of knowing he is a centuries-old vampire.

July 11, 2009 03:48:32 GMT

When the news about Bravo TV adding more castmates to "" circulated earlier this week, many speculate that some of the original cast won't be back. However, in an interview with RadarOnline, housewife Jill Zarin revealed that all of them are bound to do the third season.

Addressing the issue that only Kelly Bensimon who has already signed, Jill said she too is looking forward to rejoin the show. "I'm definitely coming back. I know Kelly's already signed her contract. She was the first one to sign on for a third season. I think she signed the thing as soon as they put it in front of her," the red-head said.

July 11, 2009 03:21:49 GMT

NBC is rooting for its star to heal first before coming back to work. "", one of the new series that the Peacock offers this Fall, has been shelved for midseason premiere in order to give time to recuperate from an undisclosed illness.

"Start of production on NBC Universal's new series 'Parenthood' has been postponed for eight weeks due to medical evaluation that valued cast member Maura Tierney is undergoing," NBC said in a statement released to THR. "The top priority for NBC, Universal Media Studios and Imagine Television is the well-being of Ms. Tierney. We are unable to release further details and ask that you respect her privacy at this time."

July 11, 2009 02:26:16 GMT

Somebody's taking off the apron and dropping the F bomb on the upcoming "". FOX is making use of the tense moment to promote the new season which is premiering for two hours on Tuesday, July 21 at 8/7c.

During deliberation, Chef Gordon Ramsay exchanged arguments with a sous chef named Joseph. Hitting the false note, Joseph got out of the line and threatened to walk out of the competition by confronting the host.

July 10, 2009 09:15:39 GMT

Coming from the producer of "" is the new ABC series "". The first look into the drama series is shared through the promo which is airing on the network. It mainly tells about how love and lust can transcend into space.

"Defying Gravity" is a sexy, provocative space thriller set in the very near future against the background of our solar system. Eight astronauts from five countries (four women and four men) undertake a mysterious six-year international space mission covering eight billion miles.

July 10, 2009 08:20:49 GMT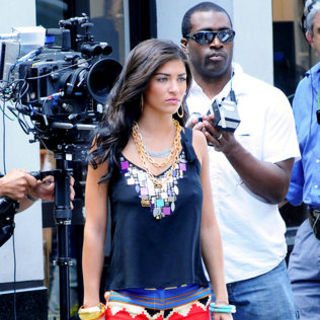 Some of "" cast were seen filming for the third season in Soho, New York City on Thursday, July 9. , who plays Vanessa in the series, is spotted with summer outfit, clutching a bright yellow bag and heading somewhere. On another scene, aka Dan is shooting near a limo.

Vanessa will hook up with someone new in the season, someone whom EW's Michael Ausiello hinted as a person she met briefly at the end of last season. Also, Vanessa will get a new roommate while in college. guest stars for seven episodes as Olivia Burke who is a movie star seeking an ordinary college life.

July 10, 2009 07:19:07 GMT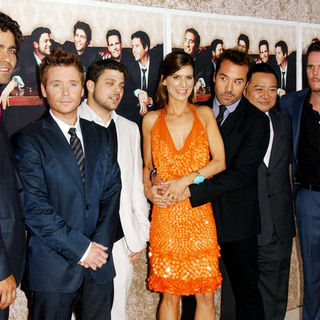 Paramount Theater in Los Angeles, C.A. hosted the premiere event of "" season 6. Most of the show's main and secondary cast like , , , , , and Rex Lee turned up at the event held on Thursday, July 9.

The show returns on HBO this Sunday, July 12 with episode "Drive". Vince's career is on the verge of being relaunched after he scored a stint in Martin Scorsese's "Gatsby". He will be attending the red carpet premiere of the movie and appear on 's show to promote the movie.

July 10, 2009 04:41:41 GMT
"" narrows it down to Top 10 with the elimination of Phillip Chbeeb and Caitlin Kinney on Thursday, July 9. The two dancers, who were not a pair on Wednesday show, got the boot after the judges went unanimous on the decision.

The good news is, Philip and Caitlin will still be touring nationally with the Top 10 starting this September. "I have secured with the producers that you - and Caitlin - will be on the tour," Head Judge Nigel Lythgoe announced after cutting Phillip.

July 10, 2009 03:55:53 GMT
Resting for a week during Fourth of July celebration, "" will be back on Sunday, July 12 with the episode "Shake and Fingerpop". A scene is clipped, showing the chemistry between Eric and Bill as well as explaining how such a powerful vampire in Dallas that they are about to rescue, got abducted.

With Jessica in tow, Bill and Sookie head to Dallas to carry out Eric's vampire-reconnaissance mission, but a surprise awaits them at the airport. At the Light of Day Institute, Jason falls victim to a practical joke, but has the last laugh when the Newlins anoint him for a higher calling.

July 10, 2009 03:19:09 GMT

From being the hunted to the hunter, is guest starring on "" as a police officer. The ex-inmate of "" puts up his NYPD suit and saves a rape victim in the episode called "Unstable".

His character is named Nate Kendal and he interacts with Det. Elliot Stabler and Olivia Benson. In the clip which has just been released, Captain Donald Cragen holds Nate to work with the unit in solving the case although the officer is reluctant to do so.

July 10, 2009 02:48:00 GMT

The veil covering long-delayed season 6 of "" is taken off. 16 designers who have participated and finished shooting for the fashion competition in February this year are revealed and three of them come from as far as Russia, Bosnia and the Republic of Georgia.

Nicolas Putvinksi is a 27 year-old born in Moscow who has been living in New York. He is an F.I.T. graduate whose design commissioned for W and Vogue, but Tim Gunn thinks he is a bit of a fashion snob.