June 14, 2010 03:41:40 GMT

"" judge is reportedly in talks to take over 's U.S. talk show. The veteran broadcaster's programme, "", has experienced a slump in ratings over the last year and bosses at the CNN network are said to be discussing a replacement for the 76 year old.

And Morgan - who fronts his own series, "Piers Morgan's Life Stories", in the U.K. - is reportedly in negotiations to take on the role. A source tells Britain's Daily Mail, "CNN bosses have been desperately searching for somebody to revamp the show. Larry's ratings are massively down year on year - and Piers is just the chap (man)."

June 14, 2010 02:57:08 GMT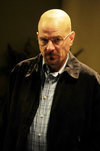 Walter White and Jesse Pinkman get to live another season. AMC, in a somewhat predictable move, has officially renewed Emmy-winning series "" for a fourth season. The renewal news is confirmed by THR following Variety's report that AMC and Sony Pictures TV are "on the verge" of announcing the pick-up.

With critical acclaims that the series have achieved and the constant rise in rating, the series is a power to AMC. The only hesitation in producing another season is the cost. One episode is roughly taking $3 million which is comparably high for basic cable dramas. Thus, AMC and the studio had to arrange the budgeting before landing a decision with the agreement of AMC paying for budget overruns.

June 12, 2010 07:34:43 GMT

Professor Farnsworth reminds the temporarily-amnesiac Fry of how their spaceship passed through the Panama Wormhole in the first clip of "" season 6. The Comedy Central animation returns on screen June 24 with the episode "Rebirth" where, after the events of Into the Wild Green Yonder, all the characters will be reborn.

"Matt [Groening] and I decided to make sure people knew right away that this was Futurama in its classic half-hour form," executive producer David X. Cohen said in a chat with EW of what can be expected from this season. "We wanted to quickly establish in the first episode that the characters are back from their DVD adventures. Fry and Leela return relatively quickly. Very quickly we get back to the Planet Express headquarters in New New York City - and the only slight hitch is that everybody is dead."

June 12, 2010 06:42:59 GMT

Devoted fans of "" can relive the moment through an online game which first trailer has just been released by Bigpoint and SyFy. "Battlestar Galactica Online" is the upcoming MMO (Massively Multiplayer Online) which will put gamers either as Human or Cylon/Man or Machine.

It will debut on SyFy's website first as a 30 day exclusive before going public. The game, which uses the browser-based 3-D software technology by Unity, will include tactical space combat, exploration, and mission-based quests. Some elements from the Emmy-winning series as well as storyline are embedded in the game.

June 12, 2010 04:38:51 GMT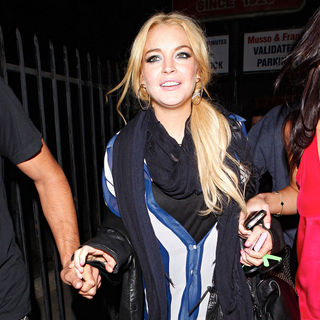 has put to rest the rumor which has been spread by her own mother. Earlier this week, Dina Lohan reportedly told New York Post that "Lindsay Lohan has been approached by Donald Trump to star in the next '' season".

Her mom was quoted as saying, "Donald is a friend of the family, and producers of 'Celebrity Apprentice' have approached Lindsay to appear in the next season. She's deciding if she wants to do it or not." A source said that NBC would like both Lindsay and Dina on the show, just like the last time when they brought in and daughter in a single season.

June 12, 2010 03:48:24 GMT

Fans of U.S. TV show " converged across the globe on Thursday, June 10 for a mass protest against the series' cancellation - staging fake 'blackouts' in cities including New York, London and Los Angeles.

The programme, starring , centered around a mass blackout in which the majority of the world's population loses consciousness for several minutes and has a glimpse into the future. But network bosses concluded the lacklustre ratings did not justify a second season and axed "FlashForward" as part of a massive TV cull which saw a string of high-profile shows fall.

June 12, 2010 03:18:45 GMT

The third season of "" is numbered by hours and HBO has released the 12th and final collectible poster. Showing a close shot of mosquito while sucking, the poster asks "How can 400 billion blood suckers be wrong?".

Beside the poster, there's also an apology video from the marketing department of HBO for flooding the media with its "True Blood" campaign. "A junior marketing associate here in the marketing department of Home Box Office" going by the name Brian Fisher said they apologize for making "too much of a splash in showbiz."

June 12, 2010 03:10:19 GMT

and were the toast of Monte Carlo on Thursday night, June 10 after taking the top honors at Monaco's largest TV event. The stars came out to attend the 50th annual Monte Carlo TV Festival, which saw Carell named Best Actor in a Comedy Series for his role in "", while Hall landed the Best Actor in a Drama Series award, for "".

The night's other major prizes went to American shows including "" and "", which landed the International TV Audience Awards, while producing honors went to "" and "", along with British political comedy "The Thick of It", according to the Hollywood Reporter.

June 12, 2010 02:45:02 GMT
is officially on board ABC's new legal drama "" which previously had on the lead. Tierney who is in remission after successfully battling breast cancer since late last year, will take the role of Kathryn Peale, a deputy bureau chief in the Manhattan District Attorney's office.

Richardson had taken the role and even shot the scenes previously but she backed out of the project to spend more time with her family. The 45-year-old buried her aunt Lynn Redgrave in May and her uncle Corin Redgrave in April. Last year she lost her sibling Natasha Richardson in a skiing accident. Joely Richardson has an 18-year-old daughter named Daisy.

June 11, 2010 09:51:07 GMT

Singer stormed off 's U.K. TV talent contest "" after she was booed for making harsh comments as a guest judge. The former star agreed to appear on the series' judging panel at an audition in Glasgow, Scotland on Wednesday, June 9, filling in for pregnant pop star .

But she failed to charm members of the live audience and was roundly jeered after criticizing the wannabe pop stars trying out on-stage. Halliwell appeared upset over the crowd's reaction and was spotted leaving the judges' table during filming, with Cowell following her backstage.

June 11, 2010 08:43:36 GMT

The cast of "" are about to get sexed up for a new X-rated parody. Hustler Video bosses have jumped on the back of the worldwide TV phenomenon and shot a porn version of the musical, complete with a saucy new song, which has already been released to YouTube.

"This Ain't Glee XXX Parody!!" will be available on DVD in July but the racy cast's "Big Tushy Hos" video is online now. It features adult stars Samone Taylor, Scarlett Faye, Tara Lynn Fox, Miko Sinz and others performing a saucy, reworded version of 's "Fat Bottomed Girls" as their "Glee" doubles.

June 11, 2010 07:43:13 GMT

USA Network is giving away two clips to tease its TV series. One is to preview "Made Man", the third episode of "" season 4. The other is aimed to provide a sneak peek to "Keeping the Faith", the upcoming episode of "" season 2. Both will be aired on June 17.

"Burn Notice" will have Michael and Jesse coming across a port worker being threatened by dangerous mobsters while investigating an underground artillery operation at the Port of Miami. To get the mob off the docks for good, Michael will need to call on the help of a familiar friend.

June 11, 2010 06:23:40 GMT

Another footage which features the women from "" sitting down for an interview is shared to let viewers know them better before the TV series debuts on June 20. One of the things that they talk about is their first sexual experience.

Tracy says her first sexual experience was "holding hands". "Because that's what I thought was sex," she explained with a smile. Meanwhile, Rose dished, "It was actually in my car and that was probably the first and last time I was not in control."

June 11, 2010 04:20:02 GMT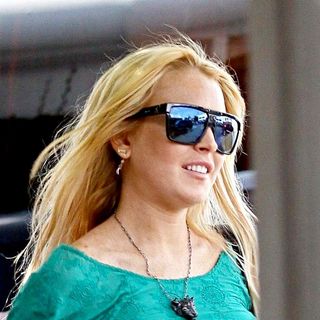 is considering a stint in reality TV - the actress has been offered a place on the next series of Donald Trump's "". The "" star's career has taken a turn for the worse in recent years and she was last seen in straight-to-TV movie "" in 2009.

Lohan, who is currently bound by court restrictions relating to her probation from a 2007 arrest, is said to have several movie parts lined up, including a turn as infamous porn star Linda Lovelace in Inferno and a part in Robert Rodriguez's Machete. But her mother, Dina, has revealed her daughter is also considering a stint on Trump's TV business contest when the show returns for a new season.

June 11, 2010 03:38:16 GMT

Days before "" satisfies its viewers with "Bad Blood" episode, six brand new clips are out for teaser. One of the clips sees 's Eric is angry at someone when 's Bill goes missing and can't be found.

The first offering of season 3 of this TV series will be aired on June 13. Sookie turns to Eric for help finding Bill; Andy urges Jason to stay the course; Sam reconnects with his past; Tara seeks refuge from her grief.